-Cards Need to Get Back to Basics against Cuse
Tonight we get back to basketball and after days of he said, she said nonsense in the Louisville media I welcome it with open arms. There are a lot of folks who can't seem to accept the fact that this Louisville Basketball team only has 6 games left in the season but no matter how much they moan and groan that is the case. I'm hoping that our team realizes that their season is nearing the end and can get back to playing for that sense of pride and with the sense of urgency to finish this season strong. The Cardinals welcome a very hot Syracuse team into the Yum Center tonight. They have won five straight and have things going in the right direction since Coach Boeheim's return to the bench after he served a suspension do to NCAA violations. Louisville leads this series 15-8 and have won two of the last three but they'll have to play a lot better than they have to get this one.
Coach Boeheims teams are known for that stingy two-three zone defense and having those very athletic and explosive wings on offense. Things aren't any different this season as Syracuse ranks third (64.6) in scoring defense for conference contests, and rank fourth (.420) in field goal percentage defense.
During their current five-game winning streak Syracuse is limiting the opposition to 63.2 points per game and a .411 shooting percentage. The Orange are second in the ACC and 35th nationally in three-point field goals per game, averaging 8.9 threes. They are led by their explosive wing players Michael Gbinije (17.4 pts, 4.0 rebs), and Malachi Richardson (13.6 pts, 4.6 rebs). Gbinije has scored in double digits in all 26 games this season and is fourth in the ACC in scoring. They are also getting outstanding guard play from Trevor Cooney (13.3 pts, 2.6 rebs). He is second in the ACC in threes per game (2.6). This Cuse team is a very good rebounding group led by Tyler Roberson who ranks fifth in Division I offensive rebounding averaging (4.27).
Our Cardinals are going to have to get back to basics tonight running their offense and playing solid defense if they want to get things going back in the right direction. They'll have to do that with one less big man in the rotation as Anas Mahmoud will miss the remainder of the season after suffering a sprained right ankle in practice Monday. Good news for the Cardinals is that Ray Spalding has averaged 7.8 points and 6.0 rebounds over the last five games off the bench, and is the top scorer among the UofL bigs in that stretch. Matz Stockman also came off the bench against Notre Dame and played really well. He'll see time tonight for sure. Chinanu Onuaku will be very important in this game and will have to stay out of foul trouble. We will need his size and his rebounds tonight. I think Quentin, Donovan and Trey will be able to match pace with their back court. The real battle in this game will be between the front court guys. They have a very big and athletic group. If the Cards want to win this game they'll have to win this battle.
This is a very important game as far as team morale is concerned. Lose this game tonight and we could see this team spiral downhill for the rest of the season. Things are pretty sensitive right now with this group and a three game losing streak is not what the doctor ordered. Win this game and carry some much needed momentum into that big game with Duke on Saturday. I really think we could still have a strong finish to this crazy season and our guys need it and our fans need it. Let's hope that starts tonight.

-Cards Have a Pivotal Road Game against the Irish on Saturday
It's hard to believe that we have almost reached the end of another Cardinal basketball season. There are now just 7 games left and 4 of those games are on the road. First up is Notre Dame on Saturday afternoon. Louisville leads this series 20-13 and has won 15 of the last 21 including two of the last three. But here's the real story in this rivalry. Notre Dame and Louisville are meeting for the 34th time. Nine of those meetings have gone to overtime, including seven of the last 14. I know you remember some of these crazy back and forth battles and you can almost bet that we'll see another one this weekend. At least this one will be a 4:00pm start so we won't get to bed that late. Notre Dame will be looking to secure their spot in the tourney and this game and will be about trying to better their seed. Our Cardinals are still in the race for the ACC regular season crown and this is one of those games they must win to keep that goal alive.
Notre Dame was always one of those teams that would have a very good season, get to the post season and fall apart. But that all changed last year when the Irish won their very first ACC Tournament Championship and made it to the Elite 8 only to get beat by two points to that really good UK group. Mike Brey has created a Championship culture in the Irish basketball program and has his guys believing they can compete with the elites of college basketball.
The Irish have made a name for themselves with very efficient offensive teams. This year's group boast the most efficient offense in the nation, according to the Pomeroy Adjusted Offensive Efficiency Index (124.8). They are led by Demetrius Jackson (16.2 pts, 3.5 rebs), Zach Auguste (14.1 pts, 10.0 rebs), Steve Vasturia (12.5 pts, 3.0 rebs), Bonzie Colson (12.5 pts, 7.1 rebs), and V.J. Beachem (11.9 pts, 4.0 rebs). Jackson is a budding star, and has NBA-level athleticism at the point. Auguste Has secured a double-double in 13 of Notre Dame's 24 games. Vasturia has reached double figures in 20 of 24 games this season. Colson is a natural rebounder, is very good with the ball and can shoot the three. Beachem has put together six-straight double figure scoring games. Bonzie Colson ranks 11th in the ACC in rebounding (7.1). Teammate Zach Auguste ranks third (10.0). Notre Dame is the only school in the conference with two players ranked in the top 11 in rebounding.
Damion Lee and Trey Lewis continue to set the pace for this Cardinals basketball team on and off the court. Their positive energy through the recent series of bad news has been a beacon of light for the fans and for the younger guys on this team. Their legacy will not be cemented in the NCAA Tournament but their example of leadership will last in this program for years to come. On the court Lee has scored in double figures in 21 of his 23 games this season while Lewis has 15 double-digit scoring efforts. It is going to take that type of scoring to finish out this season especially in these tough road games. We got news today that Mango might not return to the line-up this season so that means that in our front court Chinanu will have to continue leading the way. Ray Spalding has been a guy who has took advantage of his opportunity averaging 7.8 points and 6.3 rebounds over the last four games off the bench. He is the top scorer among the UofL bigs in that stretch. Donovan Mitchell has also emerged as a consistent player. He has become the team's fifth leading scorer with 8.1 points a game. Quentin Sinder has ran this team consistently all season and he really came up big in the game at Duke. I think these guys will have big efforts Saturday.
UofL leads the nation in scoring margin (+18.0), is sixth in scoring defense (60.3), seventh in field goal percentage defense (.378), 11th in rebound margin (+9.5) and 10th in offensive rebounds (14.3). If the Cardinals hope to get the win on Saturday they will have to match the Irish efficiency on the offensive side of the ball. Offensive and defensive rebounding will also be very important in this one. As efficient as the Irish are on offense you don't want to give them second and third opportunities. And if the Cardinals can win the possession battle that will be big.
The game on Saturday will be another tough ACC battle, and both of these teams will be playing at a very high level. Our guys know that these last 7 games are very important and in order to have a shot at that regular season ACC title they must win these pivotal road games. I look for our guys to come out very hungry in this one especially after that tough loss to Duke earlier in the week. This is one of the tougher games on our schedule because Notre Dame is well coached and they play so well on both ends of the floor. It is always a great battle when these teams meet and I don't expect anything different this time.

-The Road to the ACC Regular Season Title Starts at Cameron Indoor
It's been a rough couple of days for the Cardinal Nation. Folks are feeling down and out because there won't be any March Madness to end our basketball season. But we do have eight great games left in the regular season and also have a chance to win an ACC regular season title. One of those games will be tonight on ESPN's Big Monday and it will be a big one indeed. The Cardinals will make their first trip back to Cameron Indoor Stadium in 33 years. They are 1-1 against the Blue Devils there. Louisville trails 4-6 in its series with Duke, but the Cardinals have won four of the last six matchups. There have been some memorable moments in this series. The Cardinals 86 Title and "Never Nervous Purvis". And that emotional game with the Kevin Ware injury a few years ago in route to the Cardinals 2013 Championship come to mind. Tonight should be another memorable one as there is so much on the line for Louisville now. Not to mention it's the 1000 game in Cameron Indoor and Coach Pitino's 1000 game as a head coach.
The Defending National Champs have had their bumps in the road this season after losing a lot of their fire power from last year. But this Duke team still has a lot of blue chip talent on the roster. They enter into this game winning three of their last four and their young talent seems to be gelling at the right time. There aren't many teams in college basketball that executes its offense as well as Duke does. Coach Krzyzewski has been running his 3-out 2-in motion offense for a long time and always has a very talented group of guards and forwards who fit right into his plan. This year is no different.
Leading the way for the Blue Devils is Grayson Allen (20.9 pig, 4.7 rpg), Brandon Ingram (16.9 ppg, 6.6 rpg), Luke Kennard (12.5 ppg, 3.6 rpg), Matt Jones (11.7 ppg, 2.9 rpg) and Derryck Thornton (8.5 ppg, 2.1 rpg). Allen is on pace for best scoring increase in ACC history (+16.5), Ingram Leads ACC freshmen lead with five double-doubles, Kennard Leads the NCAA in free throw percentage (.922), Jones has a team-best 2.26 assist-to-turnover ratio, and Thorton who has started the last two games, averaging 11.0 points.
The Cardinals expect to have Damion Lee back in the line-up tonight and it will take a very solid outing from him and Trey Lewis to match the fire power of this Duke offense. The Cardinals continue to lead the nation in scoring margin (+19.1), is fourth in scoring defense (59.8), seventh in field goal percentage defense (.376), ninth in rebound margin (+9.9) and eighth in offensive rebounds (14.5). Chinanu Onuaku is one of two players in the NCAA to have seven double, doubles in league play and he will also be an important factor in this game. Freshman Deng Adel had 13 points and seven boards Saturday and has started to emerge. Donovan Mitchell scored ten points and continues to be a spark plug for this team.
This is going to be a great test for a Louisville team who has had an emotional few days. They know what they are playing for now and every game is going to be important. They have to play each one like it's their last.
Here is more about Cameron Indoor. It's going to be awesome watching the Cards play here tonight and in the future.
Cameron Indoor Stadium seats just 9,314 fans, making it one of the smallest arenas on a major college campus. However, when it opened in 1940, Cameron Indoor was actually very big. The arena's original name was merely Indoor Stadium. In 1972, the building's name was changed to Cameron Indoor Stadium in honor of the school's long-time athletic director and former basketball coach Eddie Cameron.
From the outside, Cameron looks unwelcoming to the wild and passionate fans known as the Cameron Crazies. Its gothic architecture matches the rest of the Duke campus, and the stained-glass windows make it appear church-like. Once inside though it can be a hell for visiting teams.
It's the intimacy that makes Cameron Indoor Stadium one of the most revered venues in all of sports.

-The Cards Road to Redemption Begins in February
Saturday was a white out in the KFC Yum Center, but the game left the Cardinals and their fans feeling very dark. Players were in the locker room proclaiming they had got their asses whipped and fans were taking to social media proclaiming their disgust of the Cardinals effort. Things don't get any easier as the North Carolina Tar Heels come into town with a 12 game win streak. Louisville trails North Carolina 4-11 in its series. The Tar Heels won two of three match-ups last season. The Cardinals have one day to get ready for Big Monday and their chance to get some redemption from that awful outing this weekend.
A big emphasis for high level basketball offenses in today's college game is on spacing. Teams will often have four or five capable shooters on the court at a time to spread out defenses. North Carolina has yet to enter the spacing and three-point era under Roy Williams. The Tar Heels are ranked 311th shooting 30.8% from the three, and are 20th in the country shooting 48.5% from the field. They have established an offensive identity built on size and athleticism.
Their starting line-up features two pure shooters in Marcus Paige (12.7 pts, 2.8 rebs) and Joel Berry (12.6 pts, 3.0 rebs), two back-to-the-basket big men Kennedy Meeks (11.9 pts, 6.4 rebs) and Brice Johnson (16.8 pts, 10.2 rebs) who use their size to score, and a wing in Justin Jackson (11.8 pts, 3.9 rebs) that uses his athleticism to score. This team thrives on getting easy transition baskets, rebounding put backs and short high percentage jumpers. Isaiah Hicks and Joel James give this team great front court depth. This will be the biggest challenge of the season for the Cards big guys.
North Carolina likes to play an intense man-to-man type of defense and you won't hardly ever see them in a zone because Roy Williams's philosophy is that it slows down the game too much for him to run up and down like they do. The weakness over the years in this defense has been widely reported. They sometimes struggle to defend against the high screens. Williams has his big men step out around the screen causing enough hesitation by the dribbler for their guards to catch back up into defensive position. I think this is where Coach Pitino will exploit the Tar Heels on Monday night. They are allowing 42% shooting from the field, and 37.2% from the three point line ranking 304th in the country. Due to their issues defending that high screen teams are getting a lot of open looks from deep. Good news for Trey and Damion.
The Cardinals had some issues on defense of their own in Saturday's debacle. Defending the low post and transition defense will be very important in this game. Our Cardinals are going to have to body up down low on their bigs and get back quick to defend against their high powered transition offense. Defense is where it starts Monday night if the Cards hope to pull out the win, but they also must run their offense and not get caught up in running and throwing up bad shots. I really do think that our guys will be able to take advantage of opportunities in the high screens and cause breakdowns that create good shot opportunities. Lord knows they are due to hit a few.
If you have been a Louisville fan for long then you know about horrible losses in January. We had a loss so bad against Providence a few years ago that folks were calling for Pitino's job. Only for the team to rebound in February winning 9 of their last 15 in the regular season, 4 straight winning a Big East Tourney Title and 4 straight in the NCAA Tourney making it to a Final Four. The point is that this has happened repeatedly over the past 30 years even under Denny. Louisville is a team that traditionally peaks in February and March. February is always the road to redemption for our Cardinals and that road starts Monday night.
Here's more game breakdown from GoCards.com:
GAME 22
Date: Feb. 1, 2016
Time: 7:01 p.m.
Site: KFC Yum! Center/Crum Court, Louisville, Ky. (22,000) (94-13 in 6th yr.)
Television: ESPN – Sean McDonough, play-by-play; Doris Burke, analyst; Kaylee Hartung, reporter.
Radio: WHAS (840 AM) Paul Rogers, play-by-play; Bob Valvano, analyst (Sirius ch. 84, XM 84). Also:
Compass Media Networks – Kevin Ray, play-by-play; Steve Lappas, analyst.
Series History: UofL trails 4-11 (3-0 in Louisville, 0-2 in Chapel Hill, 1-9 neutral)
Last Meeting: North Carolina 70, UL 60 (March 12, 2015 at Greensboro, N.C. ACC Tournament quarterfinals)
UofL National Ranking: 14th USA Today, 16th Associated Press
Officials: Bryan Kersey, Mike Eades, Bill Covington, Jr.

Cards Head Into Toughest 3 Day Stretch of the Season:
The Cardinals will start their toughest three day stretch of the season on Saturday afternoon when they take the floor against #11 Virginia. The Cardinals have won four straight games and Virginia has won three straight. Louisville trails Virginia 4-6 in its series, but has won two of the last three meetings. The Cardinals are second in the ACC and Virginia is sixth.
The Cavaliers aren't going to dazzle you with their offensive style of play. They can be a real nuisance to a team that likes to run up and down the court with their deliberate and measured approach to offense. They are averaging 68.9 points a game shooting 49% from the field and 37.3% from the three point line. They are led on offense by Malcolm Brogdon (17.6 pts, 4.5 rebs), Anthony Gill (15.0 pts, 6.0m rebs), and London Perrantes (11.7 pts, 3.2 rebs). Brogdon has 10 20-point games, Gill is 2nd in the ACC in field goal shooting at 60.1%, and Perrantes Leads the ACC in 3-point shooting at 52.7%.
The Cavaliers are just as deliberate and frustrating with their brand of defense. The Pack Line has a few simple principles that differentiate it from traditional man-to-man defense. The priority of the defense is to stop all dribble penetration. And in modern basketball, stopping drives is a formula for success. The player guarding the ball applies immense ball pressure knowing full well he has four teammates crowded within the "Pack Line" ready to help. This frustrates teams who will usually just pass the ball around on the perimeter and chuck up a contested jump shot. They are allowing 66.1 points a game on 45.7% shooting from the field and 39.4% from the three point line.
Forcing our Cardinals into a jump shooting game used to be a scary thing, but this year the tide has turned and the Cards are 15th in the nation in field goal percentage (.491). They have shot above 50 percent in 11 of their 20 games, including .519 at Virginia Tech in their last game. The Cards shot 50 percent or above on eight occasions all last season.
Damion and Trey have led the Cardinals all season and really came on in the last game with a flurry of three point shots. Let's hope they have a few left in the tank. Nanu has also been a beast but we got news today that he has been battling a stomach virus and in regards to the surge in Jaylen Johnson's game he will be out still nursing that arm he injured at Virginia Tech. Coach Pitino said today that Matz may get the start on Saturday. Our front court players have stepped up all season and that will have to be the case again this weekend.
Last year's game against the Cavaliers was a roller coaster of emotions with up and down swings throughout. And we will never forget the most unexpected shot in Louisville's history when Mango buried the jumper for the win. I expect just as much emotion to be inside the Yum Center on Saturday and the White Out crowd will have to help our guys get this big ACC win. It will be a battle…
Here's more coverage of the game from GoCards.com:
GAME 21
Date: Jan. 30, 2016
Time: 1:06 p.m.
Site: KFC Yum! Center/Crum Court, Louisville, Ky. (22,000) (94-13 in 6th yr.)
Television: CBS (WLKY-TV in Louisville) Kevin Harlan, play-by-play; Bill Raftery, analyst.
Radio: WHAS (840 AM) Paul Rogers, play-by-play; Doug Ormay, analyst (Sirius channel 134, XM 194)
Also: ESPN Radio — Adam Amin, play-by-play; Bob Valvano, analyst.
Series History: UofL trails 4-6 (3-3 in Louisville, 1-3 in Charlottesville)
Last Meeting: UofL 59, Virginia 57 (March 7, 2015 at KFC Yum! Center)
UofL National Ranking: 14th USA Today, 16th Associated Press
Officials: Les Jones, Brian O'Connell, Tim Clougherty

-Cards Look to Hold the Road in the ACC
The Cards have won three straight games and look to make it four as they travel to play Virginia Tech in Blacksburg on Wednesday night. The Hokies come in to this game after losing two straight but have been very competitive in those loses. This is another one of those old Metro Conference rivalries that the Cardinals have renewed since joining the ACC. Louisville leads 29-8 in its series against Virginia Tech, winning the last 10 matchups.
Virginia Tech coach Buzz Williams is also a familiar foe as we watched a few good battles between our Cardinals and his Marquette teams. He is one of a handful of coaches that I really like and respect and wouldn't mind seeing his name on a short list if Louisville needed a coach. He is a guy that gets the most out of his players and knows how to put his guys in situations to win. In Williams's offense he will emphasize the paint touches, using their guards to slash to the lane and work the ball through the paint to find the open man. They will get to the free-throw line and rank second in the nation in free throw attempts (586) and are sixth nationally in free throws made (396). They will also make the most of transition opportunities. They are averaging 77 points a game, shooting 44.9% from the field and 34.6% from the three point line. They are led by Zach LeDay (16 pts, 8.4 rebs), Seth Allen (13.5 pts, 3.2 rebs), Justin Bibbs (12.2 pts, 2.5 rebs), and Chris Clarke (10.5 pts, 7.4 rebs). LeDay is their go to guy and he is the straw that stirs the drink. He can single handedly change the complexion of a game.
Virginia Tech embodies the personality of their coach in their man-to-man defense: intense, tireless, and in your face. They don't play a ton of zone, but if they see an opportunity to use it to their advantage, they won't hesitate to exploit an opponent's weakness. They are allowing 72.1 points a game allowing 42.2% shooting from the field and 32.4% from the three point line. As I mentioned above this Virginia Tech team gets better every game and have already knocked off #4 Virginia on their home court. They will look to outwork and outhustle opponents. Coach Williams may not have the most talented team with this bunch but the Hokies never let up. Our Cardinals are in for a 40-minute grind.
Our Cardinals have been playing great on both ends of the floor. Our offense has been clicking all season and we have had players evolve offensively throughout. The latest guy to find his offensive groove is Anas Mahmoud. The big Egyptian was the talk of the town after his career performance on Saturday in the Cards win over Georgia Tech. In that game Chinanu Onuaku recorded his sixth consecutive double-double becoming the first Cardinal with six straight double-doubles in 22 years. And it seems like every week Donovan Mitchell is making a big-time play to spark a Cardinal run. Defensively our Cards lead the nation in field goal percentage defense (.364) and are second in scoring defense (58.8). I think the key defensively is to force Tech to play on the perimeter and force them to settle for outside shots.
It's going to take another great effort on both ends of the floor to beat Virginia Tech on Wednesday night. That place will be rocking. Coach Williams will have his players ready to get another big win. Our guys will have to match their intensity and be ready for another ACC road battle. I think we are in for another dog fight here and it just might come down to a couple late possessions.
Here's more pre-game coverage from GoCards.com:
GAME 20
Date: Jan. 27, 2016
Time: 8:05 p.m.
Site: Cassell Coliseum Blacksburg, Va. (9,847)
Television: ACC Network (WAVE-TV in Louisville) Tom Werme, play-by-play; Dan Bonner, analyst.
Radio: WKRD (790 AM) Paul Rogers, play-by-play; Bob Valvano, analyst (Sirius channel 108, XM 94)
Series History: UofL leads 29-8 (15-3 in Louisville, 13-3 in Blacksburg, 1-2 neutral)
Last Meeting: UL 78, Virginia Tech 63 (Feb. 13, 2015 at KFC Yum! Center)
UofL National Ranking: 14th USA Today, 16th Associated Press
Officials: Brian Dorsey, Jerry Heater, Michael Roberts

-Hope a wacky week doesn't affect Cards play today
It has been a wacky week here in Kentucky as well as other parts of the country as a winter storm dumped over a foot of snow in some places. As a result of this winter storm the Cardinals had to change their travel itinerary for the Georgia Tech game today. The Cards left out for Atlanta a few days earlier than they would have otherwise. In the past I have seen when something like this can throw off a team's routine and then affect them in the game. I'm sure coach Pitino and his staff has done an excellent job at keeping our guys focused but I wouldn't be shocked to see a slow start today.
Louisville and Georgia Tech are teams going in different directions in the ACC. Our Cards come into the game today winners of two straight and playing some great basketball. The Yellow Jackets have lost two straight and are still a team struggling to find their identity in a very tough and competitive ACC. On offense they are averaging 76.6 points on 45.1% shooting from the field and 37.2% shooting from beyond the arc. On the season, the Yellow Jackets have been led by Marcus Georges-Hunt (15.4 ppg, 3.3 rpg, 2.3 apg), Charles Mitchell (12.2 ppg, 11.0 rpg), and Nick Jacobs (10.4 ppg, 5.7 rpg). Defensively they are allowing 71.2 points on 43.4% shooting from the field and 30% from behind the arc. They are a good rebounding team with a +8 margin and they do force 10.2 turnovers a game with a +1 margin. They also average about 5 blocks a game.
Damion Lee and Trey Lewis continue to lead the way for the Cardinals but Onuaku has been a double-double machine lately also the recent surge in Donovan Mitchell's play has been huge. Also have to give Quentin Snider some love. He has also been very effective running the offense and finding his shot when needed. Our guys will be tested today on the road and will have to shake off some of the funk from their travel schedule being thrown off. This will be another dog fight on the road in the ACC but Cards will win their third straight.
Here is more pre-game coverage for the game today from GoCards.com:
GAME 19
Date: Jan. 23, 2016
Time: 4:05 p.m.
Site: McCamish Pavilion Atlanta, Ga. (8,500)
Television: ESPN2 Mike Couzens, play-by-play; Chris Spatola, analyst.
Radio: WKRD (790 AM) Paul Rogers, play-by-play; Doug Ormay, analyst (Sirius channel 84, XM 84)
Series History: UofL leads 16-13 (9-4 in Louisville, 3-4 in Atlanta, 4-5 neutral)
Last Meeting: UL 52, Georgia Tech 51 (Feb. 23, 2015 in Atlanta, Ga.)
UofL National Ranking: 16th USA Today, 17th Associated Press
Officials: Roger Ayers, Sean Hull, Tim Comer

-Cards look to keep rolling after their best defensive game of the season
The Cardinals put on a defensive clinic in their first prime time match-up last Thursday night. They held Pitt to under 30 percent shooting for the game and held them to season-lows in points, field goals, field goal percentage, three-point field goals, three-point field goal percentage and assists while forcing them to a season-high 19 turnovers. After this performance the Cardinals reclaimed their spot as one Kenpom.com's top defenses at #2, and lead the nation in field goal percentage defense (.357) and are second in scoring defense (57.8).
The Cardinals have renewed several old basketball rivalries during their time in the ACC. Wednesday night they will lock it up again with an old rival from the Metro Conference days when they play Florida State. Louisville has a 31-9 advantage in this series that dates back to 1976. Our Cardinals will come into this game currently in 3rd place in the ACC while Florida State is in the 10th spot.
The Seminoles are coming into the Yum Center winning two straight including a big win over the Virginia Cavaliers. The leading scorers for the Seminoles have been Malik Beasley who is averaging 17.1 points per game and 5.9 rebounds, and Dwayne Bacon with 16.7 points per game and 5.4 rebounds. They are averaging 80 points a game shooting 46 percent from the field, and 33 percent from the three point line. On defense they are holding the opposition to 72 points a game on 43 percent shooting from the field and 33 percent shooting from the three point line.
Through 17 games this season the leading scorer for the Cardinals has been Damion Lee who is averaging 16.7 points per game and 3.8 rebounds. Trey Lewis is second on the team with 12.6 points per game and 3.8 rebounds. Chinanu Onuaku has four straight double-doubles heading into this game. He grabbed his 300th career rebound vs Pitt. He has averaged 10.9 rebounds over the last eight games, grabbing double-digit boards in six of those games. He has made 67.3 percent of his field goals in the last six games.
With the way the ACC race is shaping up it is critical to win on your home floor. I think the Cardinals will be ready to build off of that great defensive performance last week and have had a lot of gym time in between games. It's hard to beat Coach Pitino and the Cardinals but really difficult when they've had almost a week to get ready for you. Cards roll in this one.
Here is more game coverage from GoCards.com:
GAME 18
Date: Jan. 20, 2016
Time: 9:00 p.m.
Site: KFC Yum! Center/Crum Court, Louisville, Ky. (22,000) (93-13 in 6th yr.)
Television: ESPNU Mike Couzens, play-by-play; Len Elmore, analyst.
Radio: WHAS (840 AM) Paul Rogers, play-by-play; Bob Valvano, analyst (Sirius channel 84, XM 84)
Series History: UofL leads 31-9 (17-2 in Louisville, 11-6 in Tallahassee, 3-1 neutral)
Last Meeting: UofL 81, Florida State 59 (Feb. 28, 2015 in Tallahassee, Fla.)
UofL National Ranking: 16th USA Today, 17th Associated Press
Officials: Tim Nestor, Bill Covington, Jr., Terry Wymer
Cards Have to bring their game and not just their name in ACC play:
Our Cardinals were one of the hottest teams in the ACC before their loss at Clemson on Sunday afternoon. A loss by the way that looks significantly different considering that they also just beat Duke on the same floor. Coach Pitino called the Clemson loss a missed opportunity and hinted at perhaps his team went into that game feeling a little too good about themselves. The ACC is going to be very good from top to bottom this season and you must take advantage of any chance you have to get a road win. Not going to be able to show up with Louisville across your chest and expect any of our ACC foes to back down. In fact probably makes them want to go that much harder. That loss I'm sure provided a lot of teaching moments over the last few days of practice and I expect to see a re-focused bunch of Cardinals take the Yum Center floor on Thursday night for what will be their toughest showdown of the season in prime time with Pitt.
The Pittsburgh Panthers will come into the Yum Center with a 14-1 record and currently 1st in the ACC. The Panthers have won their last 10 games and will try to make their old Big East foe Louisville the 11th. It seems like Jamie Dixon always has a well-balanced unit that thrives on getting everybody involved. And this season isn't any different as Coach Dixon has several players who can legitimately score the rock. Pitt has always played team first basketball. Pitt returns some pretty solid core players to this team and leading the way is Michael Young who is averaging 17.5 points per game and 6.8 rebounds. Jamel Artis is second on the team scoring 16.0 points per game and 4.5 rebounds.

Ball movement and spacing are the two keys to a successful Panthers offense. Everybody gets a touch or two before a shot goes up. As a result, it's not a surprise that this team ranks #4 nationally in assists. They are #2 nationally in assist to turnover ratio. The Panthers are really tough to beat when they are sharing shots and getting everybody touches in their comfort zones. Michael Young is a handful as a defensive assignment. When he's making shots it opens up clean looks for his teammates. If Michael Young, Jamel Artis, and James Robinson scores in double figures, Pitt normally comes away a winner.
On the defensive side of the ball Pitt has always been tough. They brought that hardnosed, no blood/no foul defense with them to the ACC. Dixon's teams are often defined by their dependence on physical play at all five positions. For the Panthers, the effect of a stray elbow or hard foul cannot be understated. Our Cardinals will have to match this toughness and intensity.
You'll quickly understand how smooth the Pitt offense can be when it's clicking. The ball barely touches the floor. Everybody knows their role and doesn't try to overdo it. In order for the Cardinals to beat this solid team Coach Pitino will try to lock down one or two of their consistent scorers and this will cause another one of their players to try and do too much. When somebody on a team like Pitts gets locked down and plays poor offensively it can really throw off their machine-like offensive flow. Like I mentioned in my opening I think our Cardinals are going to come out on a mission Thursday night and will get the job done. They have looked very good on defense especially on their home court. Should be a great game. Enjoy and go Cards!

More game coverage from GoCards.com:
GAME 17
Date: Jan. 14, 2016
Time: 9:05 p.m.
Site: KFC Yum! Center/Crum Court, Louisville, Ky. (22,000) (92-13 in 6th yr.)
Television: ESPN Karl Ravech, play-by-play; Seth Greenberg, analyst.
Radio: WHAS (840 AM) Paul Rogers, play-by-play; Bob Valvano, analyst (Sirius channel 81, XM 81)
Series History: UofL leads 10-5 (6-1 in Louisville, 4-1 in Pittsburgh 0-3 neutral)
Last Meeting: UofL 69, Pitt 56 (Feb. 11, 2015 in KFC Yum! Center)
UofL National Ranking: 20th USA Today, 21th Associated Press
Officials: Bryan Kersey, Michael Roberts, John Gaffney
Cards looking for a 3-0 start in the ACC at Clemson

The Clemson Tigers are 9-6 and currently 7th in the ACC, but they have been playing good basketball lately winning their last two beating Syracuse and Florida State. Most Clemson fans are either on their way to or in Arizona but I think their home court will help them in this game.
Clemson is averaging 70 points a game on 43.8% shooting from the field and 36.2% from the three. Defensively they are allowing 62.2 points a game on 40% shooting from the field and 34% from the three. Their opponents are averaging 11 turnovers a game. The go to guy for Clemson this season has been Jaron Blossomgame who is averaging 15.3 points per game and 6.9 rebounds. Avry Holmes is second on the team with 10.3 points per game and 2.5 rebounds. One of the most improved players in the ACC this season is Clemson Center Sidy Djitte who is averaging 5.6 points and 6 rebounds a game. He will pose a good challenge for the Cardinals front-court.
The Cardinals have held the upper hand in the series, 4-0. The two have met just once as ACC foes, last season in Louisville. In fact, three of the four meetings have taken place in Louisville.
Here is more breakdown for Louisville vs Clemson from GoCards.com:
GAME 16
Date: Jan. 10, 2016
Time: 12:05 p.m.
Site: Bon Secours Wellness Arena (15,951), Greenville, S.C.
Television: Regional Sports Networks / Fox Sports South in Louisville — Bob Rathbun, play-by-play; Mike Gminski, analyst.
Radio: WHAS (840 AM) Paul Rogers, play-by-play; Bob Valvano, analyst (Sirius channel 81, XM 81)
Series History: Louisville leads 4-0 (3-0 in Louisville, 1-0 at Clemson)
Last Meeting: UofL 58, Clemson 52 (Jan. 7, 2015 in KFC Yum! Center)
UofL National Ranking: 16th USA Today, 16th Associated Press
Officials: Brian Dorsey, Mike Eades, Brian O'Connell
Next UofL Game: Jan. 14 vs. Pittsburgh, KFC Yum! Center, 9 p.m. ET (ESPN)

-Cards take on the Wolfpack tonight and it's just a little bit personal
Tonight our Cardinals are on the road to take on the NC State Wolfpack. Our Cardinals look to continue the positive momentum of a 12-2 start to the season. The Cardinals are averaging 83.6 points on 50.8 percent shooting from the field, and 37.8 percent from the three. Damion Lee is averaging 17.6 points and 1.6 assists while Chinanu Onuaku is averaging 9.6 points and 8.2 rebounds. He had 15 rebounds in the last game. Quentin Snider is averaging four assist a game and Donovan Mitchell has stepped up big-time and is averaging 8.5 points and is grabbing 4.3 rebounds a game.
Defensively Louisville is allowing 36 percent shooting from the field, 30.9 percent shooting from deep and is forcing 14.4 turnovers per game. The Wolfpack have won six of their last seven games. They are averaging 75.1 points on 41.8 percent shooting from the field and 31.7 percent from the three. Anthony Barber is averaging 22.9 points and 4.9 assists while Maverick Rowan is averaging 12.6 points and 3.9 rebounds. Defensively they are allowing 36.8 percent shooting from deep and forcing 10.7 turnovers per game.
You might recognize the names of their leading scorers. One we had to deal with last year and watched him wipe a booger on Montrezl Harrell the other kept us all in lingo all summer with his on again, off again relationship with Louisville on the recruiting trail. At one time both Barber and Rowan said that they wanted to be Cardinals but both of their recruitments were like a daily soap opera with AAU handlers in toe… This game has been and will no doubt remain a little personal for both teams. Those guys want to beat us and we want to beat the two guys mentioned above. It's going to take a great effort from our guys but I think they are up to the task.
Here is more breakdown coverage of tonight's ACC battle with NC State from GoCards.com:

GAME 15
Date: Jan. 7, 2016
Time: 7:00 p.m.
Site: PNC Arena (19,700) Raleigh, N.C.
Television: ESPN2- Bob Wischusen, play-by-play; LaPhonso Ellis, analyst.
Radio: WHAS (840 AM) Paul Rogers, play-by-play; Bob Valvano, analyst (Sirius channel 81, XM 81)
Series History: Tied 9-9 (5-2 in Louisville, 3-4 in Raleigh,1-3 neutral)
Last Meeting: UofL 75, NC State 65 (March 27, 2015 in Syracuse, N.Y. NCAA East Region semifinals)
UofL National Ranking: 16th USA Today, 16th Associated Press
-Billy Minardi Classic about more than basketball
Our Cardinals are back in action tonight but this time it's much more than just about basketball. Coach Pitino was hard-hit by the terrorist attacks of September 11, 2001, as Joanne's brother and Rick's closest friend, Billy Minardi, was working as a bond trader for Cantor Fitzgerald on the 105th floor of the north tower of the World Trade Center when it was struck by American Airlines Flight 11. Since 2002, the University of Louisville has designated a December home game as the Billy Minardi Classic. Tonight that tradition continues.
The most hurtful thing about the whole escort scandal was that it was supposed to have happened in the dorm named after Coach Pitino's best friend and brother in law Billy Minardi. It really had to be gut wrenching for Coach Pitino to see his friends name attached to that garbage. So during this year's Billy Minardi Classic coach Pitino has vowed to honor his friend the right way. I really hope that happens and my thoughts will be with all of the families involved as they honor their loved one over the next two nights.
Here is more information about this years Billy Minardi Classic:
-Coach Walz and the Louisville Women's basketball program land #5 Class in the Country
It's no secret that Coach Walz is building a big-time program at the University of Louisville. The success he's had over the last four or five years has been amazing. So amazing that top recruits from all over the country want to come and be a part of that success. Three of Coach Walz's five signees today are 5-star players. It's important to add to the success of the program by getting out and supporting it. Louisville already has one of the highest attendance ratings in the country for women's basketball and we need to continue building on this. Let's sell them out. Congrats to Coach Walz and his staff.
Here is the official Louisville Release:
LOUISVILLE, Ky. – The University of Louisville women's basketball program, for the second-consecutive year, compiled one of the most decorated recruiting classes in the country.
Five highly respected high school student-athletes, including three five-star recruits, each signed and submitted their National Letters of Intent on Wednesday to continue their basketball careers at Louisville, giving the Cardinals a class that ranks fifth for 2016 according to espnW HoopGurlz and Prospects Nation.
The Cardinals' coaching staff secured commitments from elite stars in five different states, consisting of Ciera Johnson, a 6-foot-4 center from Duncanville, Texas; Kyle Shook, a 6-foot-4 center from Colorado Springs, Colo.; Sydney Zambrotta, a 5-foot-9 guard from North Babylon, N.Y.; Jazmine Jones, a 5-foot-10 guard from Tallahassee, Fla.; and Bionca Dunham, a 6-foot-3 forward from Philadelphia, Pa.
Since 2010, head coach Jeff Walz and his staffs have built five top-10 classes. The Cardinals welcomed the No. 1 class last year, the No. 5 class in 2010, and the eighth-best group in 2014. Overall, Walz and his staff have signed seven McDonald's All-Americans – with this year's honorees still yet to be announced.
Bionca Dunham, 6-3, Forward, Philadelphia, Pa. (Imhotep Institute Charter)
Bionca Dunham, a 6-foot-3 forward, comes to Louisville after leading Imhotep Institute Charter to consecutive Public League championships in Philadelphia. Despite having played basketball for just three years, with limited AAU experience, she is rated a three-star recruit by espnW HoopGurlz.
Dunham scored a team-high 18 points in the 2015 league title game and was named the most valuable player in 2014 after totaling 10 points and 12 rebounds. She also has helped her team to consecutive city championships.
Dunham also was recruited by North Carolina, South Carolina, Temple, Pittsburgh, and Houston.
What they're saying about Bionca Dunham —
"Louisville, watch out. Bionca Dunham is on her way. This young lady is phenomenal and has that old-fashion passion and love for the game. The team and fans will love her." – Marty Washington, Imhotep Institute Charter High School Coach
"(Louisville is adding) to the front court with an unheralded post prospect with possibilities. (She is) quick, athletic, mobile, and a sleeper prospect in 2016." – Dan Olson, owner and director of the Collegiate Girls Basketball Report and director of espnW HoopGurlz
"Bionca is a hybrid post player that loves the transition game. She can affect and alter shots on the defensive end and pursues loose balls and rebounds. She is a high energy player that will no doubt have a bright future." – Jeff Walz, Louisville Head Coach
Ciera Johnson, 6-4, Center, Duncanville, Texas (Duncanville)
Ciera Johnson, a five-star recruit according to espnW HoopGurlz, is ranked as the 15th-best overall player in the class of 2016. At the post position, she is the second-best player in the class.
A 6-foot-4 Texas native, Johnson averaged 14.9 points, 9.5 rebounds, 4.2 assists, 3.2 blocks and 1.2 steals as a junior. She shot 57 percent from the floor that year.
During her sophomore season, she led Duncanville High to a 35-1 mark, with its only loss coming in the Class 5A state championship. Johnson produced 21 points, 16 rebounds, and two blocks that game. Heading into the championship, the school boasted a 105-game winning streak.
Johnson chose Louisville over Duke, Ohio State, Texas A&M, Texas, South Carolina, and Notre Dame.
— What they're saying about Ciera Johnson —
"Ciera Johnson is a very strong leader on the court and off the court. She knows what it takes to win championships and the strength of character and family love that a team must have to accomplish success. I have thoroughly enjoyed coaching her the past three years and watching her flourish. I know she is going to do great things at Louisville and in her life, and I wish her the best." – Cathy Self-Morgan, Duncanville High School Coach
"(She is) among the elite low-post prospects in the nation for 2016 and a winner from a superb high school program in Duncanville (Texas). Johnson brings size, footwork, and mobility, providing a second piece to an outstanding frontcourt." – Dan Olson, owner and director of the Collegiate Girls Basketball Report and director of espnW HoopGurlz
"Ciera Johnson is a true low-block player with great footwork. She is strong and finishes in traffic. (She is a) good rebounder that runs floor well, and a double-double player that is WNBA prospect." – Bret McCormick, Advanced Scout and publisher of All-Star Girls Report
"Ciera is a low-post player with developed back to basket moves and finishes around basket. (She) runs the floor, can defend, and rebounds on both ends. (She has) unlimited potential." – Harry Elifson, Southern Girls Basketball Report
"Ciera adds an element of versatility in the post as she can engage in contact and finish in the low block as well as face up and shoot from the perimeter. She too comes from a very successful high school program and knows how to win at the highest level. Ciera is comfortable in a leadership position and will no doubt have a vocal presence on our team." – Jeff Walz, Louisville Head Coach
Jazmine Jones, 5-10, Guard, Tallahassee, Fla. (Florida A&M Developmental Research School)
Jazmine Jones, a highly athletic guard from Florida, is a four-star prospect in the class of 2016 according to espnW HoopGurlz. She was tabbed as the 55th-best prospect overall, 14th at the guard position. She is tabbed 19th overall by ProspectsNation.
Jones, who averaged 18 points, eight rebounds, four assists, and three steals as a junior, guided her school the Class 2A state title in both 2012 and 2013. She is a four-time all-Big Bend first team member and was selected as the 2015 player of the year. Heading into her senior campaign, she boasts 1,632 points, 768 rebounds, 410 assists, and 409 steals.
The 5-foot-10 guard was named to the 2014 U.S. Women's U-18 National Team Trials roster.
Jones, a 2A all-state and all-Final Four Team pick, chose Louisville over Ohio State, Miami (Fla.), and hometown Florida State.
— What they're saying about Jazmine Jones —
"The sky is the limit for Jaz. If she continues to work hard, remain coachable, and keep working on her weaknesses, you will see her name in the WNBA. I am so proud of her; she stated from the beginning that she wanted to play basketball at the Division I level. She set her goals, and now she is seeing them come to pass." – Ericka Cromartie, Florida A&M Developmental Research School Coach
"(She is an) athletic guard who brings size to the back court and untapped potential. Jones can score in bunches and is effective off the dribble as her strong suit. An emerging deep threat game will give the Cardinals two potent offensive threats in the back court." – Dan Olson, owner and director of the Collegiate Girls Basketball Report and director of espnW HoopGurlz
"Jazmine Jones is a freaky athlete and explosive leaper. (She is) acrobatic in traffic and elevates on the mid-range jumper. (Her) potential is through the roof and I expect her to be a pro one day." – Bret McCormick, Advanced Scout and publisher of All-Star Girls Report
"Jazmine is an ultra-athletic wing player with emerging offensive skills. (She) can score when she wants to, gets to the basket, and elevates on the jumper. The best basketball is in front of her; untapped potential at the next level." – Harry Elifson, Southern Girls Basketball Report
"Jaz brings quickness and athleticism on both ends of the floor. Her ability to get to the rim at the offensive end and step into passing lanes for steals will be a huge asset for our program. She is a proven winner with a state championship under her belt and will no doubt bring toughness and tenacity to our program." – Louisville Head Coach
Kylee Shook, 6-4, Center, Colorado Springs, Colo. (Mesa Ridge)
A top-20 recruit according to espnW HoopGurlz, Kylee Shook will head to Louisville as the 18th-best overall player in the rankings and the fourth-best post player in the class of 2016.
The five-star recruit has compiled a highly decorated career at Mesa Ridge High in Colorado, breaking the school's career blocked shots record in her junior campaign. Through three seasons, she has produced 1,086 points, 941 rebounds, 142 assists, 120 steals, and a stellar 496 blocks. Shook is shooting 75 percent from the charity stripe and 52 percent from inside the arc.
A two-sport athlete, also playing volleyball, she totaled 24 points, 21 rebounds, and 13 blocks in her first varsity basketball game and was named to the Denver Post all-state Class 4A first team as a freshman.
At the conclusion of her junior campaign, when she averaged 18.3 points, 14.9 rebounds, and 8.1 blocks per game, she was named the Colorado 4A Player of the Year and to the all-state first team. She even recorded a quadruple-double that season (24 points, 22 rebounds, 12 blocks, and 11 assists).
She chose Louisville over Washington and Colorado.
— What they're saying about Kylee Shook —
"(She is) perhaps the best shot blocker in the class of 2016. (She has) great timing, hands, mobility and a quickly emerging face-up game. Shook could yield quick results on the college scene early." – Dan Olson, owner and director of the Collegiate Girls Basketball Report and director of espnW HoopGurlz
"Kylee Shook is athletic, skilled, versatile, and has a good motor. (She has) great hands and finishes in the paint. (She is a) shot blocker that likes to face up to 16 feet and will be a WNBA player after graduation." – Bret McCormick, Advanced Scout and publisher of All-Star Girls Report
"Kylee is a finished, fundamental, versatile player, with polished offensive skills. (She) can score from anywhere on floor, inside and out. (It will be) a total nightmare for opposition to decide on who to defend her. (She is) college ready." – Harry Elifson, Southern Girls Basketball Report
"Kylee is a presence on both ends of the floor. She has already broken the record for blocks in the state of Colorado, and is a versatile post player that can stretch a defense out to the 3-point line. Her untapped talent level is off the charts and we are thrilled to add such a game-changer to our roster." – Jeff Walz, Louisville Head Coach
Sydney Zambrotta, 5-9, Guard, North Babylon, N.Y. (Christ the King)
Sydney Zambrotta, a five-star recruit according to espnW HoopGurlz, is listed as the 29th-best player in the class of 2016, ninth at the guard position.
Zambrotta is coming to Louisville from New York, where she attended Christ the King High – the same school as former Louisville standout Bria Smith and basketball greats Tina Charles, Sue Bird, and Chamique Holdsclaw.
During her junior campaign, she averaged 23.4 points per game and led the school to the Catholic High School Athletic Association Brooklyn/Queens crown and the Class 2A catholic state championship. In the win, she had 32 points and six rebounds. That year, she was named to the MSG Varsity All-New York City first team.
The New York native first started garnering attention as an eighth-grade student, when she broke the Long Island single-game varsity record by scoring 63 points. She also had 13 rebounds and 11 steals that day. Earlier that year, she fell two points shy of the record with a 58-point performance.
Zambrotta, a three-sport athlete who also starred in soccer and lacrosse, chose Louisville over Miami (Fla.), Minnesota, Pittsburgh, and South Carolina.
— What they're saying about Sydney Zambrotta —
"Sydney has continued to develop and rise in her ability. She plays with an edge, toughness and can certainly score from deep with a quick pull-up game off the dribble. What I may most admire of her ability is her competitiveness. (She is) among the stock-risers in the 2016 class." – Dan Olson, owner and director of the Collegiate Girls Basketball Report and director of espnW HoopGurlz
"Sydney Zambrotta is a lefty that can really stretch the floor. (She) has NBA range and can flat shoot it. (She is) fundamental, with a great feel for the game. (Opponents) cannot leave her alone; all teams have to know where she is on the court." – Bret McCormick, Advanced Scout and publisher of All-Star Girls Report
"Sydney is a combo-guard that scores in all facets of game, drives it to basket with ease, and also is a threat from 3. (She) has a good feel for game and keeps teammates involved with her awareness in open court." – Harry Elifson, Southern Girls Basketball Report
"Sydney is our second protégé from legendary Christ the King High School, following in the footsteps of Bria Smith. Syd is a deep-scoring threat that we have been in need of, and can play multiple guard positions. Her ball-handling allows her to score in a multitude of ways and she loves to play and attack in transition." – Jeff Walz, Louisville Head Coach
Recruiting Class Rankings at Louisville Under Jeff Walz (per espnW/ESPN.com)
2016 – No. 5 (Johnson, Shook, Zambrotta, Jones, Dunham)
2015 – No. 1 (Durr, Cole, Jones, Fuehring, DeGrate)
2014 – No. 8 (Hines-Allen, Brackemyre, Moore, Carter, Freeman)
2013 – NR (Henderson, Cannon, Breedlove)
2012 – NR (Walton, Deines)
2011 – No. 10 (Smith, Hammond, J. Schimmel, Niamke)
2010 – No. 5 (S. Schimmel, Tay, Slaughter, Vails, Dyer, Harrington)

-QB1 Battle Brewing Heading into Fall Camp
We are a few weeks away from the opening of the Fall Football camp on August 6th. Coach Petrino had a meet and greet with fans yesterday at a Norton Kosairs event at Mall St. Matthews, and while he was there he also met with some of the local media on hand to discuss his team's summer. Coach Petrino seems very encouraged about his group especially his quarterbacks.
It is important to have great competition within your football program. Guys battling it out for starting roles and playing time makes them hungry and encourages personal development. With the comments made Saturday by Coach Petrino it looks like we have several guys who will be heading into the Fall trying to earn the starting QB spot.
I still think Reggie is the guy to beat as he has shown he can get the job done in big game situations and poses a dual threat. I think his arm improvement will be the biggest factor this fall. Lamar Jackson is very intriguing and it appears that he has got the attention of his head coach in a short period of time on campus. He is no doubt the best athlete of the group but his lack of experience could be his biggest factor heading into the Fall. Both Will Gardner and Kyle Bolin have shown they are gamers. Both have the determination, drive, and the arm to compete. I think overall athleticism will be the biggest factor with them heading into the Fall. Tyler Ferguson also fits into this assumption. He has a great arm but is he athletic enough.
The QB battle along with how all of the high profile transfers fit in will be great story-lines to follow this Fall heading into the Cardinals opener against Auburn. I'm ready!
Here are the comments made by Coach Petrino Saturday:

The Louisville RedZone episodes with some of the Louisville QBs:


-Summer Workouts Begin For Cardinal Football
We've all heard the old saying "Champions are made in the off season", and nobody takes that more serious than elite coaches and athletes. The Louisville Football strength and conditioning program is second to none and our elite coaches and athletes have taken things to a whole other level with their intense training.
Summer workouts started today for the football team and these guys are fired up and ready. The UofL athletic program released a video today to give Cardinal fans a look inside this high level of training. Our guys will be ready on September 5th to give those Tigers all they want.
I'm issuing a challenge to Cardinals fans to get to Atlanta on Labor Day weekend. Our team is ringing their bell and now it's time for the fans to answer it.

-Coach Pitino on Jim Rome
Coach Pitino is out and about enjoying a little bit of the good life. He took time from that to go on the Jim Rome Show. Rome asked Coach Pitino about the Kentucky Derby, the Mayweather fight, Billy Donovan, Richard Pitino and his high score playing laser tag. It was a pretty good segment with our Hall of Fame Coach.
Below is the video of the segment with Jim Rome on Showtime. Enjoy!
-Observations, and Photos from Practice #11
I went out a covered Spring Football practice #11 this past Friday afternoon. The guys are looking pretty good and should be ready to put on a very good Spring Game on the 17th.
I really like what I'm seeing with the QB battle. Both Ferguson and Bonnafon are neck and neck right now in my opinion. I think they both have their own thing to offer. Tyler can make all the throws and has a very good arm, and Reggie looks more comfortable throwing the ball this spring while still having that scrambling ability. Both are very good QB's and Kyle Bolin is right there also. He is very confident in his arm and can also make most of the throws.
The Running back position is loaded as well really like what I'm seeing from Brandon Radcliff, LJ Scott and Jeremy Smith. Radcliff is going to have a monster season, he is a stick of dynamite. WIll be one of the top guys at his position in the ACC.
Wide Receiver is another position that isn't lacking in big time performers and athletes. Traveon Samuel, Javonte Bagley, Jamari Staples, Gio Pascascio, Ja'Quay Williams, Alphonso Carter and James Quick will be one of the most formidable groups in the country.
Our Defense is also looking very sharp.. We won't take any steps back on that side of the ball either.
Here are some photos that I shot yesterday in them you will see #22 Chucky Williams, #14 Kyle Bolin, #5 Tyler Ferguson, #3 Pat Thomas, #2 Jamari Staples, #84 Gio Pascascio, #41 Jarrod Barnes, #23 Brandon Radcliff, #15 Traveon Samuel, #88 Javonte Bagley, #7 Reggie Bonnafon, #27 LJ Scott, #34 Jeremy Smith, #34 George Clements, and #31 Darius Skinner.
SPRING FOOTBALL GAME FRIDAY APRIL 17th DON'T MISS IT!!! GO CARDS!
-Observations, Photos and Video from Louisville Football Spring Practice #2
The Cardinal's Beak took advantage of a beautiful spring day and took in day two of Louisville Spring Practice. I can tell you that for it just being the second practice the guys were very motivated and were moving around well in their individual stations. The coaches were also very intense and that provided for some colorful yelling. It was a very entertaining day and left me very optimistic about the 2015 Cardinal Football season.
This was just the second full practice so I'm not going to go into extreme analysis, but I did have several observations that made me very excited to see what the final product will look like this fall. I think that this year's teams will again feature one of the top defenses in the country. The size, speed and athleticism from this group are very obvious especially in the defensive backfield. With Trumaine Washington, Zykiesis Cannon, Chucky Williams, and the addition of Josh Harvey-Clamons, Shaq Wiggins and soon to be added Devonte Fields I get giddy just thinking about it. The guys on the defense were very animated today and were already flying around all over the field. It was just the kind of attitude you'd want to see this early.
The Cardinals offense isn't going to be too shabby either. There are three very solid Quarterbacks out there taking snaps right now. In this practice Kyle Bolin was the most accurate of the three. He had some solid throws and already seems very confident behind center. He is a heady kid. Reggie Bonnafon had some solid throws and still looks like he would just as soon tuck it and run it as to throw it. He looks like he has added some bulk to his frame. And Tyler Ferguson is going to be really interesting. This kid has a rocket launcher for an arm and with his size he just looks like a big-time D1 QB. I will be very surprised if he's not in serious contention for QB1 by the time fall rolls around.
I know we lost a very talented receiver last season, but looking at what we have coming back I don't think this group really takes too much of a step back either. I was really impressed with Jamari Staples today. He looks like a prime time receiver and also carries himself like one. He moves very well on that 6-4 frame and is going to be a big target this fall. I think that James Quick will also have a breakout season, and Ja'Quay Williams is big time. Paul Harris is another big target and he also moves very well on his 6-3 frame. At 6-5 both Cole Hikutini and Keith Towbridge are big Tight Ends, and they have very good hands. They caught several nice balls today and will be real threats this fall. At Running back Brandon Radcliff looks like he lived at the weight-room this winter. He has obviously added some bulk and seems to be moving faster in his cuts. He will be a top running back in the country. LJ Scott will be very solid as well and he also looked very good.
The biggest areas of concern for me are on the offensive line and special teams. But there is a lot of time to fix things and to get things right. We are a long way from September. If you have some free-time I highly suggest that you get out to the practice fields over the next few weeks and show these guys some love. It really is going to be an exciting group and another very exciting year of Cardinal Football.
Remaining Practice days March 27th, 28th, 31st and April 7th, 8th, 10th, 11th, 14th, and 15th. The Spring Game is on April 17th at 7:00PM.

-Video: Terry Rozier Is Hungry And Plays With A Chip On His Shoulder
Sports Illustrated just came out with an incredible article about Terry Rozier. I discovered a documentary video from 3rd Coast hoops and NEOHOOPS Called "The Real Cleveland" and it has a great inside look at Terry Rozier and he in his own words talks about some of the things that were in the SI Feature.. Every Cardinal Fan needs to see this and it will give them an idea of the player and person we got in Rozier. Good Stuff! The Rozier Story starts at around the 19:37 mark.

-Former Cards Shine at NFL Combine
Spring Football is right around the corner for the Louisville Cardinals. Several former players were on the field last week in Indy at the 2015 NFL Combine trying to impress scouts.
The Louisville Football program sent 11 players to the NFL Combine last week. Several of the Cardinals really took some steps up on the NFL mock draft boards, and all of the guys represented themselves and the University of Louisville very well. These are all a great bunch of guys who all deserve to find themselves on a NFL roster.
I have the links below where you can easily just click to see the results and anylisis for each Cardinal who participated in the 2015 NFL Combine:
DEVANTE PARKER:
http://www.nfl.com/combine/profiles/devante-parker…
DOMINIQUE BROWN:
http://www.nfl.com/combine/profiles/dominique-brown…
JAMON BROWN:
http://www.nfl.com/combine/profiles/jamon-brown?id=2552340
GERALD CHRISTIAN:
http://www.nfl.com/combine/profiles/gerald-christian…
B.J. DUBOSE:
http://www.nfl.com/combine/profiles/b.j.-dubose?id=2552267
MICHAEL DYER:
http://www.nfl.com/combine/profiles/michael-dyer?id=2552645
CHARLES GAINES:
http://www.nfl.com/combine/profiles/charles-gaines…
GEROD HOLLIMAN:
http://www.nfl.com/combine/profiles/gerod-holliman…
LORENZO MAULDIN:
http://www.nfl.com/combine/profiles/lorenzo-mauldin…
JOHN MILLER:
http://www.nfl.com/combine/profiles/john-miller?id=2552342
JAMES SAMPLE:
http://www.nfl.com/combine/profiles/james-sample?id=2552696

-Mango, Matz, Anas In Sports Illustrated For Kids Feature
I have personally interviewed each of these guys and all three of them are a pleasure to be around. These young men are miles away from everything and everyone they know. They have all made the journey across the world to chase their dreams through the game of college basketball. This SI Kids feature gives you a glimpse inside their world and really sheds a light on the foriegn trio.
Mango has been the guy from this trio this season who is seeing the most minutes and is starting to be a very solid contributor. He is playing a little over 19 minutes a game averaging 3.4 points, 5.5 rebounds, and 1.4 blocks a game. I think his breakout season will come next year after another off season of bulking up and honing his skills.
Early on some thought that Coach Pitino may use his red shirt option with both Anas and Matz. Both really are gonna need some time to adjust to the American version of basketball and the college game in general. They both also have some work to do in the weight room. Coach Pitino made the decision to keep them active this season and let them get their feet wet in their college basketball debuts. Anas has had some solid outings and appears to be the more game ready of the two. He has played around 11 minutes a game averaging 1.4 points, 2.2 rebounds and 0.9 blocks. Matz is coming along a little slower only appearing in 5 games where he is averaging 1 point and 2.2 rebounds.
I really think that this trio will ultimately have a big impact and all will be very solid players before they leave the University of Louisville. It's great to see them get some attention in this SI Kids article because like I said above they are all great young men.
To read the entire article you can subscribe over at SIKids.com or download the issue through an app on your smart phone.

-The Cardinals Are Bringing Back The Beards
Luke Hancock's beard became a symbol of great superstition during the Cards 16 game winning streak and Championship a few seasons ago. Other players and fans including myself decided to grow out our beards in solidarity with Luke because we started to believe in the power of that magical facial hair. Then again last February the team and the fans attempted another beard rally that did provide a spark but was not nearly as successful as the first one.
With the current team losing some tough games and struggling to get the ball in the basket Coach Pitino and his staff have decided to throw caution to the wind and just maybe reclaim some of that mojo that the magical facial hair provided for the last two groups.
Coach Pitino is a master at getting his teams over the hump during a long season and especially after their yearly January slump. I'm in and yes I do believe that things like this can be a great motivation especially during the grind of a long season. And I challenge all of Card Nation to join in and let's grow our beards out until we cut down those nets again in Indy. I think this team has enough talent to have one of those magical runs and I can put up with some itchy facial hair to prove it. Let's go Cardinal fans are you in? #NoShaveTillIndy

-Staples Picks The Cards
UAB Sophomore Wide Receiver Jamari Staples has been waiting weeks to find a place to finish out his college career. Today he decided that he had waited long enough and has decided to bring his talents to the University of Louisville. He has two years of eligibility left and will be able to play immediately. He will be able to participate in Spring Practice.
UAB announced at the end of the regular season the disbandment of their football team. Staples, a 6-foot-4, 190-pound sophomore receiver, recorded 31 catches for 458 yards and four touchdowns as a true freshman in 2013, and caught nine passes for 190 yards and a touchdown while missing five games due to injury in the fall.
As soon as the rest of the nation found out about UAB getting rid of their program coaches and assistant coaches from all over the country started to reach out to their players. Louisville's offensive coordinator Garrick McGee didn't waste any time in reaching out to Staples. That paid off and the Cardinals will be getting a very solid player. Staples will help fill some of the void left at that Wide Receiver spot with the loss of DeVante Parker.
Some of the Cardinal Football Players Speak With the Media Before Leaving Wednesday for the Belk Bowl
Jamon Brown
(On bowl preparation)
"It's going pretty well. Today we actually started getting towards the game plan. Last week we got to really work on our system, learning our schemes and everything. Now we're starting to really get focused on Georgia."
(Preparing for Georgia)
They've got big guys up front. They've got some big pass rushers, so we up front, the o-line, we're going to have to pass-protect. They've got some decent linebackers that can come down-hill and make some plays. We're really just going to have to play Cardinal football. That's really our goal. Let's run the ball, and let's get open and make the throws."
(On being away for Christmas)
"Most definitely, and it's good to have another opportunity for the post-season. It's good to be home for Christmas, but it's also good to have another opportunity to play a game and continue to play."
(On if being away on Christmas is routine for him)
"Yeah, it's pretty routine for me and a lot of guys who are on this team. We have a lot of older guys that have been to bowl games pretty much the whole time we've been here, so we've gotten accustomed to how we do things. So we try to bring the young guys along and make sure they know the ropes. It's been pretty good so far."
(On preparing for his final collegiate game)
"It's very surreal. Coach K, our offensive line coach, he does a good job of reminding us seniors in the room that our opportunities are running down. I think we have eight days before the game, so with that in mind we know we have to take advantage of every opportunity that we have, and maximize the practice times and the meeting times and everything that we're doing to get ready for this game."
Jake Smith
(Difference between this coaching staff and the prior staff in terms of bowl game prep)
"When you go to the bowl, it kind of becomes like camp practice again. You're here all day, and all you do is eat, sleep, and breathe football. It's been really similar with both the coaches. The formats are a little different, Coach Strong did a lot of hard-nosed, back-to-fundamentals practices, and Coach Petrino is doing the daily game-week preparation practices. So, like today was a Wednesday practice. We do certain things on certain days. Saturday was a Tuesday, tomorrow is going to be a Thursday, and then we'll have days off in between. There's a method to the madness. They kind of break you down a little bit and then build you back up, so you can reestablish that toughness and get yourself re-acclimated to the speed of the game."
(On playing an SEC opponent)
"It's a great opportunity for us. For me personally, it's my fifth bowl game. I don't know if anyone at Louisville can say that besides this senior class that we have now, the fifth-year seniors. Georgia, they're a great opponent. They've got a lot of really great players. It's a great opportunity for us to go out against another SEC opponent and prove that we belong in the national ranks as one of the better teams in the country."
(On how the Louisville quarterbacks have looked in practice thus far)
"Quarterbacks have looked really good. You wouldn't know it by the way Coach Petrino talks to them during practice, but they're doing really well out there. Reggie's moving around really well, Kyle's tossing them around really well, so we're excited about both our options at quarterback for the bowl game."
Brandon Radcliff
(On bowl preparation)
"Bowl preparation has been very high-tempo, very high-intensity. Everybody is playing with their heads loose, and trying to prepare and go out an execute." (On the key to beating Georgia) "Just to come out high-tempo and be focused and ready. Just follow Coach Petrino's game plan."
(On playing another SEC team in Gerogia)
"We just look at it as another game. Every team is the same, you just have to come out and play like we play. We feel that against any team we just have to execute, no matter what the conference is or who we're playing against."
(On playing Georgia in the bowl, then opening with Auburn next season)
"No added motivation. Like I said, we just have to come prepared every week, every team is different, so we'll prepare for them how we would any other team. Next year is next year, so we're all just focused on this week right now, and trying to execute what our game plan is."
(On the Georgia defense)
"They come out high-tempo. They're going to stack the box some times, so we just have to get down-hill, get our pads low, break arm tackles and try to get loose."
(On the confidence of Kyle Bolin)
"I feel that he has confidence. He's been going out and practicing hard, just ready to practice. He can quarterback at any time, get the job done. Coach Petrino is coaching both of them up as well as he can."
(On the development of the Louisville offensive line)
"I know it's our first year really together with the coaches and the players all joined together, so I feel like it was just a matter of time. Now we're together and on the right track, and we're moving now."
(On his expanded role this season)
"Yeah, it's really crazy. It's just football. You have to wait until it's your turn. When your time is called, you just have to capitalize. Football is always up and down, so you have to be able to face adversity."
(On playing an SEC opponent in Georgia)
"It's pretty exciting. They do have hype, so we just want to go out there and perform well. It's just another game to me. We just have to go out there and try to perform every week, because every team, you don't know how it's going to happen."
(On Petrino-led bowl prep)
"We just have to stay safe, get everybody to the game, but still practice hard and physical. You just have to have a good mindset of getting out there every day and practicing hard. You know you're going to be tired, we've practiced six or seven days already, but we just have to get ready to get to North Carolina and practice as well as we did here."
Transcripts courtesy GoCards.com
-The Cardinals Football Team Spends The Day Spreading Some Holiday Cheer To Local Youth
It is a busy time for the Cardinals Football program as they prepare for finals and to face Georgia in the Belk Bowl on December 30th. On Tuesday they took some time away from the books and the football field to give back to the community. The only thing better than watching these guys score touchdowns, make tackles, make big plays and win games is seeing them put smiles on the faces of kids.
The Cardinals spent the day at the Shawnee Arts Center and some of the local Boys & Girls Clubs in the city on Tuesday. They participated in art projects, signed autographs, participated in fitness activities and had quality time with some of the youth of the city. Out of all the experiences that these guys will have while playing football for the University of Louisville nothing will mean more than when they go out and do these things in the community. It is a very cool thing and great to see. Below are a few pictures snapped by the staff at these wonderful events.
The football team will continue their good deeds and will hold an autograph session at the Trager Indoor Practice Facility to benefit the Salvation Army on Wednesday night December 27th. Just bring a toy to donate and the Cardinals will sign two items per person. This event will be held from 6pm to 7:30pm.
Tis The Season…. Go Cards!
-A Feel Good Day At The Cardinals Final Exhibition
It was an important day for the Louisville basketball team. It was their final tune up before they kick off their season against Minnesota on Friday. But today really was more than just preparing our guys for a basketball season it prepared them for life. Players from both teams got a chance to feel what it was like to put others before self. Patrick McSweeney was the star of the show and I was very proud to see how the players from both teams made sure that he would never forget his one shining moment. At the very start of the game Terry Rozier purposely turned the ball over to McSweeney so that he could take it down the floor to score. Rozier would say after the game "the best turnover I will ever make in my life".
The Cardinals did look better on the floor today and the things that were lacking in the first exhibition seem much improved. They rebounded the ball better, played better defense, guys came off the bench played well, but I'm not sure that any of that mattered as much as getting the chance to be a part of making one young man's dreams come true. It really was a feel good type of day both from a basketball and life standpoint.
After Patrick got to have his big moment it was time to get down to the basketball part of things and like I mentioned above things were really much improved and the Cards looked really good especially in the first half. The Cardinals Big Four of Harrell, Blackshear, Jones and Rozier all scored in double figures.
Montrezl lead the way with 17 points and also lead the way on the glass with 9 rebounds. He was very disappointed in his rebounding efforts last weekend and made up for that today. Wayne continues to really be aggressive and he made one move today that I hadn't seen since that Final Four game in New Orleans. I really hope it continues. Terry and Chris are gonna be one of the best back-courts in the nation and they are both playing well early. The other big positive today was seeing all of the young guys come off the bench and contribute in some way. We really need some of those guys to develop if we are to have a shot at making a good run in March.
The next one is for real, and the Cardinals will kick off their season against Minnesota on Friday. I'll have a complete breakdown and preview of that game later this week. Again it was a great day to be a Cardinal fan and a Bellarmine fan. Our guys won the game but both teams won at the game of life. Kudos to all!
-Louisville Basketball Exhibition Game One
I had really high hopes heading into the Cardinals first exhibition today, and really needed some excitement to help me get over the football blues from Thursday night. And while there were some exciting plays today during the basketball exhibition overall it was pretty bland. The game did start out with a very exciting new intro video that includes a lot of tradition and you can see that below. After that the Cardinals just pretty much went through the motions getting the win over Barry University.
The Cardinals were out-rebounded today 53 to 41, and Barry dominated the offensive glass 29-16, a very concerning statistic especially when you look down the road at some of the future opponents. You could tell that Coach Pitino was pretty upset by this and even some of the players were dejected by their lack of effort on the boards. They did take pretty good care of the ball today and only had 12 turnovers. They also had an edge in nearly every statistical category and were able to make up for their loss on the board because of some strong offense by Wayne, Montrezl and Terry. Mango also impressed me today with his offensive prowess.
This group has a lot of room to grow and today provided a lot of teaching moments for coach Pitino and his staff.
-The Louisville Women's Basketball Team Ready for Another Exciting Year
The 2014/15 Louisville Women's basketball team took the floor of the KFC Yum Center for a brief scrimmage at half time of the guys scrimmage on Sunday afternoon. One of the best coaches in the nation and the winningest coach in the history of the Louisville program Jeff Walz took the mic to discuss his team while they worked out in front of Cardinal fans. Coach Walz is in his eighth season as the Cardinals head man.
Much like the men's program the women's team finds themselves heading into a season after graduating a very successful group of seniors. And much like the guys, the women's team will be looking for a new group of leaders to emerge from a solid core of returning players.
Coach Walz will be looking to returning starters Sara Hammond and Bria Smith to lead them into their inaugural season of the ACC. And again like on the guys side they will face some stiff competition. The Cards also regain the services of Jude Schimmel, Shawnta' Dyer, Sheronne Vails, Cortnee Walton, Megan Deines, and Emmonnie Henderson. And they have one of the most talented freshman classes in the country in McDonald's All-Americans Myisha Hines-Allen and Mariya Moore. Other talented freshman include 5* Sydney Brackemyre, 4* Arica Carter, and ESPN Top 100 Ariana Freeman.
Coach Walz:
"There are no starters set. I tell them all the time it's not about who starts, it's more important who finishes."
Coach Walz:
"I'm really pleased with [the freshmen]. They are going to have to come in here as freshmen and compete right away."
Coach Walz:
"I believe we are a Top 5 program and have proven that last 7 years. But we still have our goal of winning a National Championship."
Coach Walz on schedule:
"They are all good games. You are going to have a chance to see a lot of great basketball in Louisville."
Coach Walz on ACC:
"You have to come prepared to play every night and as a basketball player that is exactly what you want."
Coach Walz on what is going right at Louisville:
"We have an unbelievable fan base and great leadership from President Ramsey and Tom Jurich."
Coach Pitino said at the Tip-off luncheon on Monday that the reason the University of Louisville is so special is because all of the athletic programs are at the top of their game. The Women's Basketball program is one of the best in the country and I don't think it will be long before we are watching them cut down the nets after winning the national title. Be sure to get out and support their team this season.
LOUISVILLE BASKETBALL 2014-15
-NCAA Basketball Practices Have Started and First Itrasquad Scrimmage This Weekend
We are heading into the heart of the college football season, but college football teams will now have to share the headlines as college basketball practices are underway and the march to INDY has begun. Our Cards have been going once a week for Several months as permitted by the NCAA, also doing individual workouts, and started full-go last weekend. Per the new NCAA rule college teams can start their official practices 42 days prior to their first game. They will be allowed to practice 30 times in those 42 days. The Cardinals first game is on November 14th against Minnesota.
Cardinal fans will get their first chance to see the 2014-15 basketball team at the annual Red and White Scrimmages. The first scrimmage will be held this weekend on October 19th and will be televised live at 2:00PM on WHAS Channel 11 in Louisville. No word yet about the second scrimmage on October 26th being televised but it will also start at 2:00PM.
This season Cardinal fans will have to adjust to life without some pretty special guys. The foundation of a great four year run has moved on and I know I'm gonna miss Luke, Russ, Stephan, and Tim. Not all of the familiar faces are gone and Montrezl, Chris and Wayne will now step into those leadership roles. The Cardinals will return two starters, eight letterman and have one of the more talented freshman classes ever as they make their first tour through the ACC.
Two of the most talked about guys heading into the new season are Montrezl Harrell, and Terry Rozier. These guys really turned some heads during their summer workouts at different camps across the country. Montrezl even left a trail of broken glass along the way. ESPN INSIDERS are already predicting that these guys will be first round draft picks after the season ends and Chad Ford goes as far as saying Rozier is his highest ranked returning player and has him going 11th.
Jeff Goodman also has Montrezl and Terry going in the first round. He updated his board Thursday.
Harrell, Rozier, Jones, Blackshear, and Mango will probably be the starters early on but I wouldn't be surprised to see someone else slip in. Jones should really have a strong season now that he knows what Coach Pitino expects. Mango really started to come into his own at the end of last season and should really take a big step forward this season. This is the last chance for Wayne to be the player he was projected to be when he came to Louisville. Coach Pitino says that he expects that to happen and was very impressed with his workouts this summer.
Anton Gill and Akoy Agau will be key reserves and I look for Shaqquan Aaron along with Chinanu Onuaku to get some quality minutes as freshman. Jaylen Johnson and Quentin Snider should also see some court time this season. And we all want to see the big seven footers Matz and Anas on the court but it's really not known yet what role they will play if any this season. Coach Pitino has alluded to them getting a redshirt. David Levitch became a fan favorite last season and will probably play that closer role again this season. Trent Gilbert a walk on from Scott County has some big shoes to fill, but could step into a Tim Henderson type player. The Jump shot is there, but does he have that drive. We'll see…
I am very excited about this season and excited to see what this group can come together to achieve. I expect most of the pre-season prognosticators to have us somewhere in the top 10 and I believe around 5-7 is a fair assessment at this point. The ACC is going to be a battle like some of those Big East years, but that will only help these guys get ready for a run in March.
Be sure to get those tickets for the Red and White scrimmages and let's show this group that we are ready to get behind them. It's here folks…. Go Cards!

(Thursday September 11 2014)
RED SEPTEMBER
-From The Bridge Year To That Dunk At The Brooklyn Bridge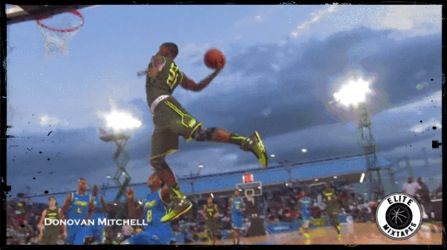 It was back in October 2010 when Coach Pitino was talking to Cardinal fans about that infamous "Bridge Year". Looking back on that moment now Cardinal fans can smile because it was those players (Russ Smith and Gorgui Dieng) that led Louisville to a 3rd National Championship. But there was no laughing going on about the recruiting back then. I think we can all agree that our Cardinals are very fortunate the way that all worked out.
Since the 2010 recruiting class that wasn't even among the top 50 in the country the Cardinals classes have hovered around the top 10 and have gotten better every year. Then at the end of August during the Elite 24 game a symbolic moment that would make everyone in the country take notice of the recruiting efforts at Louisville.
When 2015 commit Donovan Mitchell slammed home that remarkable one handed alley-oop dunk with the Brooklyn Bridge as the back drop he announced his presence among some of the best basketball players in the country and also showed Louisville fans that their days of mediocre recruiting are long gone.
ESPN came out with their new class rankings today and it is our Cardinals who are currently #1 in the country. All four of the Cardinals 2015 recruits are in the Top 51 in the country. Led by shooting guard Antonio Blakeney (No. 14) a big-time scorer with no fear, Small forward Deng Adel (No. 29) a skilled wing scorer and playmaker, Athletic guard Donovan Mitchell (No. 37) a highlight waiting to happen and can also help at the point at times, and fast-rising local forward Raymond Spalding (No. 51) a long, athletic finisher with good touch in and around the lane who possesses tremendous upside.
Yes Cardinal fans those bridge years are long gone. Really amazing how Coach Pitino has continued to evolve and adapt. And the Kenny Johnson hire has proved to be a good one.
-Women's Basketball and Football also have big time success on the recruiting trail
(Photo by Teresa Sheppard)
This has been a great week overall in the recruiting world for Louisville. On Tuesday Coach Jeff Walz got some great news when St. Pius point guard Asia Durr committed to play for the Cardinals. Listed as the #1 overall recruit by some services and the nation's No. 2 overall prospect by ESPN.
The 5-foot-10 senior has led St. Pius to back-to-back state championships in basketball, and was named last year's Georgia Gatorade Player of the Year.
Durr, averaged 24.4 points and 7.1 rebounds last season.
Like the men's basketball program the women's program are on their way to a top 5 class.
(Albert Cesare/ acesare@oanow.com)
Coach Petrino and his staff have also been on a good run on the recruiting trail. This week they snatched a prized recruit from SEC country beating out several SEC teams for one of the top linebackers in the country Amonte Caban.
The 12th ranked player in Alabama Caban is the fourth from that state to commit to the Cards in the 2015 class. He is also the 12th ranked inside linebacker in the country according to 247Composite. In 2013 he had 140 tackles, 11 for loss, three sacks and a recovered fumble. He also had eight touchdowns as a running back on offense.
Coach Petrino and the football program are on their way to having a top 20 recruiting haul for 2015.
-Louisville Baseball Starts Fall Workouts
This week Coach Mac lead his squad on to the field for their Fall workouts. They are working on hitting/bunting, outfield communication, base running, speed and agility. The Cardinals are hoping for a repeat trip to the College World Series next year.
This weekend they will continue to work on fundamentals and will also have a controlled scrimmage on Friday at 2 pm. They will hold a full intrasquad scrimmage on Saturday at 10:45 am. So if you are in the mood for some fall baseball head out to Patterson field. Cheer on the guys on the diamond before cheering on the guys on the gridiron.

(Sunday August 17, 2014)
THE BEAK IN REVIEW
-Kick-Off Luncheon on Thursday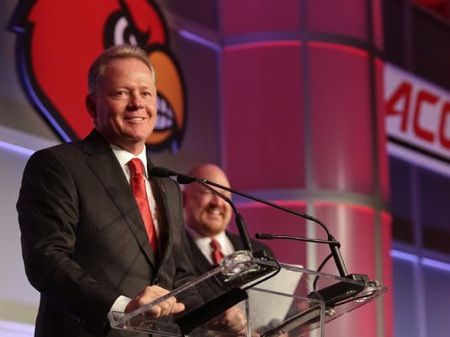 (Photo Courier Journal)
It is a former Cardinal great that has got a lot of attention today, but it was the current Cardinal football players that took center stage at Annual Kick-off Luncheon on Thursday.
For many years, the Cardinals Kickoff Luncheon has provided the community with an opportunity to celebrate the start of the college season. This year, the event had a very light hearted feel about it. I really like how some of the guys were able to step up on stage and express their own unique personalities.
The event also had a very personal feel to it. The return of coach Petrino who said it was good to be back home and Tom Jurich who proclaimed him as the fans choice when he introduced him to the Cardinal faithful. Bobby was my first choice and I really believe that he will finish his career in Louisville. He's got things off to a good start and I'm looking forward to it.
-Open Scrimmage and Fan Day


(Photo UofL Football)
On Saturday morning the football team was full go as they held an open scrimmage. The takeaway from the scrimmage was very optimistic especially from the offensive side of the ball. This Louisville team is absolutely stacked at the three skill positions Quarterback, Running Back and Receivers. We will have some of the best units in the country at these positions this season.
On Saturday Will Gardner threw one Touchdown pass, Reggie Bonnafon threw two touchdowns, one for Brett Nelson and two for Kyle Bolin. I think Reggie has solidified his role as the back-up and we could see him in certain situations regardless. It's great to have this much depth. All these guys have bright futures.
All five of the Louisville running backs were very active in the scrimmage. All 5 had over 30 rushing yards and all of them had at least one reception. I think we will see a lot of Michael Dyer this season along with Brown and Scott. I think both Lamb and Radcliff will also play but in situational roles. Lamb caught the football extremely well out of the backfield Saturday, and he is supposedly the fastest guy on the team. Wouldn't be surprised to see that option explored throughout the season.
DeVante Parker, Eli Rogers, James Quick were the first team wide receivers on Saturday. He didn't reach the end-zone but Parker had the grab of the day. Kai De La Cruz and Matt Milton also had a good scrimmage.
The defense is still a work in progress but there is also a lot of talen on that side of the ball as well. The standouts Saturday were Lorenzo Mauldin, James Burgess, Chucky Williams and Andrew Johnson. Mauldin had a few sacks and deflections, Burgess was really disruptive and Williams and Johnson had interceptions.
-Fan Day another huge success
Approximately 4,100 fans attended Fan Day at Cardinal Arena on Saturday afternoon. Proving yet again how much Cardinal Nation loves their team. I am a huge fan of these events and love how it lets the fans be a part of their favorite players world for a few hours. This is really great for the younger Cardinal fans.
-Louisville Soccer also heading into another exciting season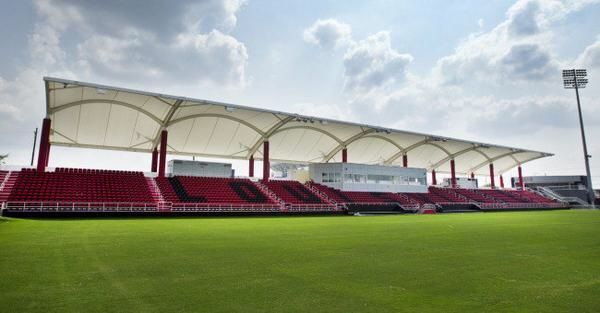 Both the men's and women's soccer teams will be moving into their new digs this season. The 14th-ranked men's soccer team opened its first of 3 preseason games on Friday night at Cardinal Park with a 3-0 victory over NAIA foe Rio Grande. They will open the real season against Maryland on the 29th. Three of their matches are slated for ESPN3 with an Additional Contest on NSCAATV.com.
The Women's team has finished their exhibition part of their schedule with a tie vs Tennessee and a loss vs Indiana. They will open their season against Wright State in Dayton Ohio on the 22nd.
I would encourage all Cardinal fans to get out and support both of these great teams and check out the beautiful new stadium.

The wait is almost over! Just a little more than two weeks away folks..

(Monday August 11 2014)
-Open Practices End, And Real Work begins
On Saturday afternoon the 5th open practice took place in front of many avid Cardinal fans. You can really tell that the fans have taken their excitement to the next level and the anticipation for football to begin has never been higher. According to first hand accounts the players looked to be relaxed and very business like as they went through their workout. Will Gardner who had a couple of sloppy days in the early part of camp was reportedly throwing some very crisp passes as he went through his reps. The receivers and running backs also reportedly seemed very focused.
With the last open practice in the books it will be time to close the gates off to the media and the public. It is now time for the real work to begin. We are about 3 weeks from the kickoff of the season and Coach Petrino and his staff will start fine tuning their offense and defense in preparation for the first opponent. I know I enjoyed the chance to see the team and I can't wait for that first Card March and game.
-Also don't forget about the Open Scrimmage and Fan Day activities on August 16th. Scrimmage 9pm & Fan Event 3pm
-Battle of the Bluegrass Basketball Game Time set
It was announced today that the annual basketball battle between the Cats and Cards on December 27th will tip at 2pm and be picked up by ESPN2. This will be a change as the game had been on CBS for several seasons.
We all know that Calipari and the Cats have had the upper hand in this series lately with the most crushing loss coming in this past seasons Sweet 16. The Cats also won the last regular season game in December and hold a lead in the series 32-15.
The home record in the series since Calipari took over in Lexington stands at 1-1 and with the game being in the Yum Center this season is a perfect chance for the Cardinals to take that to 2-1 and at least own a home court advantage against the Calipari run Cats. Regardless I think it is a must win for Coach Pitino and our Cards.
-Two 2015 Cardinal Commits Get Their 5 Star Status
Today 247Sports came out with their new 2015 Basketball rankings and commit Donovan Mitchell and Raymond Spalding move up in the rankings after their strong summer showing. They are both now 5 star prospects and as a result Louisville's class ranking jumps to #2.
I think once the other recruiting services update their rankings to reflect the summer of basketball we will see a jump for all three of the 2015 commits. Also look for Louisville's class ranking to jump to the top.
You can keep up with all of the recruiting news via my recruiting page. I have direct links to all recruiting sites and links from all sources regarding our prospects and commits.
-CardsTV Summer Interview Series
Cards TV had a summer interview series with some of the Basketball players. These were pretty good. I have put them all below in case you missed any of them.
Folks not much longer now and we will be starting another exciting sports season. That in itself would be enough to put a smile on your face but add in the ACC factor and wow. I'm ready!

(Monday July 21st 2014)
We are 42 days away from the official kickoff of the Cardinals inaugural season in the ACC. On Sunday Louisville took their seat at the ACC table at the unofficial kickoff of college football known as the conference media days. This is a time for coaches and selected players to mingle at various events and functions. It is also a time for the coaches and selected players to meet with local and national media to discuss the upcoming season.
Representing Louisville at this year's ACC Conference Media Days was of course head coach Bobby Petrino along with Lorenzo Mauldin and DeVante Parker. Usually to get any attention at these yearly conference gatherings you have to be a National Title contender or a Heisman hopefull, this is especially true in the new 14 team format. But Louisville was like that new kid at school and the large throng of media seemed very intrigued about the Cardinals presence.
The general theme of answers given by our Cardinal representatives was that of enthusiasm of being in a tougher conference and the opportunity to represent a great conference like the ACC. Each player had their rounds with the local and national media and Coach Petrino had around 40 interviews. Below are some of these interviews.
Here are the preseason predictions:

These past couple of days reading all of the stories, looking at all of the pictures and listening to these guys talk about the football season has really made me that much more excited about it. I can't wait to see how our Cardinals first season as ACC members plays out.
The Cards will open league ACC play on Labor Day against Miami at Papa Johns Stadium, in a nationally televised game (8 p.m. ET, ESPN) between two teams that just played 7 months ago in the Russell Athletic Bowl.
Today the folks who love to collect Makers Mark bottles got some great news. The University of Louisville will announce a new Cardinal themed bottle at a special press conference at 10am on Tuesday morning. Coach Pitino and Coach Ken Lolla will participate in the announcement.
The proceeds from this new bottle will benefit the UofL Academic Canter for excellence. This center will be built on campus. All of you collectors be sure to tune in tomorrow and get out there and grab one of these bottles.

It was a crazy week around the Cardinal Nation while I was on my summer vacation. We had a football commit, two basketball committs, all of the guys competing in the NBA Summer league, Shoni showing out at the WNBA all-star game and the start of the ACC Kickoff on Sunday.
I'm glad to be back on the keyboard and am looking forward to giving my perspective of Cardinal Sports in the upcoming year. Thank you for reading my scribbling. Go Cards!