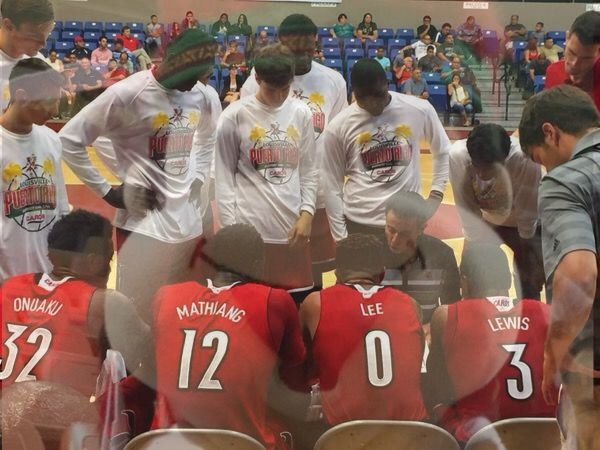 Our Cardinals close out the Puerto Rico trip with another win. These games will benefit this team greatly and in just the last two games alone the improvement has been drastic. We really did get to watch this team grow up before our eyes over the past couple of days. What we could see of it anyway. Coach Pitino said before this trip that if they could win a couple of games that he would be very pleased with the effort. The Cardinals struggled in the first games but grew from those losses and were able to get two very nice wins to wrap things up. I really enjoyed getting the opportunity to watch and evaluate these guys so early. This team is still a work in progress but I think they'll do big things this season. We've got scorers, legitimate big men, great wing players, and good bench play.
Here's just a little assessment I had of some of the guys this week:
Damon Lee is going to be a good one… He had 118 points on this trip… Not too shabby! He will have to learn that he doesn't have to shoulder all of the load like he did at Drexel. He forced some stuff this week and that will change. He will be a 20 pt. scorer this season.
Mango and Nanu have and will continue to get better. They are passing the ball much better and seem to be more active around the rim. Would like to see them be more physical and draw more fouls. Both can be very effective in the lane and this team will need that from them both.

Matz and ANAS are still works in progress. Both need to get much more physical and comfortable when they get the ball. Both still have a tendency to rush and be reluctant. They'll get it.
Trey Lewis like Lee is going to be a scorer, but will have to learn that he isn't a one man show any more like he was at Cleveland State. He'll have to adjust to team ball and making the extra pass. He'll help us win some tough ones this season.
Jaylen Johnson I didn't really see the improvement I was hoping for out of him. He made some good plays and has worked on his mid-range shot, but is another guy that has to be more physical. Still a lot of time. I've got big expectations here.
Quentin Snider He was a stone cold killer in the run the Cardinals made in March. I did see flashes of that version of him tonight but overall it was a quiet trip for him. Didn't amaze like I thought he would. May still be adjusting to his role on this team. I think he'll start and play a lot of minutes this season. He creates plays and is a heady ball player.
Out of the new guys Mitchell, Adel, and Spalding it was Spalding that impressed me the most. He will be one of the hometown greats before his career in Louisville is over. The kid oozes big time potential. Active hands and all over the court on defense. His wing span is longer than Montrezls. And he has a soft touch around the basket and can finish with power when needed. I'm excited about him. Adel is also ready to play right now. He's already physical and strong enough to compete in the ACC. He is a match-up problem and can post his man up or take him out to the perimeter. Shows very good skill set. Mitchell is going to be very good but out of the three he still has the most to learn IMO. He still rushes when he has the ball and that leads to poor decisions and turnovers. His potential is off the charts and he's going to be great just needs time.
Biggest surprise for me was preferred walk-on Jay Henderson. This kid has a lot of game. He looks really comfortable and confident with the ball in his hand and really does command on the court. Really impressed with his ability and think he'll see the court this season. Pretty cool to have another walk-on named Henderson. I think this one could be just as effective…

Here's Coach Pitino's Post game courtesy Eric Crawford's Periscope:
COACH PITINO POST GAME