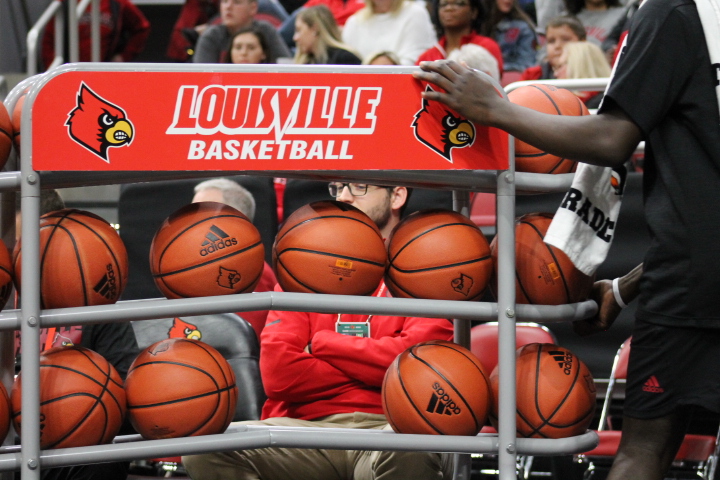 The Louisville Basketball team took the Yum Center court for the first time on Saturday at the annual Red & White scrimmage. Team 106 is stacked. A preseason top 5 by most publications this team has the talent, depth, and attitude to make a National Title run. It was great to be back in the Yum Center and I'm excited that another basketball season is upon us.

I just watched the Louisville Football team win their first game over a ranked opponent since 2016. The football team has a new physicality about them this year and that has helped them turn things around pretty quick on the football field. Watching the basketball team at the scrimmage I noticed a significant difference in their physicality.
It was so physical on the Yum Center court on Saturday that you could hear it. Guys body checking, putting an arm in someone's chest and guys looking to create contact on every play offense and defense. It really is crazy the difference a year has made under Coach Mack's system and it too will start paying off. I don't see this team getting pushed around by anyone.


I ask the players and Coach Mack about my observation during the scrimmage. Coach Mack said that it was good to hear someone talk about the improved physicality. Says that it's hard for them to see the difference in the physicality of the team because they are with these guys every day. Ryan McMahon said that practices had gotten so physical that Coach Mack brought in referees to call fouls. This has paid off. Two of the most physical guys during the scrimmage were Dwayne Sutton and Steven Enoch. Between them, they drew 12 fouls but only had 3 personal combined. They are being very physical but not out of control.
The physical nature of this Louisville Basketball team is the biggest thing that stood out to me during the scrimmage but there were other observations.
Jordan Nwora should win Player of the Year. He made the decision to spurn the NBA and come back to Louisville for his junior season. He made the right one. He is surrounded on this team by offensive weapons. This should allow him to focus on his own game and develop his role on this team without having to be the primary source of points. Last year I felt like some games he was forced to take on too big of a role and that slowed his progression.
There will be nights when Jordan has to put the team on his back but it won't be every night. I saw more quickness in his game on Saturday. And his vertical game has continued to get better. He had the scrimmages only blocked shot today. Jordan's game has gotten much more active and is less reactive. I call him swag and his game is legit.
Speaking of legit game. Steven Enoch has gone full beast mode. He had an All American stat Line in Saturday's scrimmage. He earned his 21 points. Aidan Igiehon did not give him any easy ones. Those guys battled in the paint all scrimmage. The Louisville frontcourt is loaded and the competition between these guys is going to make them all better. It already has.
Can't say enough about Dwayne Sutton. He is such a workhorse. 20 minutes of grind. He is a guy that thrives in a physical game and really knows how to extend the play through contact. He drew a team-high 7 fouls during the scrimmage. Was 9-11 at the free-throw line. He'll be another guy who will benefit from having a team full of offensive weapons. Sutton is the ultimate role player.
It has been awesome watching Darius Perry figure things out. His newfound self-awareness has carried over into his game on the floor. He is much more poised than he was a year ago and his improved court awareness makes him a more effective player. He had 5 assist to 1 turnover in the scrimmage. A year ago it would have been the opposite.
I've looked forward to seeing the Super 6 on the Yum Center court. I think their class is going to be pivotal in the success of the Louisville program during the next 10 years. If Coach Mack and his staff can go on a run like I think they can it will all have started with this 2019 class. Four of the six were in the ESPN 100. Out of the six, I think Williamson, Johnson, and Igiehon will see the most minutes this season. None of them had a stand out performance at the scrimmage.
Fresh Kimble and Ryan Mack also with a quiet scrimmage but you can bet they'll both stand out as the season progresses.
All in all, there was nothing really surprising about the Red and White scrimmage. This team is going to come into this season with some lofty expectations. They looked the part on Saturday and have the parts to live up to the hype. It will be fun watching it all come together.
Go Cards!