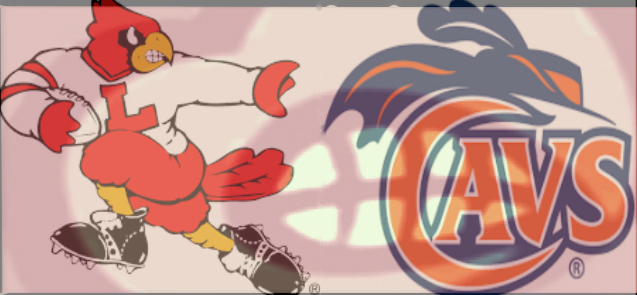 The last time we were all gathered together at Papa John's Cardinal Stadium we left a little stunned as the Cardinals were 45-42 losers to Boston College on Homecoming. After a bye week the Cardinals return to their home turf in another important ACC match-up against Virginia. Important because the Cardinals could become bowl eligible and important to re-gain any type of momentum heading into the final two games of the season. Louisville and Virginia meet for the sixth time in school history on Saturday, with the Cardinals holding a 3-2 advantage. The series began in 1988 when the Cardinals defeated the Cavaliers 30-20 in Louisville.
Both teams have had their struggles on the defensive side of the football this season. Virginia is an all-around solid football team, but looked bad against Boston College and Pitt. The Cavaliers put up just 24 combined points in those two, and gave up 72 points in total on defense. Virginia's wins haven't been very impressive. They haven't won by more than a TD in their last five games. As for our Cardinals, they're getting blown out on defense and the offense just hasn't been able to keep up—talented as it is. The Cards have given up at least 28 points in each of their last four games on the defensive side of the football. The question on Saturday afternoon is will either of these teams be able to stop the other. The last team with the football might be the winner in this one.
As I mentioned above even in their wins Virginia hasn't exactly been lighting up the scoreboard. They are ranked #92 in the nation in total offense with 374.1 yards a game and ranked #78 in scoring offense with 26.3 points a game. Leading the charge for this Virginia offense is QB Kurt Benkert. On the season, Benkert has 2278 yards, 20 touchdowns and six picks. He is a big pro-style QB who has NFL size, athleticism, and arm. I've watched a few of their games this season and he sometimes tends to telegraph his passes from the shotgun especially when pressured.
Jordan Ellis leads the Cavaliers rush attack with 708 yards and five touchdowns on 170 carries. I look for Virginia to try and grind out their possessions, so they can keep the Louisville offense off the field. There isn't a better grind it out back in the ACC than Ellis. He has been a workhorse in short yardage on 3rd and 4th down for the Cavaliers. He has rushed seven times for four first downs on an average of 1.7 yards per carry and on third down, has 18 first downs, four touchdowns on 36 rushes. Ellis helped eat clock and secure a victory against Duke five weeks ago.
Tops in receiving for Virginia is Olamide Zaccheaus, with 66 catches for 683 yards and four touchdowns. His 66 receptions are tied for 5th in Virginia's record book for single-season catches. This guy is a pretty big offensive weapon for his team. In Virginia's five wins in 2017, Zaccheaus has caught 31 passes for 376 yards and four touchdowns, while also rushing 13 times for 130 yards and one more score. Senior WR Andre Levrone has six touchdown catches for 262 yards, or 43.7 yards per scoring reception. Overall, Levrone is No. 1 in the ACC and No. 6 in the nation with 22.57 yards per reception. These guys should keep a struggling Louisville secondary busy all-day Saturday.
Trying to stop this group is a Louisville defense that is ranked 83rd in the country. As a group they have been dreadful this season giving up 410 yards a game. Individually there have been some guys standing out. Jonathan Greenard is becoming a force off the bench for the Cardinals' defense. Greenard has caused havoc in the opposition's backfield and has been credited with 11.5 tackles for loss which is seventh in the ACC and 31st nationally. The Cardinals have a trio of dominating edge rushers with Greenard, Trevon Young and James Hearns. The three standouts have combined for 27.0 tackles for loss and 10.5 sacks this season to pace this defense.
The Cardinals have three rookies who have stepped up and playing in a starting role in linebacker Dorian Etheridge, cornerback Russ Yeast and safety TreSean Smith. Etheridge is second on the team with 54 tackles. The coaching of this group has also come into question this season. Coach Sirmon was supposed to simplify things to make them more effective but instead they have seemed lost at times. Hopefully the bye week with solve some of the problems and the news that All-American Jaire Alexander might return could help also. I'm still holding on to hope.
For the Louisville offense things have been right on track. The Cardinals are #3 in the country in total offense with 549 yards a game this season. Lamar Jackson in my opinion is once again the best player in the country by big margin. So far, this year, Jackson has put up 2808 pass yards with 18 TDs and six picks, and is tops in Louisville rushing as well with 1029 yards and 14 TDs off 163 carries. It's unreal what this kid has been able to accomplish is two season of college football. I just hate that he is not getting the recognition he deserves this season due to the team's overall less than stellar performance.
There is a lot of talent on this side of the ball and it has been an offensive unit by committee this season, with 12 different players scoring at least one touchdown, including seven different players with a receiving touchdown. Jaylen Smith is the lead Cardinals receiver with 619 yards and two scores off 39 catches. Due to injury and misfortune the Cardinals haven't been able to establish much in the rushing game. That has hurt.
The Virginia defense will be the next group to try and slow Jackson and company. Their group is ranked #30 in the country in total defense. Middle linebacker Micah Kizer is the team's top tackler with 97 stops and five sacks, while safety Quin Blanding is next with 86 tackles on a Cavaliers defense that allows just 344.3 yards per game. Kizer and Blanding rank No. 1 and No. 2 in the ACC in tackles. This is nothing new for the duo as they finished No. 1 and No. 2 in the ACC in tackles in 2015 and 2016. Kiser ranks No. 6 in the nation in tackles in 2017, while Blanding ranks No. 15 in the nation. The more offensive plays away from these guys the better.
I don't think this game is a must win for our Cardinals, but it would be nice to get that bowl eligibility before Syracuse comes to town for the final home game of the season and before the Cardinals must make that trip to Lexington in a couple of weeks. I still contest that this season now comes down to making it to a bowl game and beating UK, but I don't want that to come down to one game. This has been a frustrating season all around. But there is still a lot here to cheer for. Our offense is legit. Just hope the extra week of practice without a game helps right the ship some on the defensive side of the ball. We'll see… Enjoy the game folks! Go Cards!