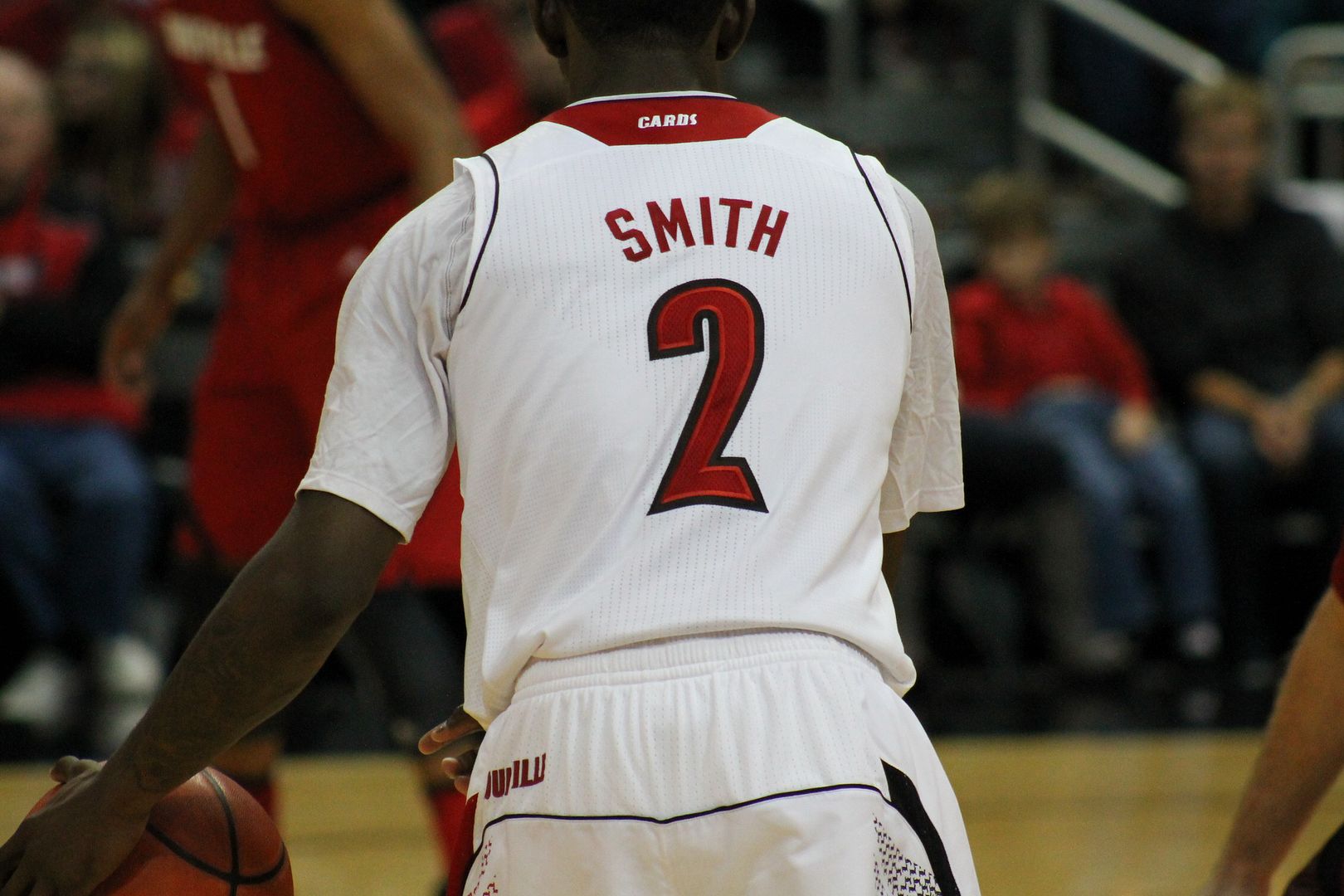 University of Louisville guard Russ Smith was named one of 19 third team recipients of the Academic Momentum Award, announced last week by the Scholar Baller program, in conjunction with the National Consortium for Academics and Sports (NCAS). A junior communication major Russ has a cumulative 3.1 grade point average and was a third team selection for the academic honor.
Eighty-nine nominations were received from 30 different colleges and universities across the country. The nominations were divided into three teams based on the level of academic improvement and the impact of that academic momentum on each nominee and his or her peers. A total of 28 male and female award recipients from the NCAS schools were chosen for team one, 17 recipients were chosen for team two and 19 recipients for the third team.
Russ is leading the Cards in scoring this season with 18.4 points per game, shooting 41.4% from the field, 32.3% from 3, and 79.7% from the free-throw line. He also averages 2.6 assist per game and 2.2 steals per game. His Big East statistics are as follows, he is fourth in scoring 18.4pg (38th nationally), third in steals 2.2pg (31st nationally), 12th in free throw percentage 79.7% and 14th in three-point goals per game 1.7pg. He is a national player of the year candidate and one of the 25 players left on the Wooden Watch list. He was also mentioned today on Espn for being one of the breakout players of the year.
THIRD TEAM Academic Momentum Award recipients are:
-John Dickson, Virginia Tech, Wrestling, Business Information Technology
-Russ Smith, University of Louisville, Basketball, Communication
-Jessica Gehrke, Florida International University, Track and Field, Sand Volleyball, Sports and Fitness
-Josh Reese, University of Central Florida, Football, Sport and Exercise Science
-Harry Adams, Auburn University, Track, Sociology
-Andrew Incho, Canisius College, Soccer, Communications
-Erica Winston, University of Central Florida, Track and Field, Interpersonal Organizational Communication
-Cristina Sanchez-Quintanar, Texas A&M University, Tennis, International Studies
-Sandra Jean-Roman, Monmouth University, Track and Field, Anthropology
-Sam Kernan-Schloss, Brown University, Soccer, Community Health & Economics
-Stephanie Thompson, Brown University, Softball, Neuroscience
-Ensley Ann Gammel, University of Florida, Softball, Family, Youth, & Community Services
-Camille Everett, University of Central Florida, Varsity Rowing, Interdisciplinary Studies
-Michael Wilder, UC Irvine, Men's Varsity Basketball, Psychology and Social Behavior
-Mar Rodriguez, UC Irvine, Varsity Women's Soccer, Sociology
-Kelly Meggs, UC Irvine, Varsity Women's Basketball, Psychology
-Hannah Croghan, UC Irvine, Women's Water Polo, Public Health Policy
-Ashley Rivera, Texas A&M Kingsville, Golf, Environmental Engineer
-Jake Rouser, Idaho State University, Football, Business Management
This year's nominations included stories of overcoming past academic failures; transferring schools in the middle of a season; leaving his or her hometown and still exemplifying leadership while inspiring peers and teammates to do the same; overcoming the adversity of being injured and channeling their energy into academics; being an international student who had to persevere through hardships both academically and culturally; and participating in local community service initiatives.
The NCAS is an ever-­‐growing organization of colleges and universities that provides opportunities for current and former student-­‐athletes to continue their pursuit of higher education, while working in the community with children to address social issues. Established in 1985, the overall mission of the NCAS is "to create a better society by focusing on educational attainment and using the power appeal of sport to positively affect social change."
Established in 1995, the Scholar Baller movement evolved in response to concerns that the student-athlete's athletics role increasingly superseded the student role. In order to address this issue, the founding members of Scholar Baller developed a groundbreaking program to bridge the gap between education and sport utilizing student-athletes' passion for entertainment and athletics. As a result, the Scholar Baller program has produced unprecedented outcomes in student retention and academic achievement. Each award recipient will receive a recognition certificate; the second and first team will also receive an authentic Scholar Baller medal. All nominees who made the first team will also receive a ThinkMan/ThinkWoman trophy. All nominees are individually and collectively a testament to the "student" in "student-­‐athlete." Their commitment to academics and athletics is truly an inspiration.
Very proud of Russ Smith for this accomplishment. It's always great when your players are stars on the court and in the classroom. He is not only winning basketball games but winning in life as well.