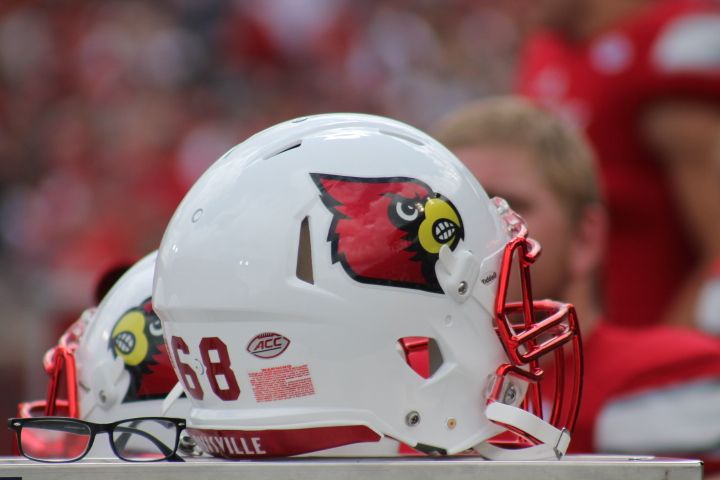 I've had a few days to think about the Louisville football season and to ponder the 0-3 start. Watching the other college football games over the weekend I can say with extreme confidence that there are a lot of schools who would have started the season 0-3 with Louisville's schedule. But I digress… Even though our Cardinals are 0-3 we have had moments against both Auburn and Clemson that could be considered somewhat of a moral victory and things that the team could actually build upon.
The Cardinals total margin of defeat in the past three games is 13 points and that is lower than any three game losing streaks in school history. We have not been blown out and have been in every game with a chance to win. We've got an exceptional group of freshman and they are the foundation of what will eventually be a good football team. The freshmen have accounted for over 60% of total yardage for this team up to this point in the season. Freshmen WR Jaylen Smith (11 Rec, 171 yards), TE Micky Crum (12 Rec, 158 yards, 1 TD), WR Traveon Samuel (12 Rec, 118 yards), and WR Devonte Peete (5 Rec, 101 yards) are all ranked in the top 40 of receiving leaders in the ACC. Smith #12, Crum #15, Samuel #27 and Peete #33. Freshman QB Lamar Jackson is #10 in the ACC in total offensive plays with 130 rushing yards and 283 passing yards.
On Saturday the Cardinals will play the Samford Bulldogs. The Bulldogs are a very good FCS football program and this will provide the Cardinals the opportunity to get an important Morale victory. This Samford football team will be no push over. They are very well coached by a familiar face. Chris Hatcher comes to Samford after serving as the head coach at Murray State University since 2010. In five seasons as the head coach of the Racers, his teams employed a high-powered "Hatch Attack" offense to top the Division I-FCS football charts. In 2014, the Racers ranked second in the nation in passing offense, averaging 327.2 yards per game. The team also ranked 15th in total offense at 468.3 yards per contest. Hatcher boasts a career record of 121-57 in 15 years as a college head coach at Murray State, Georgia Southern and Valdosta State.
Leading the Samford offense is QB Michael Eubank who is completing 68.6 percent of his passes for 907 yards, seven touchdowns and three interceptions. We may also see QB Devlin Hodges. He and Eubank have combined for combined for 1,054 passing yards this season. They have three very solid players in their wide receiving corps. WR's Karel Hamilton and Emmanuel Obajimi have combined for 438 receiving yards and two touchdowns. WR Kelvin McKnight has 11 receptions on the season. Leading their rushing attack is Junior Denzel Williams who has 219 yards and two touchdowns on the season. They are averaging 182 yards on the ground per game this season. The Bulldogs have scored over 40 points in two of its first three games and are averaging 45 points. Defensively, Samford is allowing 22.7 points and 438 yards per game. The stud of their defense is SR Line Backer Justin Cooper who leads the Bulldogs with 25 tackles. Leading their defensive front is Jared Holloway who has two sacks on the season and leading their secondary is James Bradberry with four pass deflections.
I do expect Coach Grantham's defense to win the day here. Shadowed by the fact that they have played some very good teams with some very good athletes at the skill positions is that this Louisville defense has the chance to be really good. They have a lot of new parts that have had to come together and some players that had to find their football feet again but it's coming along. Defensively, Louisville is allowing 28.3 points and 396.7 yards per game. The obvious issue for this defense is getting off of the field on 3rd downs. They have allowed 20 third down conversions this season allowing teams to convert 44% of the time. I think this is a big part of those growing pains. There are a lot of moving parts and a lot of communication gaps that still need time to gel.
This Cardinal defense does have the top tackling duo in the ACC. Keith Kelsey and Josh Harvey-Clemons both have 33 tackles on the season and that is good for #1 in the ACC and #12 in the nation. Clemons is 2nd in the ACC and 16th in the country in interceptions with two on the season. And he is just getting started folks. This Cardinals defense also boast several other players in the top 25 of tacklers in the ACC. #6 James Burgess with 26, #11 Sheldon Rankins with 23, #18 Keith Brown with 18, and #22 Devonte' Fields with 17. Fields is getting more and more back to his old self every week, and I expect full beast mode by the middle of the season. This Louisville defense is just like a pot of chili, and the more it cooks the better it will get.
The Louisville offense is ranked in the bottom or near the bottom of every category, and it can all be directly related some way or another to poor production on the offensive front. We all knew that it could be bad but didn't expect it to be this bad. The rushing game is one of the worst in the country through three games and the Louisville QBs are running for their lives. I still have faith that Coach Klenakis will get this issue resolved. He has proven time and time again that he can develop talent. The guy has coached 21 offensive linemen who have advanced to the NFL. Before coming to Louisville Klenakis was at Iowa State and in 2013 he had six different starters miss at least one game. He was forced to use nine different combinations that season. They ended up having two consecutive 500 yard games of total offense and the Cyclones finished the season with the 10th most points in school history. He has built offensive fronts at every coaching stop in his career and he will figure this out.
It has been a youth movement for this Louisville offense. It looks like Lamar Jackson may take back the QB duties on Saturday and there is no doubt that Jaylen Smith and Micky Crum who have combined for 329 receiving yards and one touchdown along with Traveon Samuel who has 12 receptions will continue to play an important role. We may get to see James Quick return to the line-up as well. In order to get things really moving for this group we have to get some production in the running game. Brandon Radcliff has done his best with little or no help from that offensive line and leads the way with 164 yards and two touchdowns. The Cardinals Rank 14th in the ACC and 115th in the country in rushing offense averaging a whopping 3.2 yards a carry, 109 yards a game and 6 touchdowns. I still have high expectations out of this group and Coach Petrino is one of the best offensive minds in the game.
As I said in my opening the Cardinals have played a very tough schedule, and one that has kept them winless through the first three weeks of the college football season. We have had some moral victories, but on Saturday I do believe that both the defense and offense will get a much needed Morale boost from this game. They are playing a team that they should beat but it will still take a good effort from both units to get the win. This game couldn't have come at a better time for our Cardinals. This season will be defined by how this group overcomes adversity and this weekend will be the start of positive things ahead.
The Beak Prediction:
Louisville 44 Samford 9