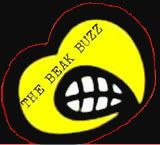 Louisville Football Making Quick Work Of The 2014 Class Lands 14th Commit Saturday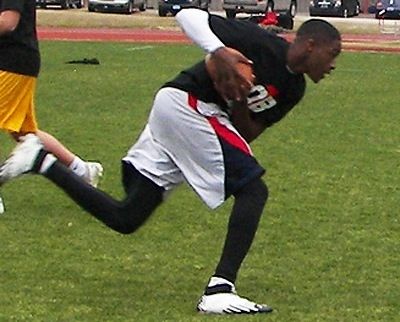 The 6'3 170 pound Union County High School, Union, S.C. wide receiver T.J. Foster has only been playing football for over a year now. But in that short time he has started to get attention from some major players and all indicators are pointing to him marching up the prospect rankings. East Carolina, Florida International and Louisville noticed Foster early and were the first schools to offer him a scholarship.
Foster had a chance to spend time with the Louisville coaches during the spring game weekend and they made a very good impression on him. He was also very impressed with the facilities. On Saturday afternoon he decided that what he had seen at the University of Louisville was too good to pass up and he gave a verbal commit to Coach Strong. Louisville is making quick work of the 2014 class and this is commit number 14.
The Scouting report on Foster is that he runs great patterns and has very sticky hands. He's a nice target and attacks the ball at its highest point.

A Lot On The Line In Louisville Baseball Regular Season Finally

The Louisville baseball team has won thirteen straight games and has had a remarkable season. They are among an elite group of schools with over 40 wins on the season and are currently ranked 10th in the NCBWA poll, 12th in the Baseball America poll, 10th in the Collegiate poll and 11th in the USA Today Poll.
The Cardinals will close out their regular season in a series with #16 Pittsburgh starting tonight at 6:00 PM in Jim Patterson Stadium. They will play at 6:00 PM on Friday, and then close out the series, and season on Saturday at noon. There is a lot on line in this final series of the season including the Big East regular season title and according to Baseball America a chance to be a regional host.
Baseball America: Louisville retains a host spot based on our assumption that the Cardinals will win their home series against Pittsburgh this weekend to capture the Big East regular-season title. If that doesn't happen, remove the Cardinals from the hosting column.
If you don't have any plans this weekend get out and support the baseball team as they finish a regular season that will hopefully end with a championship.

Lots Of Offers, But One Stood Above The Rest For Ford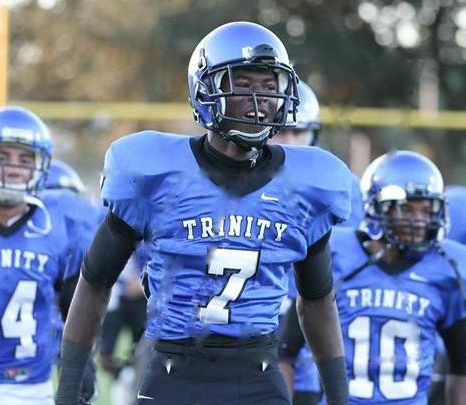 He held offers from Cincinnati, Florida International, Florida State, Georgia Tech, Illinois, Louisiana-Lafayette, Louisville, North Carolina, Oregon, Rutgers, South Carolina, UCF, Vanderbilt and Virginia Tech. To say Isaiah Ford the 6-1, 161 pound Jacksonville, Fla Trinity Christian Academy Wide Receiver had options is an understatement. But out of all those schools the cream did rise to the top for the 4 star Ford and he gave his verbal to Charlie Strong on Saturday afternoon. This makes the 3rd wide receiver from the sunshine state now in the class of 2014.
Ford said back in January: "I am looking for somewhere where I can come in and compete for a starting job right away and that is going to fit me as one that throws the ball around."
Here's what the ESPN Analyst had to say about Ford:
"This guy is a squirrely playmaker. Ford is a slick and slippery pass catcher with great feet and a penchant for making plays both on the deep ball and underneath with the ability to extend plays after the catch. He is rail thin with fluid movements, but very little bulk or strength at this stage. What Ford lacks in speed, he makes up for in competitiveness and savvy. He is lanky and fluid at the same time so he possesses some wiggle to him as a route runner and ball carrier after the catch. Surges off the ball quickly, but not always at full speed and he often tries to work the DB and lull him into stopping his feet. Has some craftiness to him and looks to set DBs up in order to accelerate and create separation. He is a weapon both vertically and underneath, especially when he can pluck on the move and get into space. Hands are quick and effortless — is really natural catching the ball away from his frame. In the short-to-intermediate passing game, he is a crisp route-runner who catches everything thrown his way and isn't afraid to go over the middle.
He has quick hands, plucks with ease and puts the ball away. He is a good leaper and extends to pull balls down in traffic. Does a great job in the red zone of timing jumps and softly pushing off to create space to adjust to the ball. He can adjust to the over-the-shoulder deep ball. He is shifty and can stop and start quickly to avoid or make people miss in the open field. The issue with Ford is his lack of top end speed. He is far more quick than he is fast. Might struggle to separate or stretch at the next level. Lacks the physical stature to be a physical presence. Could be a best fit in the slot. He has sudden shiftiness which allows for him to make people miss and create big plays, but winning footraces will prove to be difficult in our opinion. We like his playmaker's mentality and he's an instinctive player. Many redeeming qualities."

Did Someone Say Football Commit?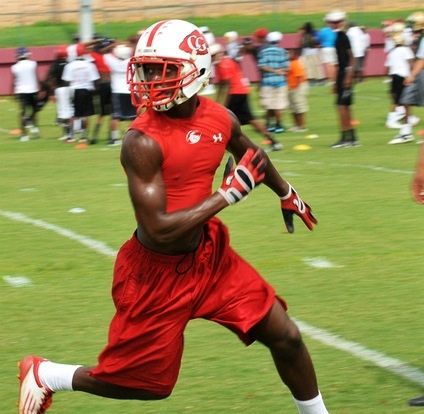 Coach Charlie Strong and the football program are keeping bloggers like me very busy, especially over the past month. It is becoming a very familiar thing to hear that someone else has committed to the 2014 class. Tonight Coach Strong got verbal commit number 12 for the class of 2014 and it makes the tenth in 30 days.
6-foot-1, 180-pound wide receiver George Rushing of Ft. Lauderdale (Fla.) Cardinal Gibbons committed to Louisville on Friday night. Rushing was considered a rising prospect in Florida and was seeing interest from Florida and Florida Atlantic. He held offers from Bowling Green, Ole Miss, Toledo, Western Michigan, Boston College, Cincinnati and Southern Miss. Rushing's coach says: "He has speed, he has hands. He makes people miss. He'll be a difference-maker."
Coach Strong continues to make his presence felt in the state of Florida and Rushing is the 7th commit in the class of 2014 from the sunshine state.
Here's ESPN's assessment:
"Size-Strength-Speed- "
Possesses good size and a strong, but wiry frame that is still developing. Has some thickness to him, especially in the lower body. Appears heavier than listed weight. Has the frame and build to hold up on the inside, where he is best suited. Speed is marginal against top level competition. Quick and elusive, but not overly fast.
Separation Skills-
Average. Is at his best on the inside. Has a great feel for coverage, locating soft spots in zone and working underneath areas of the field between the numbers. Needs to be off the line vs. press. Despite long arms and adequate size he struggles to get off press. He is fairly savvy as a route runner with quick feet. Knows how to get open, but one-on-one he might lack the sudden explosiveness to breakaway vs. tight coverage.
Ball Skills-
Very strong. Shows focus and awareness of surroundings. Will elevate, extend and make plays on the jump ball and in traffic. Shows no fear over the middle of the field and will extend away from his frame when he knows he'll get hit. Can pluck on the fly and tuck quickly to transition upfield. Is better on the jump ball than size would lead to believe. Isn't an imposing player, but plays big when the ball is in the air.
Big Play Ability -
Much stronger at this level than he likely will be at the next. Speed will limit his ability to produce home runs against high level prospects. He is extremely productive catching the football and will be a very reliable player on the inside where he can be a movement guy from the slot and settle in holes in zone coverage to make tough grabs over the middle in traffic.
Bottom Line-
Rushing has many redeeming traits, but speed is limited. We like his toughness and penchant for making big catches. As a complement to better, faster players on the outside, he could flourish as a change-of-pace, sub-package player on the inside. He's a quality prospect who is likely a best fit at the mid-major level of FBS play.Possesses good size and a strong, but wiry frame that is still developing. Has some thickness to him, especially in the lower body. Appears heavier than listed weight. Has the frame and build to hold up on the inside, where he is best suited. Speed "is marginal against top level competition. Quick and elusive, but not overly fast. "

A FOOTBALL NEWS DAY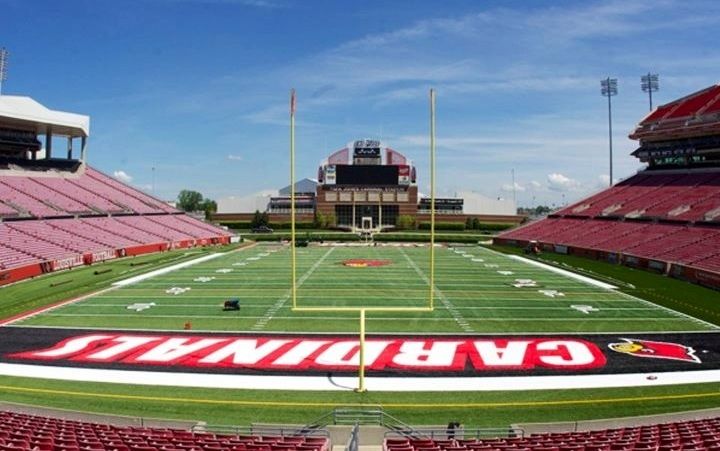 There are 115 days left before Cardinal football fans get back on the train for another exciting season. Cardinal Nation found out today that for the fourth straight year the Cardinals will open their new season in front of a national television audience on September 1st at 3:30pm. The Cards will also open up the new football season on a new football field. The turf was finished up this week and features the new black endzones and new Cardinal logos. It looks amazing and I can't wait to see what it looks like in person.
The Cards will open their season against Ohio U and they should be a very formidable foe as they return 16 starters from a team that went 9-4 last year and beat Louisiana Monroe in the Independence Bowl. This will be the fifth time in school history that these teams have played each other and the series is tied 2-2.
I think it is great that the football team gets to start their season off in front of the nation. It is also very important that this team get the exposure this season and it's critical for their bid to get themselves into that big bowl game. It is also very important to Teddy QB's Heisman chances and NFL future. The more exposure he gets the better his draft pick and chances of taking home the bronze statue will be. Including the game mentioned above the Cards will have five nationally televised games slated for this season. They play Rutgers and Cincy on Thursday night games, with Central Florida and UCONN on two Friday night games.
Speaking of Bowl games today CBSsports Jerry Palm made his first projections for all 35 bowl games, including the BCS Championship Game. He will be doing this every week throughout the college football season. He has the Cards playing in the Fiesta Bowl in his first projections.
You can see the rest of his Bowl Projections here:
The Commits Keep Rolling And Cards Land 11 In 27 Days

It seems like a weekly event for the University of Louisville's football program landing verbal commitments, and the Cardinals now have 11 commitments in the Class of 2014. Nine of those 11 have come in the last 27 days. Today Coach Charlie Strong landed a solid interior guy in 6-foot-4, 310-pound Minford, Ohio, offensive lineman Jared McCray. Several big time programs have been showing interest in McCray over the last couple of months including Ohio State, Penn State and West Virginia to name a few. He held offers from Akron, kent State, and Ohio U. McCray has the size, footwork and versatility to play tackle in Coach Strong's system, but also could fit in on the inside at center or guard as well. Many onlookers, as well as the coaching staff who have seen McCray work out have been very impressed by his performance and the buzz was starting to pick up regarding his recruitment. He is considered one of the top 2014 offensive line prospects in Ohio and this was another huge pick up for the 2014 class.
Coach Strong Steals One From SEC Country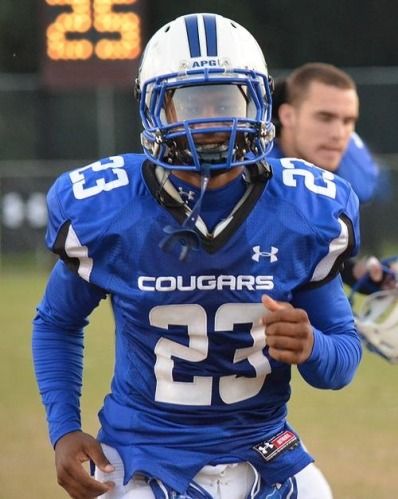 It's Oaks Day in Louisville and also another commit day for coach Charlie Strong and the football program. Another recruit from the sunshine state De'Eric Culver a 6'0 180lbs. Cornerback from Godby High School in Tallahassee, FL made a verbal commit to the football program today. Most believe that this is a 3 star recruit that has been flying under the radar and many believe that Culver will be in contention for a 4-star rating before its all said and done. Culver was being recruited by several SEC schools including Georgia, Auburn, Vanderbilt and Tennessee. He also held offers from several SEC schools Kentucky, Mississippi, Mississippi State and South Carolina. Needless to say, that it is a big deal when you steal one from SEC country and that's exactly what Coach Strong did today.
The Louisville program now has 10 commitments in the Class of 2014 and Godby becomes the sixth prospect in the class from the Sunshine State.

Coach Pitino & Staff Hitting the Recruiting Trail

The AAU madness has started and coaches are climbing on their private jets and making their rounds trying to find the next big thing for their programs. Our very own coaching staff including Coach Pitino has been very busy this weekend trying to take in all of the action. The first stop for coach Pitino and the coaching staff this weekend was the Nike EYBL event in Hampton, Va. There were many talented prospects on the court during the sessions but our coaching staff seems to have narrowed their focus to just a few. At the EYBL they watched 2014 targets Jalen Lindsey, Jaquan Lyle, Rashad Vaughn, Isaiah Whitehead, Khadeem Lattin, D'Angelo Russell and also got a chance to watch commit Shaqquan Aaron. After the EYBL event Coach Pitino headed to DC today to check out the Big Shots event and track Elbert Robinson. Elbert is a top 3 center in the 2014 class.
It's good to see our coaches out and about putting in the work to build future success for the program. Most of the guys above have been hot targets over the past couple of months and you can read articles about them that I have gathered on the recruiting page and keep up with the progress we make with them as I will update the page often.
LOUISVILLE FIRST A TATTOO FOREVER

Before the season started Coach Pitino made a special deal with his team. He told them that if they won a National Championship that he would get a tattoo. Today Coach Pitino kept his promise to his team and got inked. The guy that gave Pitino the now most famous tattoo in the world was Adam Potts of "Tattoo Salvation". Adam has been a lifelong Louisville fan and had always dreamed of doing his artwork on a Louisville Coach. Moments after getting his tattoo the pictures started being tweeted out and it wasn't long before news of the famous tattoo was being spread across the sports world. Terry Meiners coined the phrase "Champ Stamp" and it is now trending in the twitter-verse. Coach Pitino took the Championship trophy with him to have something to grasp if the pain was too much for him to bare, but according to the artist Potts "he didn't wince.".
Rick Pitino told members of the media this morning that Potts wrote him "a very nice letter and said he would love to do it. He refused to take any money." So Rick wrote a check towards Potts' charity of choice Autism.
Coach Pitino: "The championship means a lot. It will last forever because it's not going away on my back."
"L1T4″ – Louisville First Tattoo Forever!
If you would like to get the same tattoo as Coach P just click this link and call the folks and set up an appointment and ask for "The Rick"

(Rick Pitino with Tattoo Salvation artist Adam Potts and Jordan Sucher)
LUKE IS SHAVING HIS BEARD FOR CHARITY

Luke Hancock was awarded the Final Four Most Outstanding Player and his clutch shooting played a major role in Louisville's NCAA run. But it was Luke's beard that became a symbol of great superstition during the Cards 16 game winning streak and Championship season. Other players and fans including myself decided to grow out our beards in solidarity with Luke because we started to believe in the power of that magical facial hair. Now with the season behind him Luke will put that magical beard to use for another great cause. He is participating in a U of L relay for life event at 5 p.m. on Wednesday to raise money for cancer and the event will take place at UofL Red Barn.. He along with a few of his team-mates are going to shave their beards to raise as much money as they can for the American Cancer Association.
We all have had someone in our lives that has been affected by this terrible disease and it is great that these special young men have thought about a way to give back and help raise money for this wonderful cause. Please click on this link and donate to this worthy cause. Just take a moment and give what you can. Every dollar makes a difference. That Magical beard help the Cards bring home their 3rd National Title now it may help save a life.
There is also a Facebook page set up for this event and you can CLICK here to visit that site. Go Donate today!
Just Another Day In Louisville and Another Recruit Commits to the Football Program

Its becoming a daily event for the Football program as Coach Strong continues reeling in the recruits. Today he landed number 8 for the class of 2014 in 6-foot-1, 180-pound safety Nilijah Ballew from Cincinnati, OH. Walnut Hills High School. He held offers from Akron, Miami (OH), Western Michigan and Bowling Green. Oh yea and Kentucky is supposed to visit the star safety on Monday. "I don't know. He might not want to come," Ballew joked about the Kentucky visit. Ballew knew he wanted to become a Cardinal two weeks ago on his last visit to Louisville. It was third visit to the campus and said the "third time's the charm."
Nilijah Ballew: "It really did it for me," "I knew on the way back talking to my coach and thinking hard about it, I said I felt like I belong there. It felt like the right decision, and I didn't want to wait any longer. I was tired of thinking about it, and I was already sold." "I like they're going to the ACC my first year, which is a good conference and nice competition and I feel like it'll make a way for them to improve. I like that about them," "They're en route to doing big things."
Louisville Football Gets 8th Commit for 2014

Today Coach Charlie Strong and the Louisville football program struck again landing their 8th commit for the 2014 class in 6-foot-4, 180-pound, three-star prospect wide receiver Desean Blair from Jacksonville, Fla., Sandalwood High School. Blair committed to the Cards while on campus for a visit this weekend. He held offers from Iowa State, Maryland, Temple and Vanderbilt. Louisville has landed 5 commits since the Spring game last weekend and Blair makes the 5th commit from the state of Florida.
ESPN on Blair: "At first glance, you think Blair will likely be a possession type for the next level, but then he shows spurts of very competitive top-end speed to run by defenders. He is long and lanky with a lean frame and great height. Given his lack of physical bulk, he is very coordinated for his tall frame. He is a smooth and fluid player through the hips and as a result is an elusive runner both after the catch and when stemming routes. He is very natural in terms of his change-of-direction skills and body control. He has long arms and good leaping ability. Has shown the consistent ability to come down with the jump ball. His size creates mismatches versus man-to-man coverage, and he is learning how to use his frame to shield defenders. His hands are soft and reliable. He will pluck on the run, catch away from his frame, adjust to the poorly-thrown ball and shows the ability to catch over his shoulder. He is shifty after the catch and shows very good short-area quickness to get into open space.
Blair has good speed for his size. We do not feel that he has explosive speed however. Instead he is a guy who once he is in the open field with a straight line he possesses the ability to build speed and pull away from people, but does not show a consistent second gear or explosive suddenness. Feet make him look faster than he might be. He is very consistent in his methods and is mostly utilized as a short or deep receiver with limited use as an intermediate route runner, which is where we feel most of his improvement will need to come in terms cutting and stabbing into and out of breaks. Nice prospect who will see some BCS-level action among many other non-AQ offers."
LOUISVILLE FOOTBALL HAS A TWO FOR TUESDAY

The last couple of days have been a whirlwind on the recruiting front for Coach Charlie Strong and the Louisville Football team. There have been 5 recruits who have verbally committed to the Cardinals in the last six days. The latest to pull the trigger and pick the Cards are Jacksonville, Fla., Trinity Christian offensive lineman Kavaris Harkless and Lake Worth, Fla., Park Vista safety Marques Gayot.
Harkless, a 6-foot-5 1/2, 276-pound player for Trinity Christian Academy, is long, lean, athletic lineman who chose the Cards over Iowa State, Central Florida, Maryland, Duke and Minnesota.
Gayot a hard-hitting safety is one of the top prospects in Palm Beach County's Class of 2014, and has attracted a lot of attention since the fall. He chose the Cardinals over Cal, USF, FAU, Bowling Green and several other programs.
The future of Cardinal Football is looking bright with now 7 three star commits for the class of 2014, and four of those guys are from Florida.
DUKES BECOMES A CARD AFTER VISIT

Line Backer Detric Dukes had offers from some high profile schools like Auburn, Indiana, Kansas State and Vanderbilt but once he visited the Cardinals Spring Game over the weekend he was sold and decided earlier today that he wanted to play for Charlie Strong and the University of Louisville. The 6-foot-1, 225-pound Dukes plays for Tucker High School in Tucker Georgia and has been described as a versatile athlete who is a tough customer with very good upper-body strength, playing speed and displays good wrap tackling form. The addition of Dukes gives Louisville five commitments for the 2014 class and the second commitment out of the group of visitors at the Spring Game.
Detric Dukes: "I knew that was the place for me so I wanted to get it over with and focus on everything at my high school so I committed to Louisville," "I called Coach Charlie Strong and told him I was committing, and all I heard was people cheering in the background. It feels great to be committed." "The coaching staff makes me feels like family and like I am at home," "I am going to school for sports medicine and physical therapy, and they have a great program there." "My family was able to sit down and talk to Coach Strong, and they feel comfortable with me going here and getting a good education while playing great football."
ESPN: "He is a downhill run support defender from an off alignment and demonstrates good key and diagnosis reaction skills defending the run and pass. Doesn't get out of position and takes proper angles to the football. He is quick off the mark showing good change of direction movement along with the ability to avoid blocks and make plays in tight spaces. We see the playing strength needed to take on and defeat blockers at the point of attack. He moves through traffic and scrapes off the edge keeping his shoulders square while maintaining proper leverage on the football. Shows good lateral range to the sideline. Demonstrates effective inside blitz timing with a closing burst to the quarterback. Flashes good underneath zone coverage awareness, but he lacks a great deal of experience. Displays the athleticism needed to man-up on tight ends and running backs. He plays with the instincts and intensity we like to see when evaluating linebackers. Although Dukes will need some time and possibly a redshirt year to polish his skills, his potential for success at the BCS level of competition is promising."
Cards Football Adds Another

Looks like it could be a big weekend for Coach Strong and company as they are hosting several top prospects for the annual spring game. Today Strong got a commitment from one of those guys visiting when Micky Crum from Hamilton Township High School Columbus, OH gave his verbal to the Cards. A 3 star prospect at 6'4″ and about 225lbs Crum is another do-it-all athlete versatile enough to play several positions at the next level. The word on Micky is that he is a player that excels at every position he plays which includes running back, wide receiver, tight end, defensive end, linebacker, and even a bit of defensive back. He has the reputation of being a solid football player who does not shy away from contact and is a very versatile athlete that makes plays.
Micky Crum: "I really could play anywhere. I have played tight end, linebacker, and defensive back. I can play quarterback. I'm playing running back this year. Really I will play wherever the coach needs me."
This is the second verbal to the 2014 class in the last couple of days and the Cards now have 4 verbal's total for this class.
Coach Strong strikes again lands another Florida recruit

Coach Strong and the Louisville Cardinals picked up the 3rd commit for the 2014 class today from 3-star linebacker Jeff Williams, a 6'1″, 200 lbs. OLB from Tallahassee, Fla. And Coach Strong once again turns to his Florida pipeline to land a recruit and this time beats out one of the elite Florida schools as Williams also had an offer from Florida State. He also held offers from Ole Miss and North Carolina.
Yusuf Shakir Lincoln's coach: "Jeffrey is so fast and so athletic," "He's just relentless and plays so hard on every play. He's one of those type of kids that will have success because he takes no plays off. Ever. He will be at least 230-pounds. He's just a natural player that's just starting to lift some weights."
This was some great news for coach Strong and his staff as it just keeps rolling in at the University of Louisville. Coach Strong and his football team will take the field at Papa Johns Cardinal Stadium 1PM Saturday for their annual spring game. The event will also honor the Men's and Women's basketball teams. It was also announced today that fans in attendance at the Spring game will have the opportunity to take a picture with the National championship basketball trophy. Get out this weekend and show your support.
Baseball Bracketology: Baseball America projects Louisville to host regional

I know the talk of the town has been all about the basketball program but we are well into another baseball season as well. It's speculation at this point and there's still a lot of baseball to be played, but respected publication Baseball America is currently projecting Louisville (22-6) to not only play in the NCAA Tournament but to host one of the 16 regions and be the No. 1 seed in that region. The Cardinals are currently the No. 9 ranked team in Baseball America's Top 25 and are preparing for a Big East series this weekend with arch rival Cincinnati. And Saturday's game will be play at "Great American BallPark."
Kevin Ware and Coach Pitino sit down with Espn and Media today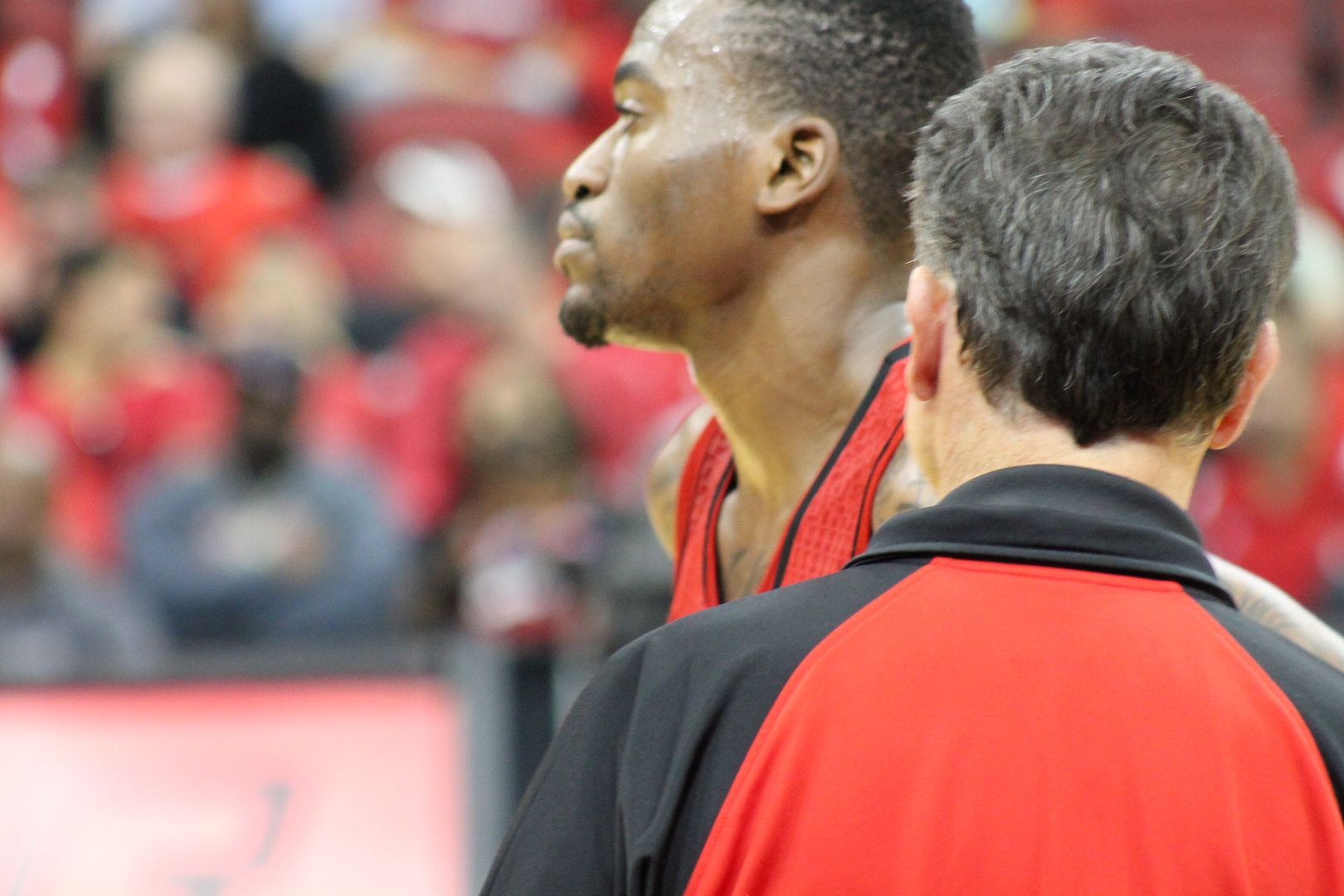 Kevin has been cleared to travel with the team to Atlanta for the Final Four this weekend and he sit down with Rece Davis today in an emotional interview discussing the events that unfolded in Indianapolis on Sunday night. In the interview they talked about how important Kevin had become to the teams success in the NCAA tournament and how he had progressed through the season. It really is a good interview and you can really get a sense of how close this group of players are.
Kevin Ware: "It's going to be how it was before the injury, honestly, you know," "It's all business. We'll have fun and celebrate. A lot of the guys are still trying to get over the fact of me being out, not being able to play. But I told them, 'You all are going to be hearing the same out of me." "I just want to win at this point," "That would mean so much more to me than anything."
Coach Pitino and Kevin talked with the local media today and you can see that below:
Rece Davis interviews of Coach Pitino and Kevin you can see below:
Coach Pitino also spoke with Rece Davis this morning about preparing his team to move on without Ware in the line-up. He talks about facing the next opponent Wichita State.
Kevin Ware, Louisville Cardinal's point guard injured in an Elite 8 game against Duke is interviewed by CNN's Rachel Nichols.
Video rights and property is that of CNN:
2 Great Teams, 2 Great Coaches, Making History

The last five days have been some of the best ever for Louisville Cardinal fans. Our men's and women's basketball teams both had outstanding performances to get into their Final Fours. The men beat a very athletic Oregon team and dominated a very good Duke team to advance. And the ladies pulled off one of the greatest upsets in college basketball history beating Baylor then tonight beat powerhouse Tennessee scoring 168 points along the way to advance.
The University of Louisville becomes only the 8th Division I school to reach the NCAA Final Four in both men's and women's basketball in the same season. And it's only the 10th time it's happened in NCAA history. Now it's time for these great Louisville basketball teams to make a little more history and bring home both of those trophies back to Louisville.
I couldn't be more proud of what these young student athletes have accomplished this season and they have brought great pride to the name they wear across their chest. What makes it even more special is that these teams, Coach Pitino, and Coach Walz have done it the right way. The Cardinals Beak would like to wish both the men and women success in their Final Fours.
FROM 2 STAR TO SUPERSTAR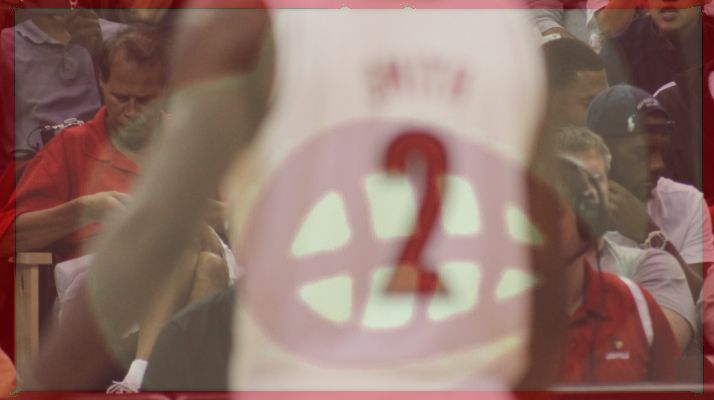 Russ Smith keeps adding to his post season honors and was named a third-team All-American selection by the Associated Press Monday. Russ has had a dream season this year for our Cards. He averaged 18.9 points per game while shooting 42.3% from the field, 2.9 assist per game, 3.4 rebounds per game and 2.1 steals per game. His regular season success has carried over into the post season scoring 104 points in the NCAA tournament leading the Cards to the Final Four. He now has 166 career points in the NCAA Tournament, 5th most in UofL History. This coming from a player who didn't play in 10 of the Cardinals' final 13 games as a freshman and a former 2 star recruit coming out of high school. Things got so bad for Russ during his freshman year that he was thinking about leaving the Louisville campus until former Cardinal Rakeem Buckles talked him into giving it a second chance. Russ took his good friends advice and decided to make the best of his opportunity. And make the best of it he has. His name will now be etched forever in Cardinal lore. It's not very often that you get to see a player like this come from virtually nowhere to become a superstar but thats what has happened during Smiths three years of college basketball and it has been great to witness such an extraordinary rise.
Here are some of Russ Smiths evaluations as a high school senior from various sources:
-"Smith's game is based around his ability to create off the dribble, and while he's shown an improved willingness to distribute the ball and trust his teammates, he's always going to be a guy who needs the ball in his hands to be effective. He's exceptionally quick, very bouncy off two feet, and a phenomenal passer when he wants to be. His jumper has improved but still isn't as consistent as it needs to be. His biggest liability is his lack of upper body strength which can sometimes affect his ability to keep opposing guards out of the lane defensively."
-"Smith has the ability to score points in bunches. He has very good range on his jumper and will connect on consecutive 3-point shots, which ignites scoring runs for his team. Though he has the size of a point guard, Smith remains in attack mode on the offensive end and seems much movvre comfortable when he can score the ball and not worry about initiating offense for teammates. He has good quickness and can get into the paint, but he needs to add a floater to his offensive repertoire to help him score when he gets to the paint. Smith also needs to do a better job of involving his teammates. He also has a tendency — especially when he gets hot — to force shots, which he will need to alleviate. Smith needs to add more to his small frame. He has good lateral quickness and needs to use this quickness to harass opposing ballhandlers on the defensive end."
-"The undersized guard is an offensive sparkplug who can put points on the board in a hurry. He is a very dangerous, albeit streaky, catch and shoot player from behind the three-point line. He has a lightning quick release, although sometimes he goes a little too fast, rushing his mechanics and dropping his hands so quickly after the release that it throws off the shot. He is also very good with the ball in his hands. He has a tight handle and no problem getting into the lane, although he would much rather penetrate and kick then he would go all the way to the rim, since he can struggle to finish. He is also far from a pure point guard as he struggles to run a team and is much more of a scorer/creator."
If it weren't for a Louisville roster depleted by injuries a season ago, Rick Pitino might never have been forced to figure out a way to best utilize the available pieces he did have. The way he figured out how to utilize Russ Smith's skills and off set his weaknesses was nothing short of coaching genius. But Russ also deserves a lot of credit for the hard work and dedication he has put in over the last three years to reach that max potential. Hopefully he will add the title of NCAA Champion and Tourney Most Valuable Player to his resume after next Monday. Regardless of what the outcome of this season will be the fact still remains that Russ went from 2 star to superstar a meteoric rise to fame that we may never see again.
Future Cards Season Ends As National Runner-Up

Future Louisville Cardinal Chris Jones and his No. 9-seeded Northwest Florida State Community College basketball team lost Saturday's championship game in the NJCAA Division-I Men's Basketball Championship at the Sports Arena. Northwest Florida State (31-4) finished as national runner-up for the second year in a row, and lost 74-69 to Central Florida (34-3).
Jones struggled in the title game, hitting just 5 of 25 from the field. He did lead them on a late 11-1 run that cut the deficit to three points but they would still come up short. Jones finished with 12 points, seven assists and six rebounds. He was named to the all-tournament team.
Northwest Florida State had two of the best Juco players in the country. The best point guard in the country in Chris Jones who's next stop is playing for our Cards, while forward Elgin Cook, the ultra-talented son of former Arkansas and NBA star Alvin Robertson, will be playing at Oregon in the fall. These guys were a great one, two punch this season for coach Steve Forbes. Jones lead the team in scoring with 21.8 points a game and Cook was second in scoring with 14.9 points a game. Now that their Juco season is over their focus will shift to the next level. Two guys that have been team-mates all year will now be on opposite ends of the fence as they watch their future schools battle it out in the NCAA tournament on Friday in the Sweet 16 when Louisville plays Oregon.
The Cardinals Beak would like to congratulate Chris Jones on two very Successful Juco seasons. Can't wait to see him wearing the Cardinal Red in the Red & White scrimmages in November.
FUTURE CARDS POINT GUARD #1 JUCO PLAYER IN THE COUNTRY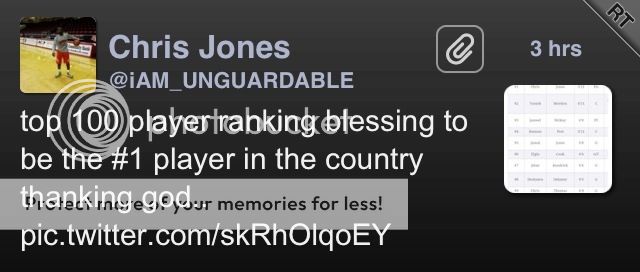 The future Cards point guard is second in the nation in scoring this season averaging 22.7 points per game. He has had another incredible year and has led his NWF State team to its second straight trip to the NJCAA National Tournament in Hutchinson, Kansas. He has won many accolades during his time on the Juco level and tweeted out tonight that he has been unanimously chosen as the #1 overall Juco player in the country by jucorecruiting.com.
This is what ESPN Wrote about Jones potential as a High School Senior:
Strengths:
Chris is a scoring machine who has gone on some of the more memorable scoring runs in AAU basketball. The small quick combo guard shoots the ball with good range to the arc. Whether off the catch or off the bounce, defenders struggle to keep him from knocking down shots. He has a knack of creating space to get off his shot. He has a high release and leans back with good elevation permitting him to take shots most people his size could not do. Jones is a fearless attacker of the paint and has lived at the free throw line in high school and AAU games.
Bottom Line:
Regardless of position on the floor Jones is a warrior who laces them up tight every opportunity he gets. With his game there is no question he matched that with the style of play that will give him opportunities to score in bunches.
FUTURE CARD WINS FOURTH STRAIGHT STATE TITLE

All of Louisville's future players have had great post seasons for their respective teams over the last couple of weekends. This past weekend class of 2013 recruit Akoy Agau and his team made Nebraska high school history, as they became the fifth team in state history to win four straight titles. This Omaha Central run is considered the most dominant. Central won three straight championships missed the tourney in 2009 and then started this run of four titles. Agau started on the four consecutive championship teams, the only player in the state to ever do that. He had eight points, five rebounds and eight blocked shots. Six of the blocks came in the first quarter. Agau, a native of Sudan, is a long, developing forward prospect with a very high ceiling. He's still raw and inexperienced, but shows flashes of becoming a dominant force in time, particularly on the defensive end.
Central coach Eric Behrens said of his squad: "All the seniors have been tremendous," "They never lost a game at Central, they never lost a game at Devaney in four years. And that's tough to do. Akoy has been the ambassador for our program, kind of the face of the program over the last four years."
RUSS, GORGUI AND PEYTON NAMED TO ALL BIG EAST TEAMS

Cardinals Russ Smith, Gorgui Dieng and Peyton Siva led their team to 26 wins this season, 14 conference wins and a share of the conference regular season championship. On Sunday Russ and Gorgui were named to the All-BIG EAST first team, and Peyton was named to the ALL-BIG EAST third team.
Russ, was second in the Big East in overall scoring, averaging 17.9 points. He was 11th in steals with a 1.5 mark. Gorgui, averaged 10.3 points and 10.1 rebounds in all games. In Big East play, he was the league rebounding champion with a 10.8 average and was second in blocked shots with an average of 2.8. Russ and Gorgui are just the third and fourth Cardinals to be named first team All-Big East. Terrence Williams and David Padgett were the others.
Peyton, was third in the Big East in overall assist, averaging 5.9 per game. He was thrid in steals with a 1.8 mark and he was second overall in assist/turnover ratio with a 2.2.
The all-league teams are selected by a vote of the 15 league coaches, who are not allowed to vote for their own players.
The complete list of All-BIG EAST selections:
ALL-BIG EAST FIRST TEAM
Shabazz Napier, Connecticut, G, Jr., 6-1, 171, Roxbury, Mass.
*Otto Porter, Jr., Georgetown, F, So., 6-8, 205, Sikeston, Mo.
Gorgui Dieng, Louisville, C, Jr., 6-11, 245, Kebemer, Senegal
Russ Smith, Louisville, G, Jr., 6-0, 165, Briarwood, N.Y.
Jack Cooley, Notre Dame, F, Sr., 6-9, 246, Glenview, Ill.
Bryce Cotton, Providence, G, Jr., 6-1, 165, Tucson, Ariz.
ALL-BIG EAST SECOND TEAM
Sean Kilpatrick, Cincinnati, G, Jr., 6-4, 221, White Plains, N.Y.
Vander Blue, Marquette, G, Sr., 6-4, 200, Madison, Wisc.
Jerian Grant, Notre Dame, G, Jr., 6-5, 202, Bowie, Md.
Michael Carter-Williams, Syracuse, G, So., 6-6, 185, Hamilton, Mass.
C.J. Fair, Syracuse, F, Jr., 6-8, 215, Baltimore, Md.
ALL-BIG EAST THIRD TEAM
Markel Starks, Georgetown, G, Jr., 6-2, 175, Accokeek, Md.
Peyton Siva, Louisville, G, Sr., 6-0, 185, Seattle, Wash.
Tray Woodall, Pittsburgh, G, Sr., 6-0, 190, Brooklyn, N.Y.
Brandon Triche, Syracuse, G, Sr., 6-4,210, Jamesville, N.Y.
JayVaughn Pinkston, Villanova, F, So., 6-6, 240, Brooklyn, N.Y.
FUTURE CARDS CUTTING DOWN NETS

Future Cards Shaqquan Aaron and Qiuntin Snider were cutting down nets this weekend as Aaron led Seattle Rainier Beach High School to win the Washington Class 3-A state championship on Saturday and Snider helped Ballard High School to the Seventh Region title on Saturday. Aaron finished his game with 9 points and 3 rebounds and Snider finished his game with 21 points, 9 rebounds and 5 assist.
Quentin Snider became the first Louisville commit of 2014 back when he gave his verbal to the Cardinals on August 4th 2011. He is a skilled point guard with good speed and quickness. He can score, run the team and get others involved. He can make plays at end of clock situations as well. He must add strength but with steady improvement Snider has all the tools to be a special guard.
Shaqquan Aaron became the second commit of 2014 when he gave his verbal to the Cards two weeks ago on February 16th. He has all the physical gifts to be a high-level player. If he is willing to work hard on developing his game at both ends of the floor and stay humble as he grows as a player, his potential is immense.
I'm looking forward to these guys being Cardinals someday. Just like the group of winners that Coach Pitino has recruited for the 2013 class it looks like he has a pretty good start on his next group of winners.
***Quentin Sniders Ballard team will play 15th Region champion Johnson Central in the opening round of the Kentucky boys Sweet 16 on Thursday at 6:30 p.m. in Rupp Arena. The Cardinal's Beak wishes he and his team the best of luck.
CARDS FOOTBALL GETS ANOTHER VERBAL COMMIT FOR 2014


          JOHNSON AT THE SPACE COAST SHOOTOUT
Coach Charlie Strong has made himself a permanent fixture in recruiting in Florida. He has had unbelievable success convincing kids to move north to play for the Cards. And he has done it again landing his first 2014 commitment from the Sunshine State on Friday from junior Michael Johnson. He is a 6-foot-1, 180-pound safety/wide receiver who plays for Champagnat Catholic high school in Hialeah, Florida. He had scholarship offers from Nebraska, Central Florida and West Virginia. Miami (Fla.) showed some interest. "Chucky" Williams signed with the Cards in the 2013 class and he also played for Champagnat.
This is the second verbal for the Cards in the 2014 class. Quarterback Reggie Bonnafon (Louisville, Ky./Trinity) committed to play for his hometown school in January.
Johnson posted an electronically timed 5.20 40-yard dash, 4.63 20-yard shuttle, 26.6-inch vertical, 31-foot power throw and 50.49 SPARQ at the Miami Nike combine.
Michael Johnson: "I definitely want to play for a winning program. It'll help me become a better player and prepare for a career in the NFL."
Johnson, says that his physical style of play is his greatest asset on the football field. "I love hitting and tackling. I also feel like I have good hands for a safety."
MARCH MADNESS = UNIFORM MADNESS

So the new March Madness Adidas uniforms were released today to a flurry of mixed reviews. And while these new crazy uniform styles may not appeal to the adult crowd you have to keep in mind that they don't design them with a middle aged man or woman in mind. In the end, the new uniform is all about creating a product that can be marketed and enticing 17-18 yr olds to by the Adidas product while updating the look and feel of the uniforms to give the athletes that sizzle factor. And if you want to get the attention of the younger audience nowadays the crazier and louder the better. Just look at some of the shoe designs of today. Consumers no longer buy sports apparel to show support for their team, as fashion and wearability have become the standard for buyers' purchasing decision. Often a team's success on the field is irrelevant to the buyer. More often color scheme, and perhaps more often, the color scheme's impression determine a uniform's selling ability.
The image that different colors portray is a huge factor. Gone are the days when uniform color was purely symbolic. Today, colors are both symbolic and psychological. The psychological impact of logo and color usage has made an impact upon opposing teams giving an illusory impression of speed or tenacity. I wouldn't want to be bringing the ball up the floor facing Louisville's nasty defense combined with those crazy and loud camouflage uniforms. Look at how the infrared uniforms helped get this team rolling last year. And the uniforms were a factor. I remember being a junior in high school and our basketball team was given the new baggy style uniform that was inspired by the Fab Five of Michigan. When I put that uniform on it immediately gave me a feeling that I could run faster and jump higher. I went from just being able to touch the rim to being able to grab and hold on to it. There is no denying the psychological affect.
So no matter what you think about these new and crazy looking uniforms just try to keep an open mind about it and realize that a lot of research and development go into the design process. Adidas wants their product to be successful and they want the teams that wear their products to be successful. And if they can give a slight psychological or physical advantage to our Cardinals with some new material and a crazy color scheme then I'm all for it. I'll paint my face in that red camouflage paint if we can get to Atlanta.
Katz and Pitino conversations

Rick Pitino and Andy Katz have had some good conversation over the last couple of weeks. Back on February 6th they sit down for a Q&A that appeared in the Magazine and Katz ask Coach Pitino about several different things and today he appeared on Katz's Corner where the two talked about Peyton Siva, Russ Smith and the grind of the Big East schedule. I have included both the video from today and the Q&A from the 6th.
-February 6th Q&A
What has made your press so effective over the years?
Pitino: It's probably three aspects: One is knowing the other team's press offense really well from a scouting standpoint. Two, having great pursuit from the front and from behind, and three, it has been the players that I'm coaching.
How were you able to keep the core of this team together for a potential run at a second straight Final Four?
Pitino: I don't make those decisions. The pros do, and none of our players were very high for them on a pro list. We go to [NBA executive vice president, basketball operations] Stu Jackson. And like in Peyton Siva's case, is he a first-round draft choice and the answer is no. Are there any other first-round draft choices and the answer was no. I don't usually do it, and I leave it up to the NBA committee.
How worried were you when Gorgui Dieng went down?
Pitino: I wasn't too worried because we knew it would be a four to six weeks-type deal.
How would you compare the Yum! Center to all the other buildings you've coached in college or the NBA?

Pitino: I think it's the finest right now, but I haven't seen the Barclays Center. But I think it's the finest basketball arena. It was built strictly for basketball and nothing else and it has all the bells and whistles. It is a pro arena and has everything you could possibly want. It's overlooking the Ohio River so it's got the aesthetics inside and out of a great place.
How would you compare the passion for basketball at Louisville to
your previous stops in college and in the NBA?
Pitino: I think Louisville and Lexington are two of the best in all of basketball at the college or pro. It has two programs that are always at the top in the top three in attendance. We're the No. 1 revenue producer in college basketball, and we topped our nearest rival by $15 million last year. [These] two programs in a very small state have as much revenue and attendance that probably double every Big East team except Syracuse. It's the best I've been around.
What did you think the chances were that the seven Catholic schools would eventually bolt when Memphis and Temple were added to the Big East?
Pitino: I thought the Catholic schools made a big mistake two years ago when they saw the writing on the wall of all these football schools dictating everything and basically not being part of the decision-making process. I thought they should have done it a long time ago because they can get themselves a heckuva TV package. They can have one of the premier basketball conferences around, and they can dictate their own athletic programs and don't have to be at the mercy of football.
What will you miss most about the Big East?
Pitino: The Big East tournament.
What are you most looking forward to in the ACC?

Pitino: I have not been to Cameron Indoor. I have not been to Clemson. I have not been to Virginia Tech. I have not been to Florida State. There are a lot of arenas I haven't been to as a coach. So I guess it's the excitement of doing something new.
Why do Peyton Siva and Russ Smith work so well together?
Pitino: I think Peyton Siva would work well with anybody. It doesn't matter who he's with. He doesn't care about the other person getting exposure. There are some people who are seniors would be upset by the attention someone younger was getting. Peyton doesn't let it bother him at all. He just does the best job for the team.
What type of player fits your style?

Pitino: Something that has been lacking the last couple of years, we've had the defensive intensity, but [have] not been able to shoot the basketball. And that's the last two years, more than any other time in 35 years in pro and college that I didn't have shooters. I made up my mind this time to go out and get guys who could shoot the basketball consistently. I think we've done that with our recruiting.
If you had the power to change the draft rule, what would you do?
Pitino: I would do the same thing that football has. I would have the same exact system. I think the one-and-done is bad for basketball. I think they should allow the kids to go right out of high school or have the same rule as football or a combination of both. I think the one-and-done is a bad rule.
What advice would you give coaches who may consider at some point leaving college basketball and coaching in the NBA, even if they're at an elite program like you were at Kentucky?
Pitino: I would advise all of them to be an assistant in the pros first, to not go straight to [head] coaching because it's impossible to do. It's a different game. It's almost a different sport in terms of the psychology and in terms of the travel and in terms of the handling of people. I was fortunate to be an assistant under Hubie Brown. You cannot go from a head coach in college to a head coach at the NBA level because the game is so different.
How much longer do you want to coach?
Pitino: I'm writing a book right now, and the whole book is based on one day. Put all your efforts into one day. That's pretty much what I'm doing. I used to do that where I signed a 10-year contract with the Celtics that will take me to 50. But ever since that Celtics deal, I've never done that. As long as I wake up and love what I'm doing, I'm going to coach.
Jeremy Wright not returning for 2013 season

Some teams prefer to have a running back who can handle 25 carries every Saturday, but the Cardinals have a group of ball carriers who can do just about everything. But we found out today that our leading rusher and the guy with the most experience out of the group Jeremy Wright is not enrolled in classes, and will not be returning to the team next season. There is no doubt that his 343 carries for 1,485 yards and 15 touchdowns rushing will be missed but if any team in college football could afford to lose this kind of production in the back field it's the Cards. Coach Strong said last season "We don't have enough balls or reps for all the guys we have."
With the loss of Wright the bulk of his workload will probably fall upon Dominique Brown who showed flashes when he moved over to running back during the 2011 season, rushing for 533 yards and four touchdowns. He's a power back who doesn't mind contact, and while most of his plays during that 2011 season were not out of true running back situations he has had a year to become more accustomed to the position after being redshirted during 2012. Senorise Perry will also be returning from his ACL injury. He has a 148 carries for 732 yards and 12 touchdowns in his career. Where Brown would be more of a power back Perry is considered more of a slasher. These guys will provide a nice one-two combo.
The X factors will be Corvin Lamb and Brandon Radcliff. Lamb who has yet to live up to his potential can knock some people over but also run past them. He has 13 carries for 50 yards and 1 touchdown in his career. Radcliff is a 5-foot-10, 210-pound back with great power and vision who selected the Cards over scholarship offers from Central Michigan, Cincinnati, Florida Atlantic, Michigan State, Utah State and Vanderbilt. He redshirted last year also.
In a play action offense the one thing you can count on is that the Cardinals will take to the ground and will try to establish the run first. So it is important to have the players to be able to do that. And while Wrights production will be missed there is no doubt in my mind that we have the group to still get the job done.
Louisville Cardinal Déjà vu

Last night Cardinal Nation experienced Déjà vu as it was 2009 all over again when Earl Clark and Terrence Williams faced off in the NBA's greatest rivalry the Lakers vs Celtics. On August 10, 2012, Clark was traded to the Los Angeles Lakers as part of a four-team trade and On January 9, 2013, Clark had a breakthrough night, playing 27 minutes and setting personal bests with 22 points and 13 rebounds against the San Antonio Spurs. He had been playing sparingly, but he received extended playing time after injuries to Lakers big men Dwight Howard, Pau Gasol, and Jordan Hill. Coach Mike D'Antoni has called Clark's performances "phenomenal." Clark had three double-doubles over six games, and he was named a permanent starter even after Gasol returned. Terrance Williams has had an up and down NBA career and has struggled to find a permanent home. In November he joined the Guangdong Southern Tigers of China but left the Tigers in February 2013. On February 20, 2013, Williams signed a 10-day contract with the Boston Celtics. Williams said of his signing "It's an honor to even be able to wear the color and be apart of the organization, especially with the history."
The Lakers ended up getting the win last night and Earl Clark scored 14 points and had a career high 16 rebounds in 38 minutes of play. Terrence Williams in his debut for the Celtics had 2 points, 2 rebounds and 2 assist in 13 minutes of play. It was really great to see these guys on the court together again and I hope they both have continued success in the NBA. It certainly looks like these two have got a lot left in the tank.

CARDS FUTURE GUARD SHINES IN FRONT OF COACH PITINO

Junior college basketball is on the rise and is proving to be a valuable vehicle to gain experience, get more exposure and get things in order academically. Future Card Chris Jones has got everything he wanted and more from his time at Northwest Florida State College. He had a staff that had plenty of Division I experience, some of the best facilities in the country and national notoriety. In his first season Jones helped guide Northwest Florida State to a 29-1 regular-season record and a National Runner-Up finish in the NJCAA DI National Tournament. Along the way, he averaged 18 points, 5 rebounds and 4 assists per game and garnered Florida Panhandle Conference Player of the Year honors. On Saturday behind Jones 32 points and the game-winning 3-pointer with two seconds left in overtime, the Northwest Florida State College men's basketball team clinched its third regular-season Panhandle Conference crown in four years. And last night Chris helped his team finish the season with a victory over Tallahassee (FL) College with a 56-55 win, with Rick Pitino watching from the stands. With the win Tuesday night Jones NWF team finishes the season 25-2 and 11-1 in the league. They are ranked #1 in the state and #4 in the country. In his 2 years as a JUCO player Jones is undefeated at home and is 57-4 overall. This season Jones is averaging 23 points a game, 4.3 assists per game, 2.8 turnovers, 5.2 rebounds and has 85 steals. He is shooting 44% from the field, 36% from the 3 point line making 59 and 72% from the free-throw line. Bottom line is that this kid is a winner and he will be a great addition to the Cardinal Basketball team next season.
NWF's Head Coach Steve Forbes: "He is the 'straw that stirs the drink". "He's been a facilitator for others and has made big baskets for our team throughout the year. His passion and his will to win has rubbed off on the rest of our team. It's always a blessing when your best player is your hardest worker and he is our hardest worker." "He never lost a home game while he was playing here. I think that pretty much sums up what kind of player he really is. He's a winner."

CARDINAL FOOTBALL 2013 CLASS FINISHES WITH BANG

Today Louisville put the finishing touch on a strong 2103 recruiting class by adding Stacy Thomas a defensive end from Gulliver Prep School in Miami Florida. The 6-foot-2, 225-pound three-star athlete said the family atmosphere at Louisville is what helped convince him to sign with the Cardinals. He picked Louisville over a host of other schools. He had offers from Kansas State, Bowling Green, Duke, Florida, Florida State, Georgia Tech, Indiana, LSU, Marshall, Mississippi State, Notre Dame, Rutgers, Vanderbilt, West Virginia and Wisconsin. Half of Louisville's signing class is from the state of Florida, and Thomas makes the ninth Floridian to sign with the Cardinals. He is rated as a three-star prospect and ranks among the nation's top 100 defensive ends by Scout.com, a 4 star ranked 222nd in ESPN 300 defensive ends, and is a 3 star ranked the No. 98 prospect by 247Sports.
Stacey Thomas: "Once I got to meet with the coaches and players I saw how close everybody was, "They truly are a family and I loved that about them."
ESPN WRITES:
Thomas is a football player who lines up at few different spots for his high school team. He plays some tight end, but we feel he belongs on the defensive side of the ball. He moves around on defense and could offer some versatility at the next level depending on scheme and physical development. He has solid height and a thick build with a frame that looks capable of supporting more size with time in a college weight program. He displays good initial quickness whether working from a two- or three-point stance. He uses his hands well to take on blockers and demonstrates the ability to be able to quickly separate and shed. He runs well displaying above average straight-line speed and can close well on the ball. As a tackler he does an outstanding job of attacking the football while still being able to secure the tackle. Also, coming from behind he can be a consistent threat to pop the ball loose. Coming off the edge as a pass rusher he has good initial burst to quickly get upfield and takes a tight path with enough body control to be able to bend back in towards the quarterback. He can be active with his hands and attack half a man, displays the ability to get his hips turned and get skinny to work past blockers. Thomas is a good athlete, but really strikes you more as a good football player. No matter where he lines up he seems to be able to be productive. With further polish and more focus on one position he could develop into a very good and productive college defender.
Here is some video on Thomas:


Coach Pitino meeting with Steve Nash in Lakers Locker room over the weekend

Dave McMenamin of ESPN LA tweeted out that Coach Pitino was in the Lakers locker room after their game yesterday meeting with Steve Nash. And relax Cardinal fans because it has nothing to do with a coaching job in the NBA. Rick called on Steve a few seasons ago to talk to his then troubled point guard Edgar Sosa. After the melt down our guard duo of Siva and Smith had on Saturday Night in the five OT loss to Notre Dame Rick might be calling on the NBA superstar and guard extraordinaire to call in and speak with the Duo. They both could probably use the wise counsel and a few tips to get them over the hump for the run coming up in March.
Also, while in the Lakers locker room Coach Pitino caught up with former Cardinal Earl Clark. Earl is finally getting his time to shine in the NBA and has been putting on some great performances since Lakers coach Mike D'Antoni called his number. Clark has seven double-doubles, has scored 10 or more 11 times, and has scored 17 or more 3 times. It is great seeing Earl have his time to shine. And I am sure coach Pitino was happy to spend some time talking to his former player.
Here is a great picture of Earl and former UK star Anthony Davis going after it against each other. Of course, the elder veteran former Louisville player got the better of the younger Davis.

SIGNED, SEALED, AND DELIVERED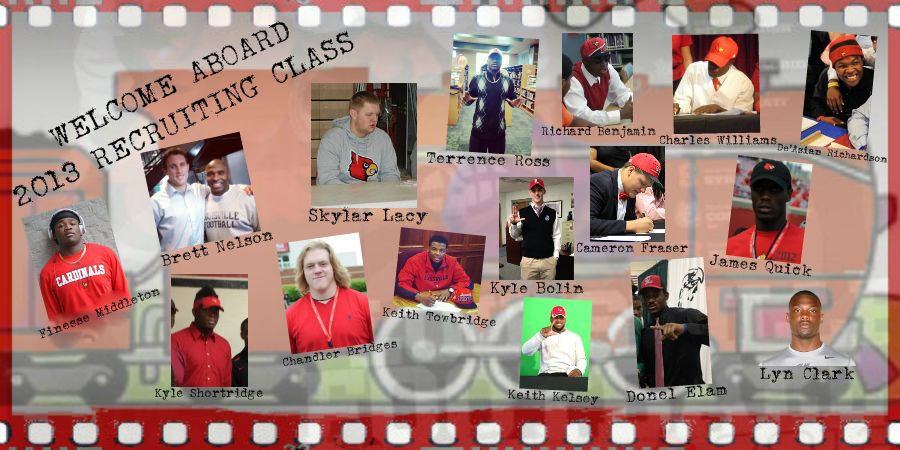 Louisville's 2013 recruiting class is signed, sealed, and delivered. There was no drama on this signing day as most of the class had already faxed in their LOI's before noon. Some are saying that this is one of the best recruiting classes ever for the University of Louisville. Included in this class of 16 players is 8 players from the state of Florida, and the highest rated player to ever sign with the Cardinals in James Quick. With this class Coach Strong adds three players on the offensive line in Chandler Bridges, Cameron Fraser, and Skylar Lacy. Two corner backs and a pair of safeties in Richard Benjamin, Chucky Williams, Terrence Ross and Donel Elam. Three defensive linemen in De'Asian Richardson, Kyle Shortridge and Finesse Middleton. Two Linebackers in Lyn Clark and Keith Kelsey. A tight end in Keith Towbridge. One wide receiver in James Quick. Two quarterbacks in Kyle Bolin and Brett Nelson. Scout has this class ranked 56th and 247sports has it ranked 41st. Those rankings can be deceiving as this reflects the number of recruits signed and because this Louisville class was so small we don't get the points others get for larger classes.
-EARLY ENROLLEES
DE Finesse Middleton: "Gadsden high school has produced some good defensive talent in the past few years and in Middleton they have another prospect with some good ability. A defensive line prospect likely best suited for defensive tackle, he is a productive but undersized player. He has marginal height and while he carries a solid amount of bulk on his frame he will need to work to try and add more good mass to his frame to consistently play inside. While his ideal fit skill set wise is at D-Tackle he does move around the D-Line a bit in high school and will likely be utilized best at the next level in the same way. He does not display elite first-step quickness, but does have a good initial burst off the ball." -ESPN
QB Brett Nelson: "Nelson is a big, strong armed-lefty that is strictly a pocket passer that moves the chains with arm strength, timing and anticipation. Possesses good size, can see the entire field and throws the ball on time. Has a good arm, not elite, but puts adequate zip on downfield passes. Can make all the necessary college throws. Can be accurate when he sets his feet and flashes the ability to lead receivers. He is tough and poised in the pocket, keeps his eyes on coverage when rushed and can get rid of the ball quickly. Is not a scrambler. Has a quick release and shows above-average accuracy. Has nice touch on vertical throws and can drop balls in over coverage. Steps up in the pocket and delivers the ball on-time. Excels at leading receivers on crossing routes and knows how to change up his velocity to make balls easier to catch and run with." -ESPN
-When they became official
7:24 – Skylar Lacy: "Lacy combines his length and playing strength effectively when run blocking. Has the size and athleticism for the offensive tackle position at the major level of competition. His frame appears very capable of supporting additional body mass over time, provided mobility isn't sacrificed. Playing out of a three point stance, we see some lower body stiffness however his balance and agility allows him to play on his feet in space and adjust to tight box movement. This prospect comes off the ball low and hard, flashing the pop and surge needed to knock defenders off the ball; plays with a flat back and good blocking base; does a good job getting under opponent's pads and establishing an immediate advantage; his persistent leg drive helps him sustain." -ESPN
7:40 – Terrence Ross: "Ross has a very good blend of size, range and closing speed that should attract BCS level attention. He is tall, well-built and plays with good strength and physicality. Runs well, covers a lot of ground and closes with good speed. Versatile as he can produce from a high-point position and when positioned down in the box. Needs to continue polishing his footwork and coverage technique but he%u2019s instinctive and a quick reactor who does a good job playing ball to man in zone schemes. Does not transition smoothly out of a pedal at this point but has a quick first stepand closes the cushion with strong burst and plant and drive skill." -ESPN
8:08 – Kyle Shortridge: "Shortridge with some polish and further development in areas displays signs of being able to be a productive defensive tackle. He has good overall size. Needs to add more bulk, but displays good playing strength and a frame that can support more good mass with time in a college weight program and should easily be able to comfortably play north of 290. He flashes a good burst, but there is some inconsistency here and he needs to work on continually getting off the ball quick. He can pop up and play tall at times and needs to watch his pad level, but he demonstrates the ability to fire out low and gain leverage. He is a pretty powerful kid who can hold his ground against the base block and double team when he stays low. He needs to improve his hand use and too infrequently will bring them coming off the ball." -ESPN
8:20 – Chandler Bridges: "Bridges is a physical and tenacious blocker. He lines up at tackle and could potentially transition to the next level at that position, but more likely he will end up sliding inside to guard which looks to be the more ideal fit for him. He has good height for the guard position, but will need to continue to fill out his frame and add more good bulk. He does display good upper and lower body playing strength. He looks to predominately play out of a 'two'-point stance with solid hip and ankle flexibility. He does a good job with hand placement and demonstrates the ability to create leverage with his hands and when he gets locked on he can be tough to beat. Needs to watch pad level, but working from a two-point flashes the ability to get pad-under-pad with solid hip roll and can deliver a good pop on contact. With good playing strength and leg drive is able to generate vertical push." -ESPN
8:22 – Keith Towbridge: "Towbridge is a good sized kid who looks to have room to continue to be developed. He possesses good height and bulk at this stage and looks to have a long frame that can support more good mass with time in a college weight program. He does not come across as an overly natural receiver who just plucks the ball out of the air, but he can catch the ball well. Is able to adjust well to balls thrown behind him or low. He displays good straight-line speed and while not a burner, he is a tall long kid with a good stride who can cover some ground. After the catch will lower his shoulder and fight to get what he can. Displays upside as a blocker." -ESPN
8:29 – Richard Benjamin: "Benjamin possesses one of the best size/speed combos in this class. He has adequate height with bulk and somewhat of a stocky build and possesses terrific speed and explosiveness. His overall athleticism is excellent and is a fluid and explosive prospect. He needs time in the weight room to add upper body strength and bulk, but he will win most, if not all foot races. He explodes off the line and reaches top speed in a hurry."-ESPN
8:32 – Kyle Bolin: "Bolin is capable and productive as an athletic pocket passer. Is lean and lanky with likely an extra inch to come — has a late bloomers frame with adequate-to-good height for the position. Has great feet and above average athleticism; can buy time and make plays on the move. Is very sound and consistent with progressions and getting the ball out in a timely fashion. Does not hold onto the ball, steers defenders with eyes and front shoulder and can look off. Takes very few risks and does not throw the ball up for grabs. Is very balanced and poised in the pocket. Shows presence and awareness of pressure to move, sidestep the rush and get the ball out in a calm and cool demeanor." -ESPN
8:57 – Keith Kelsey: "Kelsey is a tough, hardnosed football player with the speed to play from sideline to sideline. Has the size and athleticism for inside linebacker position at the major level of competition; This guy is a tough tackler who can wrap and knock ball carriers back where they came from; combined with his agility and balance, he should be an effective special team's coverage defender; does a nice job peeling back on punt returns, making big blocks to spring returners. His frame appears capable of supporting additional bulk over time, provided athleticism isn't sacrificed." -ESPN
9:26 – Cameron Fraser: "Fraser is a tough run blocker with strong hands along with upper body playing strength. Has the size with enough athleticism for the offensive tackle position at the next level but could end up at the guard slot as his career progresses. It appears his frame can support additional body mass over time however there is the need to improve his mobility. Playing out of both a two and three point stance we detect lower body stiffness which shows up when playing in space and attempting to adjust his feet to quick change of direction movement; is a strong one on one run blocker who can maul and maneuver defenders once he gets his hands on them; flashes the ability to protect his inside gap and release up on linebackers." -ESPN
9:48 – Charles Williams: "Williams is a versatile prospect who will end up as a safety or wide receiver at the next level. He is utilized as a Wildcat QB on offense and safety on defense in high school. He is under center for his legs, not his arm and is not a candidate at QB for the next level. He is tall and lanky with long arms and is very fluid for his size. He is a legit run/pass threat outside of the pocket and thrives when improvising. He shows smooth movement skills and very good initial quickness and acceleration. He has a slashing running style with good instincts and some creativity. He has a good burst, some open-field elusiveness and a sneaky gear at the second level." -ESPN
10:38 – De'Asian Richardson: "Richardson plays on both sides of the ball in high school and while he shows some athleticism playing tight end and could potentially land on offense, he will likely initially play defense in college. He moves around the line some in high school, but we feel at the next level he is more of an interior player. He has very good size and looks considerably taller on film than his listed 6-foot-3. He carries very good bulk and his lengthy frame should allow him to add more good mass and potentially play around 300 pounds. He displays a nice initial burst and can quickly get on top of blockers, get into the gap and be disruptive with penetration. He flashes the ability to bring his hands." -ESPN
10:41 – James Quick: "Quick has a chance to be very good not only as a receiver, but also as a return man. He has a good size and speed combination. He's faster than most on the field, but maybe does not have elite speed. Still, he is extremely quick. Breaks tackles through tough running rather than strength and power. Displays very good short space quickness and change-of-direction ability, making him a playmaker with the ball in his hands." -ESPN
10:45 – Donel Elam: "Elam is a very active and productive run stopper. He displays excellent lateral ability and shows very good sideline-to-sideline range. He displays the size and athleticism for the outside linebacker position at the major level of competition and has a frame which appears capable of handling additional bulk over time. He is a tough, aggressive player with the knock 'em back tackling skills we look for when evaluating linebackers." -ESPN
11:25 – Lyn Clark: "Clark lines up in a two and three point stance; shows the initial quickness needed to beat blockers across the line whether playing the run or rushing the quarterback. Is primarily aligned as a defensive end with no coverage responsibilities. His size and athleticism appear best suited for the outside linebacker position at the major level of competition. It appears his frame is capable of supporting additional bulk over time." -ESPN
-Coach Strong talks about the 2013 class and National Signing Day

YUM CENTER HELPED IN FOOTBALL RECRUITING


Lyn Clark, OL, (New Orleans, La.) The 6-foot-3, 225-pound Outside Linebacker from O. Perry Walker High School had offers from Tulane, Louisiana Tech, Colorado, Louisiana-Monroe, Marshall, Memphis, Purdue, UCF and Utah. The 2 star prospect committed to Tulane but then de-committed from them on January 23. He then took visits to La Tech on the 25th and just visited the Cards this past weekend. Even though Louisiana Tech and Tulane are much closer to Clark's hometown they didn't have the national prominence of Strong and the Cardinals. And another thing that got Clark's attention is when he noticed the fan support when he saw Louisville's basketball arena. Clark said "The thing that stuck out the most was how big the basketball arena is." Clark also said of his visit "My visit went great," "Got to meet a lot of the guys. Got to meet with coach Strong and the coaches." Clark is the 16th commit for the Cards 2013 recruiting class.
ESPN writes in their evaluation, "Clark lines up in a two and three point stance; shows the initial quickness needed to beat blockers across the line whether playing the run or rushing the quarterback. Is primarily aligned as a defensive end with no coverage responsibilities. His size and athleticism appear best suited for the outside linebacker position at the major level of competition. It appears his frame is capable of supporting additional bulk over time. This prospect flashes good wrap tackling skills at times; on occasion he tends to go low and drag, rather than drive through, resulting in leaky yardage after contact. Regardless his athleticism suggests potential to play a variety of positions on special teams. Playing from a two or three point stance, his strong suit is his ability to beat blockers with his quickness; demonstrates good flexibility, balance and agility; his ability to turn and change direction gets him back to the ball when seemingly out of position. His quick hands are an asset however there is the need to improve his read and react skills when taking on blockers at the point of attack; tends to play too high when taking on the trap block. Does a good job keeping his feet free and working down the line vs. outside running plays. If coverage is to become part of his responsibilities, all aspects must be taught while experience gained. This guy is a productive edge rusher; displays the up-field quickness needed to beat the offensive tackle to the set point and squeeze the pocket. Although we like his quick hands and arm under move, there is the need to develop a repertoire of moves. Clark will need some time and perhaps a red shirt year prior to challenging for starting time at the next level."

PEYTON SIVA INTERVIEW ON SIRIUSXM COLLEGE SPORTS NATION

Peyton Siva is having a good senior season and he is averaging 10.5 points per game while leading the team in assist with 6 per game. His assist to turnover ratio is 2.1. He is shooting 42.2% from the field, 34.2% from the 3 point line and 89.3% from the free-throw line. The All-American candidate had an interview with the dynamic duo of Jeff Goodman & Bruce Pearl on Tuesday to talk about the college basketball season. The interview happened on SiriusXM College Sports Nation. It was a very informative conversation with Siva and the guys as they covered everything from the 3 game losing streak to all the news surrounding the Louisville program.
You can listen to the full interview below:



CARDS FLIP ANOTHER FOOTBALL RECRUIT. 3rd COMMIT FROM THAT BIG RECRUITING WEEKEND.


-Cameron Fraser, OL, (Phenix City, Ala.) The Central High School OL had committed to South Florida but also had offers from Arkansas, Jacksonville State, Middle Tennessee, Ole Miss, South Alabama, UAB.
Fraser is a tough run blocker with strong hands along with upper body playing strength. Has the size with enough athleticism for the offensive tackle position at the next level but could end up at the guard slot as his career progresses. It appears his frame can support additional body mass over time however there is the need to improve his mobility. Playing out of both a two and three point stance we detect lower body stiffness which shows up when playing in space and attempting to adjust his feet to quick change of direction movement; is a strong one on one run blocker who can maul and maneuver defenders once he gets his hands on them; flashes the ability to protect his inside gap and release up on linebackers. If he is to be successful reaching on offset down defensive lineman and getting a hat on active 1st and 2nd level defenders we will need to see improved first step quickness along with a lower pad level when coming out of his stance; with improved technical skill and added bulk this lineman should have the necessary tools to make the run blocks at the next level. His long arms and upper body playing strength should be assets in pass protection; plays a little too high when setting up; must improve his ability to bend, slide and recover when he gets in trouble. His initial punch and extension are positives. This guy is a tough customer who finishes with the nasty attitude we like to see from offensive linemen. Fraser will need some time and most likely a red shirt year before competing for start time at the BCS level of play.(ESPN)
This is a great pick-up for Coach Strong and his staff. This guy is a beast he registered a 5.6 40-yard dash, 4.88 20-yard shuttle and 24.1-inch vertical on the combine circuit. This is the third commit from that big recruiting weekend a few weeks ago. This class is starting to fill out very nicely.

RECRUIT PUNKS UK AND PICKS THE CARDS


-Keith Kelsey, LB (Gainesville, Fla.) The Gainesville High School LB has offers from South Florida, Duke, Florida Atlantic, Iowa State, Kentucky, Maryland, Minnesota, Purdue, South Alabama, South Carolina, Temple, UCF, Utah, Wake Forest, Weber State, and Louisville.
This prospect plays downhill, showing the ability to take on blockers at the point of attack; moves through traffic well flashing the ability to turn and change direction with better than average range. Does a good job as a coverage defender; is alert, demonstrating good route awareness; picks up receivers out of the backfield, is effective getting his hands on receivers and disrupting their routes.(ESPN)
Kelsey is the second recruit that attended the big recruiting weekend a few weeks back that has now committed to the Cards. And Kelsey decided his college choice in grand fashion. In what was the best announce I've seen in a long time. Keith picks up the UK hat to make UK fans think they had beaten UofL for a recruit and then throws it off to pick the Cards. Ha! It was awesome!
Here's the video in case you missed it:

Chucky Williams flips and commits to Cards


-Chucky Williams, CB, (Hialeah, Fla.) The Champagnat Catholic High School CB was committed to Ole Miss and had offers from Nebraska, Arkansas, Boston College, Bowling Green, Clemson, Florida International, Illinois, Indiana, Massachusetts, Purdue, South Carolina, South Florida, Texas Tech, Vanderbilt, West Virginia, Western Kentucky. But today he flipped his commit and will now be bringing his talents to Louisville. Things starting to look up from that big recruiting weekend after all.
He transitions smoothly and quickly when turning and running with receivers. He possesses good recovery speed and it is very difficult to create separation on him. He pursues, runs well, takes proper angles and shows good open field tackling skills. His movement skills allow for him to get from the hash to the sideline in a hurry. Williams is a good football player who adapts to the role he is put into, but he lacks great top end speed.(ESPN)

Louisville Football losing a commit after visit?

It is being widely reported that DT Derrick Calloway has switched his commitment from Louisville to USF. Calloway was part of the big recruiting weekend for the football program that is now looking like it isn't going to be a very successful one.

-Derrick Calloway, DT, (Bradenton, Fla.) Bradenton Manatee defensive tackle Derrick Calloway officially committed to Louisville a few weeks ago during the Offense-Defense All-American Bowl in Houston. He picked Louisville over South Florida and Missouri. He also had offers from Arkansas, Ohio State, Florida State, USC, Texas A&M and several other Division I schools.

Louisville soccer has a huge day in MLS Draft

Last year our Louisville Soccer program made history when four Louisville seniors were selected in the 2012 MLS Super Draft. Louisville was the only school with three players drafted in the first round and the only school with four draft picks. This year they add to that achievement by having a player drafted #1 overall.
The New England Revolution made Andrew Farrell the top overall selection Thursday in the Major League Soccer draft at the Indiana Convention Center. Farrell defender at Louisville, played three college seasons and became an All-American and Big East Defensive Player of the Year. He led a Cardinal defense that allowed just 0.62 goals per game in conference play. He began playing soccer in Peru, where he lived from age five to his sophomore year in high school during his father's Presbyterian mission trip. Farrell is just five foot 11 and 165 pounds but scouts marveled at his athleticism and liked his speed.
The Cardinals Beak would like to send out a kudos to Andrew on his great achievement today.
-Here are some pictures I took earlier this year of Andrew and the rest of the Cardinal soccer players when they faced UK.

LOUISVILLE FOOTBALL GETS FLORIDA TRANSFER

Charlie Strong lands another Florida transfer in Willie Bailey, and this is the fourth transfer from Charlie's old school in the last three years. The 6-foot-1, 170-pound Bailey enrolled in January and redshirted in 2012. The former Hallandale, Fla./Hallandale High School standout was a three-star recruit and ESPN's No. 24 cornerback. He chose Florida over Miami, North Carolina and South Florida.
-This is what ESPN had to say about Bailey back in February


(Courtesy ESPN.com)

THERE'S NO PLACE LIKE HOME

Normally during this time of the year Cardinal fans are gathered around their TV's watching the Cardinal basketball team play against a Big East foe. But yesterday was a different story. Cardinal Nation was watching the 2013 U.S. Army All-American Bowl waiting anxiously for hometown football star James Quick's college decision.
Quick had showed strong interest in Ohio State and Oregon throughout the recruiting process. He visited Ohio State often and talked glowingly about the team's passing attack. He has also spoke very highly of Coach Urban Meyer. In fact last month Quick almost committed to OSU during his visit. No one would have blamed the young man if he had wanted to take his talents to either of those schools. But it would have been a bitter pill to swallow if a player with Quick's potential had snubbed the hometown Cards. And it wouldn't have looked very good either.
But that didn't happen. And the Louisville football program continues its hot streak. The Cardinals won 11 games this year, including a win over Florida in the Allstate Sugar Bowl, retained head coach Charlie Strong from other offers and now have a solid 2013 recruiting class led by the top commit James Quick.
Quick gives the Cardinals' 2013 class star power. He becomes the highest-rated commitment for the class. Every recruiting service has him listed as a top prospect in the country and one of the top players at his position. He is also the highest rated prospect in the state of Kentucky and won Mr. Football. Yesterday he added U.S. Army All-American Bowl MVP to his accolades.
It's always great to get a top prospect to play for your team, but when you get one who is from the state it makes it that much more enjoyable to cheer for them. There's nothing like cheering for the hometown guy. He joins Jeff Brohm (1989) and brother Brian Brohm (2003) to be the third Mr Football from Trinity to play for the Cardinals. I can't wait to see Quick running up and down the field catching passes from Teddy QB. And can't wait for another exciting season of Louisville football to begin. Spring practice in about 75 days Cardinal Nation. See you there!

a "QUICK" decision

There's a big decision that Cards fans will be waiting to hear this weekend. Louisville Trinity WR James Quick will make his college choice at the 2013 U.S. Army All-American Bowl. Quick is the top priority for the Cardinals especially after they lost ESPN 300 defensive end prospect Jason Hatcher, who committed to Southern California. Quick is the highest-rated prospect in Kentucky. He will choose between the hometown Cardinals or the Ohio State Buckeyes. Oregon is on his list as well but does not appear to factor in the decision.
Certainly, the Cardinals have Quick's heart on their side. Quick's father, Ronyae' Quick, played football for Louisville in the early 1990′s. James grew up watching the Cardinals and has always been a fan. I do think that he was watching that win against Florida in the Sugar Bowl and can't help but see himself helping his hometown Cards win a National Title next year.
James Quick: "I've always grown up as a Louisville Cardinal fan and my dad also went there," "I really like the way they've run their program."
Then you have the Buckeyes. It was rumored that Quick almost committed to them during his visit in November but then thought better of it and decided to wait it out. The Buckeyes have asserted themselves well in coach Urban Meyer's first class. He has certainly made an impression on Quick. He sees early playing time as a real possibility at Ohio State given their need for more receivers. He also sees a passing offense that is more pro-style than the Buckeyes often get credit for.
James Quick: "Urban Meyer is a good guy," "He's going to build a good program. Any team that he's on is going to be a good program. Urban Meyer is a very good coach."
I really hope this young man ends up being a Cardinal. It would be the icing on the cake for what has been a remarkable couple of months for the football program. But if he chooses the other path then I wish him all the best. He seems like a really great kid and seems to have a very good head on his shoulders. I'm sure he will make the right decision for himself and his family.
James Quick talks about his impending college decision:

NUNEZ MOVING ON

We learned over the weekend that the 6-8 sophomore from Washington Heights, NY Angel Nunez is taking his ball and moving on. Nunez was not able to fit into the defensive side of things at this program. He kept being buried in the depth chart and was not seeing any meaningful minutes as a Louisville Cardinal. In the 2011-12 season Nunez played 55 minutes, scored 25 points. Known as a long-range shooter he was 6-16 from 3-point land with a 38 percent average. Nunez had not logged a single minute of action this season.
I really thought this guy would finally be able to contribute to this team and thought he had a really nice stroke from outside the arc. He also has excellent length and is very athletic. However, as we have seen over the years not everyone fits into the Louisville program. It is a program with a defense first mindset. And sometimes players just don't buy into that.
The Cardinal's Beak wishes the young man all of the best and thanks him for his contribution to Cardinal Nation.

"RUSS" on the radio

Russ Smith started this season saying that he wanted to be taken more seriously. He and Coach Pitino both agreed that he needed to take his game to the next level. And 9 games through this season "Russdiculous" has done just that. He has been a game changer this season for the Cards. He's averaging 20 points a game on the offensive end of the floor and is ranked in the top ten nationally with a 6.7 percent steal rate on the defensive end of the floor. He has also made his way on the All-American watch list and National player of the year watch list. Draft Express also has Russ as a first round draft pick.
Russ Smith is always on the attack and can put points up quickly with his jumper or drive. His play and experience will be a plus in big moments of big games moving into the heart of this season. I cant wait to see just how far this young man can take his game.
Earlier this week he talked about his big early season, his relationship with coach P, and a lot of other things with Jeff Goodman and Bruce Pearl on Sirius Satellite Radio. Below is some of that interview.

a "STRONG" statement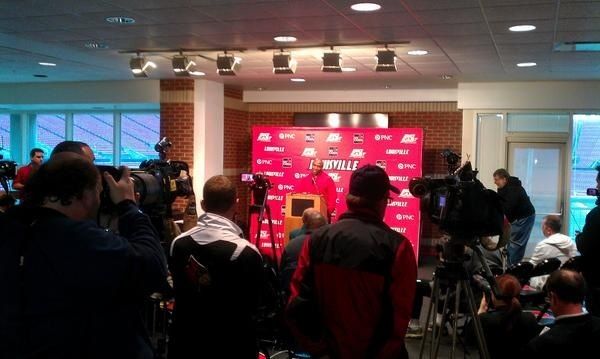 Today something happened at the University of Louisville that you don't see very much in the world of college sports. Today wasn't about money, ego, power or greed. Today was about relationships, family, respect and loyalty. Today Charlie Strong made what he called the "Biggest decision in 29 years of coaching" and decided to stay at the University of Louisville for the long haul. Strong was hired in December 2009 and led the Cardinals to a 7-6 season in 2010. But at the beginning of the 2011 season he was struggling with a young team and got off to a 2-4 start. It was during that time that Tom Jurich decided to give Charlie a 7 year contract extension. That extension went a long way toward showing how committed Louisville was to Strong and building a solid football program. Today Strong acknowledged that moment saying "I was 9-10, and Jurich hands me an extension…How do you walk away from someone who trusts and believes in you." Coach Strong has done a really good job in just 3 years at Louisville. And with his commitment today it could be the start of something big. Louisville has often been referred to and recognized as a stepping stone job for up and coming coaches. But today all of that changed as we went head to head with one of the traditional powers of the SEC and came out on top. Coach Strong says him signing means that UofL "is no longer a stepping stone job."
When coach Strong arrived at Louisville he brought a much-needed winning pedigree to the program at a crucial time in it's history. But today we found out that we got much more than that. Today our program took another step on the road to greatness and got a commitment from a guy who is all about greatness. One of the things that coach Strong was famous for saying when he got here was "You never Know." Well now we know that our program is in good hands and heading in the right direction. Perhaps summed up best in one of Coach Strong's comments today "My enthusiasm and my heart are with the University of Louisville."
(Video Courtesy of Courier Journal)

ACCepted for all the right reasons

Today Cardinal Nation got the news we've been waiting for since being snubbed by the Big12 last year. Today the ACC voted unanimously to add Louisville as its 14th member, becoming the seventh former Big East school to leave for the ACC. Look folks this thing has been analyzed to death by every sports writer and blogger in the country. So there's really not much left to say.

-ACC presidents vote unanimously to add Louisville as 14th conference member

-Louisville Addition Shows ACC Doesn't Care About Academics

-ACC adds Louisville in move driven by football, not by market value
I'm just very proud to be a fan of the first college program in the country to be chosen in this realignment shuffle for all of the hard work, improvements and accomplishments made over the years. Louisville has come along way from that commuter school that used to play its football games in Cardinal Stadium. Now we are members of the ACC and have one of the most established, accomplished and respectable athletic programs in the country. This day was for all of the players, coaches, and leaders that have ever laid it on the line for the Cardinal Red. And for all of the fans who have spent their time and money supporting the program along the journey. Lets continue to show our support and let the ACC schools see why we are considered one of the most passionate fan bases in College sports. I hope those Cameron Crazies are ready.

Perry Sidelined for the rest of the season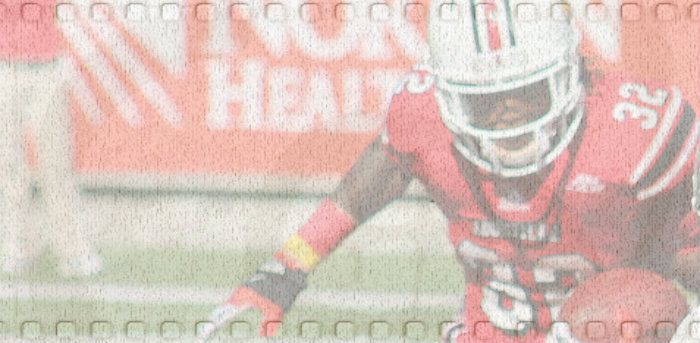 Senorise Perry was having a monster year for the Cardinals. The junior is the first Cardinal to score four touchdowns in a game since Michael Bush did it in a losing overtime effort in 2005. And he leads all Cardinal rushers with 705 yards on 136 carries for 11 TD's. This had him on pace to be a 1000 yard man this year. But Cardinal Nation found out today that he has been sidelined for the rest of the season with a torn ACL. Perry suffered the injury Saturday in the Cards loss to Syracuse.
Coach Strong on Senorise: "He didn't take the news very well. He was having a great season, so he was disappointed."
His running is one of the main reasons the Cards have had so much success this season. Coach Watson: "He's got great speed, he can finish runs, he possess something we saw Bilal Powell do a couple years ago. He's got that kind of finishing speed, and can make the third level defender miss." So what's next for the Cardinal's running attack. There has been mention of taking the redshirt off Dominique Brown, and coach Strong said it could be a possibility if needed. I'm no expert on the matter but do feel this would be a huge mistake. If we were still in contention for a perfect season maybe but not now. I think the X Factor here is Corvin Lamb. It is his time to step up and shine. Not only is he a running back who can knock some people over but he also poses the speed to run past them. He's got the same kind of finishing speed Senorise has, and he's a good inside runner.
Coach Strong: "I think we'll be okay in the running game. Senorise was a big part of our offense, but Jeremy Wright will take more of the load."
Don't know how this season will end but I'm confident in coach Strong and in his ability to adjust to this loss. I think we will be fine and I wish the best to Senorise Perry. He will come back even stronger for his senior season.

Louisville has now signed their 4th commit in Akoy Agau. 2013 class is complete and ranked #2 according to 247sports, ESPN, and Scout.com.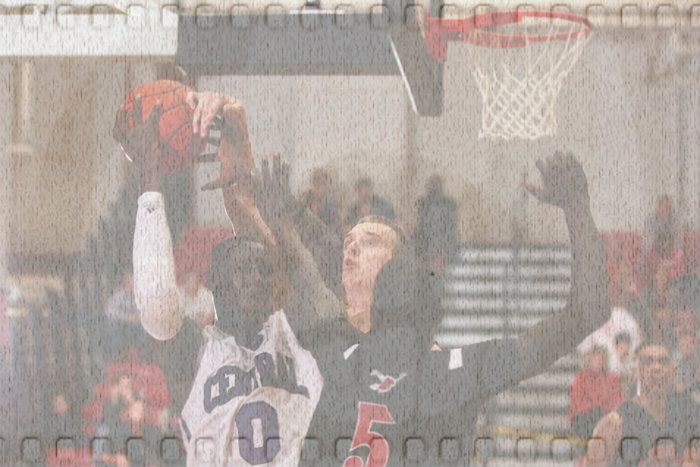 Late Wednesday evening CardNation got the news that Rick Pitino had landed another prize recruit in 6-foot-9 Nebraska PF Akoy Agau. The 6-foot-9 Agau held mulitple offers from Clemson, Connecticut, Creighton, Drake, Florida, Georgetown, Iowa, Iowa State, Missouri, Nebraska, Tennessee, USC, West Virginia, and Wichita State. Our coach has put together a Top 5 class that also features Shooting Guard Anton Gill, Point Guard Terry Rozier and junior college Point Guard Chris Jones.
ESPN's Dave Telep on Akoy commit: "The Louisville Cardinals fortified their backcourt of the future and added a frontcourt piece," "Agau is a versatile four man who can play facing the basket. He was Nebraska's No. 1 target but Louisville dug him out of Omaha."
247Sports national recruiting analyst Jerry Meyer: "Akoy is very skilled and comfortable with the basketball," "That's a great class. If someone said that's the best class nationally they could argue that."
Scout.com Recruiting Analyst Evan Daniels: "With Agau's commitment, Louisville jumps to No. 2 in the Scout.com's 2013 recruiting class rankings, trailing only Florida."
TheRecruitScoop.com Alex Kline: "Louisville coach Rick Pitino may not be familiar with the state of Nebraska, but during an in-home visit on Wednesday night, he made his mark by landing the states top overall player." "A big body at 6-foot-9 240 pounds, Akoy Agau is going to be a tremendous 3-4 year player for Rick Pitino. Still raw on offense, his body allows him to be a solid defender as he can rebound, block and alter shots. He is a project on offense as the majority of his points come down low. His dream is to be similar to Jeff Green, which is one of the reasons why Georgetown caught his eye. Let's see if Louisville wants him to develop into Green, or have him come in to replace Gorgui Dieng since the Cardinals couldn't get it done with Moses Kingsley."
Here's a wonderful story on our new commit:Having Survived War in Sudan, Refugee Akoy Agau Discovered Hoops in America and the Major College Recruit is Now Poised to Lead Omaha Central to a Third Straight State Title


I'm very happy with this class and think this will give us a solid group of young men to carry the torch. Welcome to the CardNation Akoy Agau.


A long time coming "Chris Jones will soon be a Card"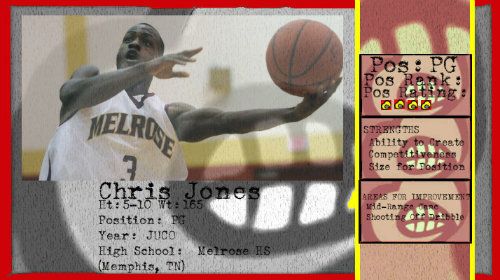 I first tweeted about Chris Jones on June 26th when it was reported by his coach Steve Forbes that the Louisville coaching staff had reached out to him. Now on September 16th after a weekend visit to Louisville it looks like he will be a Cardinal by the end of the week. Alex Kline (TheRecruitScoop) told me late Sunday night that "should be a done deal early this week for Louisville" several other Louisville websites are reporting on this and pretty much saying the same thing. This is huge news for the Louisville basketball program and a huge get for the coaching staff. Espn.com's Dave Telep said on Thursday "Visitor: Juco PG Chris Jones
Rick Pitino saw him last weekend and it appears that he's fallen in love. This is one of the best battles and maybe the best juco PG of the last decade."
I tweeted out on August 1st that all signs were pointing on Chris Jones becoming a Card next year. Now tomorrow or Tuesday Chris Jones says he'll sit down with Steve Forbes and make a decision about his future. Jones averaged 18 points, 4.6 rebounds and 4.2 assist a game last season at NW Florida State College. He is going to look good in a Cardinal uniform. Just like my early projections about Jones to Louisville I want to be the first person to welcome him to the Cardinal Nation. Go Cards!

It is important to mention that Chris has official visits scheduled to Florida State and Kansas.

-Mangok "THE MANGO" Mathiang is officially on the team

The Cardinal Nation learned today that Mangok Mathiang, has signed a financial aid agreement to continue his basketball playing career at the University of Louisville. There had been much speculation on whether or not this would happen. But now that it's official the only question remaining is how much playing time the big man will get.
He will almost certainly be used sparingly. The Cardinals already have one of the more daunting frontcourts in the country returning for 2012–13, including power forward Chane Behanan and center Gorgui Dieng. With likely reserves Montrezl Harrell, Zach Price, and Stephan Van Treese.
At best, Mathiang's best case as a freshman is as another body, more depth, somewhere to go to pick up a few fouls in the first half of a particularly physical, defensive game.
Mathiang is a very long, active and mobile post player with great upside. He can score around the basket, rebound in his area and block shots on or away from the ball. As his skills continue to develop so will his production but the potential and upside are present.
Rick Pitino on Mangok: "Mangok is extremely quick and agile for a 6-10 player," "He has a great future because of the way he moves at both the offensive and defensive ends. We're excited to have him as a part of our program."
(name is pronounced MANG-go like the fruit, with a silent "K"  MATH-ee-ang)
The Mango is often referred to as the "King of Fruits". Let's hope that our new player "The Mango" will be the "King of the Basketball Court" in a few years by developing his strength and skills like Gorgui has done while in the program.
In the West Indies, the expression "to go mango" means to steal another person's mango fruits. There's no doubt in my mind that after a few years in Louisville's strength and conditioning  program the expression "To Go Mango" will mean to steal another players basket. Because Mathiang will be a premiere shot blocker.
Welcome to the Cardinal Nation Mangok "The Mango" Mathiang.

When one door closes another one opens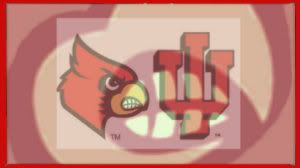 The sports headlines in the area this week have been dominated by talk of the IU and Kentucky rivalry coming to an end. The two sides couldn't come to terms on where to play the games going forward. The Indiana coach took the position of what was the best move for his student body and his fans. He wanted the game to be played on his campus every other season. The Indiana coach seems to be of a more traditional mind set, and wants to keep the traditional model intact.
Now enter the coach in Lexington. He has turned the traditional model of college basketball on its head. He hasn't been shy when talking about this either. He has been quoted as saying that his program is now non-traditional. He has advised his fans to forget everything they know about how things used to be. He has advised them that it's not about them anymore. The Lexington coach wants the game to be played on a neutral floor. He says that his teams don't have to play others on their home court.
So in the battle of traditional and non-traditional the winners seem to be the University of Louisville fans. Our program isn't afraid to take on a new challenge, and our program hasn't been shy on which side of the traditional battle it takes. Our launch of the Louisville First campaign makes it very clear to the rest of college basketball that we are always going to have a traditional model. The University of Indiana must have heard that message loud and clear because talks are currently under way for a deal to be decided between the two schools to begin a series. And although it looks like a game may not happen next year Coach Rick Pitino said that it could happen during the 2013-2014 season.
In a phone conversation with the Courier-Journals Eric Crawford Rick Pitino was quoted as saying "We pursued getting a game with them, but it looks like they don't have a spot on the schedule." "But we're definitely interested in doing something for the next season, because I think it would be a great series for both programs and for college basketball."