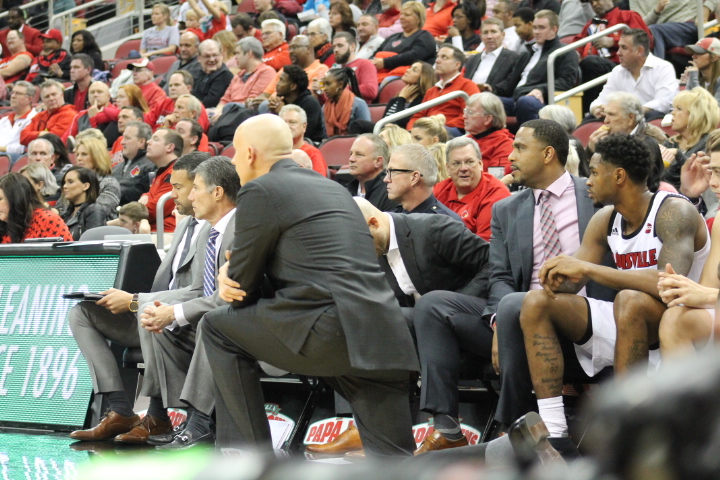 With the first signature win under their belt, our Cardinals will now hit the road for the first true road game of the season. The Cardinals come into this one with a 4-2 record after that big 82-78 overtime win over Michigan State in their last outing. They will face a Seton Hall team that has won three straight. And they are coming off a big game of their own with an 83-81 win over Miami.
Seton Hall was one of the teams that beat Louisville last season at the Yum Center. After losing three program changing players this Seton Hall team will look different but Kevin Willard has established some consistency in that program and they still got some very good players and a winning system in place.
The Louisville defense was able to slow down one of the best backcourt duos in the country in the last game. They face another pretty good one in New Jersey tomorrow. Myles Powell who leads their team in scoring had a 40 point game and scoring record in the Wooden Legacy. Quincy McKnight is also a double-digit scorer and the straw that stirs the drink averaging 3 assist a game.
Not only will these guards try to extend the Cards defense this Seton Hall team always has those good wing players who can create their own offense. Those guys this year are Michael Nzei who had a big 21 point game against Miami and Sandro Mamukelashvili who can hit three-point shots and leads Seton Hall on the glass with 7.7 rebounds per game this season. As a team, Seton Hall is averaging 73.2 points per game on 45.9% shooting from the field, 30.3% from behind the arc and 68.1% from the foul line.
Our Cardinals have been a great offensive team during the first few weeks of the college basketball season. They are ranked 30th in the country in scoring offense. They've had some great production out of guys that were a little unexpected. Akoy Agau has been the biggest surprise with the effort he brings and Dwayne Sutton's intensity has really paid off.
The thing that has really made a difference for this team is their ability to get to the free-throw line and to make their shots when they get there. The Cardinals currently rank 25th in the country shooting 76.5% from the line while ranking 6th in the country in Free throws attempted and free throws made. This could be the recipe for a big road win on Saturday afternoon.
Coach Mack is no stranger to Seton Hall. He got two big wins over them last season as the Xavier head man. I think he'll have the Cardinals ready for this game. Seton Hall has had trouble at times this season scoring. Don't think they'll be able to keep pace with our guys. Looking forward to seeing how our guys respond after the last one.
L's Up!

GoCards.com Breakdown:
https://gocards.com/news/2018/11/30/mens-basketball-cardinals-will-face-seton-hall-in-first-true-road-game.aspx