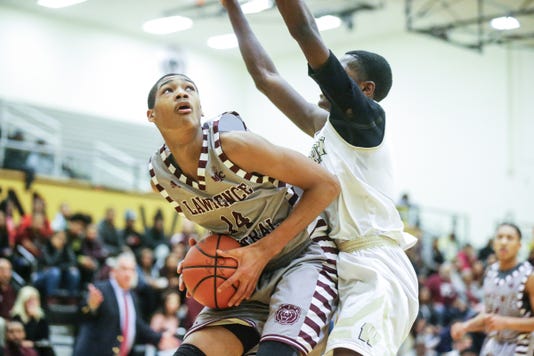 (Photo: Michelle Pemberton/IndyStar)

College basketball recruiting has been a hot discussion on social media. Some Louisville fans getting themselves all worked up because the NCAA cloud still hanging over the program is seemingly having an effect on the staffs recruiting efforts. I don't see it that way.
Sure it's not ideal to have an NCAA cloud hanging over your program but I think it serves as a way of only getting the guys who want to really be a part of your program. Guys that are buying into the "we" part of the recruiting pitch instead of the "what can you do for me" approach.
Coach Mack and his staff have been really good at finding the "we" guys. Today they found another one. 4* D'Andre "Dre" Davis, a 6-foot-5, 170-pound shooting forward from Indianapolis has verbally committed to the Louisville 2020 Class. Davis was originally committed to Tim Miles and Nebraska but decided to open back up his recruitment last week.
Ranked as the 96th player in the ESPN 100 the Davis decomittment garnered a lot of attention. Several Power 5 programs including Louisville jumped in the mix pretty quick. Coach Mack beat out Purdue and several others for the long athletic 3 man's services. Davis is known as a player who can drive to the lane and create his own as well as shoot the step-back three. I think he is a guy that will fit well into Coach Mack's system.
A guy who started out inside the top 200 Davis is a blue-collar player that has worked his way into the conversation with a great AAU season. Give me these Top 100 guys all day long. They are kids that it takes to win a championship and usually make up the backbone of a college program. I hope those Top 10 guys have all the success in the world but I just think they have too much of that "ME" mentality to give a program the long term commitment it sometimes takes to win a championship. We see this play out every year at our arch-rival Kentucky. Not much of a backbone there.
I want to get guys at Louisville who want to be here. I want the guys who want to sink themselves in the traditions and lore that surround the Cardinal Nation. I want to get to know these guys and watch them develop and grow. I want the "we" guys and I think Coach Mack and his staff got a commitment from another one of those today.
Recruiting is fine… And Louisville Basketball will be fine. Go Cards!