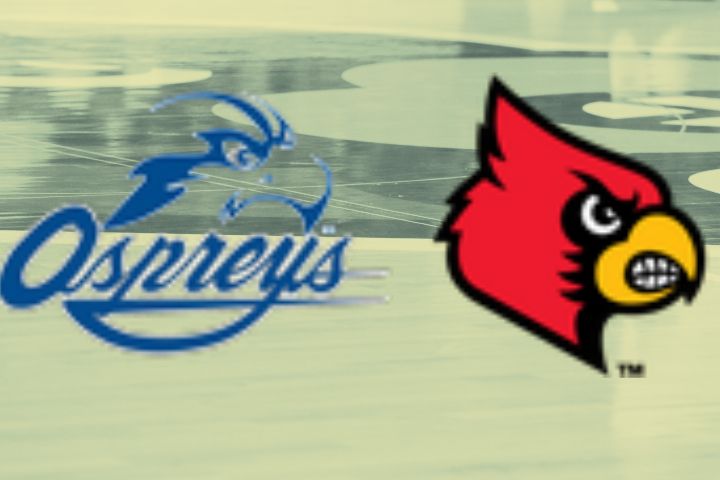 We all know how most of these early games go during the first stretch of the basketball season. These smaller schools are going on the road to play in big venues to get a hefty paycheck, take a loss and go home. That's not going to be the case when North Florida comes to the Yum Center on Saturday. The Cardinals play the North Florida Ospreys in the Cards' second game of the Brooklyn Hoops Holiday Invitational, a five-team, round-robin event. Louisville beat Hartford in the first round 87-52 on Tuesday. The Cardinals are 2-0 on the early season while North Florida is 3-0 with a big in over Illinois already on the resume.
North Florida will bring one of the most high powered offenses in the country to Louisville this weekend. They lead the nation in three-pointers per game (16.0), are seventh in assists-to-turnovers ratio (2.35) and ranks eighth in three-point percentage (.480). The Ospreys are a talented and dangerous team thanks to a balanced offensive attack and a roster full of shooters. The Ospreys can shoot the basketball from all over the floor. Their system allows for anyone to pull the trigger when open, and with five players shooting over 40 percent from deep, everyone must be accounted for. They live and die by the 3-point shot and so far this season they've lived pretty well.
STARTING LINEUP
Dallas Moore (24.3 PPG, 3.0 RPG)
Trent Mackey (18.7 PPG, 1.7 RPG)
Chris Davenport (15.0 PPG, 9.7 RPG)
Beau Beech (14.0 PPG, 5.7 RPG)
Nick Malonga (6.3 PPG, 2.7 RPG)
Key Bench Players
Demarcus Daniels (13.3 PPG, 8.3 RPG)
Aaron Bodager (4.3 PPG, 4.0 RPG)
Osborn Blount (2.5 PPG, 1.0 RPG)
Kenpom Ranks
Overall Rank 95th
ADJ Offense Efficiency 108.7 ranked 36th
ADJ Defensive Efficiency 103.1 ranked 224th
Game Prediction: Louisville 82 North Florida 70, He gives them a 13% chance to win
Their best player is Dallas Moore. The 6-foot-1 guard can shoot it from deep (55.6 percent) or in close (56 percent). The lefty is very quick with the ball in his hands and gets to the rim with relative ease. He's also very good in transition. Another guy who could be big for them on Saturday is Demarcus Daniels. He's scored a combined 40 points leading up to this game on Saturday and grabbed 27 rebounds. Daniels is long, athletic and can score on the block as well as stroke it from deep (50 percent). If North Florida gets a great effort out of this guy on Saturday their chances for an upset improve drastically.
As mentioned above the Ospreys have a well balanced offensive attack, as five players average more than 13 points per game and shoot at least 50 percent from the field. North Florida plays at a quicker tempo than most (61st nationally) and will shoot early in the shot clock. The Ospreys have an equal opportunity offense that can be very hard to defend. On defense North Florida plays a traditional man-to-man defense and will switch on ball screens. Their guards play decent perimeter defense (44 percent shooting). They don't force many turnovers, relying instead on fundamental defensive principles.
In order for Louisville to keep the upset minded Ospreys from achieving their goal they must limit them to one-and-done possessions and extend their defense. Giving a great shooting team extra possessions is alwyas a bad idea, so owning the defensive glass is the first step. Playing a traditional zone likely would be a poor decision, but a team like Louisville that plays that tough match-up zone defense and has length could pose issues for the Ospreys.
Our Cardinals have won 36 consecutive home games in November spanning the last 24 years, including a perfect 23-0 record in the KFC Yum Center and I am confident they'll make that 37 straight on Saturday. The Ospreys who are a bird of prey will be a great challenge to this group and one they need this early to gauge just how well they are coming along. The Cardinals rank fifth nationally in field goal percentage defense (.257). We'll see how that holds up. I just think the Cardinals have too many offensive weapons themselves and are too tall and talented to lose this one. Chinanu Onuaku scored a career-high 18 points against Hartford, adding nine rebounds and two blocked shots. Jaylen Johnson also set career bests in points (nine) and rebounds (eight) vs. Hartford. I look for these guys to be big again on Saturday. Quentin Snider has also been great. His 10 assists with just one turnover this season ranks him fourth in the nation in assists-to-turnover ratio. He matched a career-high with six assists against Hartford. He will also be big on Saturday. For as good as they are on offense the Ospreys aren't really great defensively and that will be their down fall in this one.
The Beak Prediction:
Louisville 80 North Florida 69