"It's better to have a good player with the basketball in late game situations than to have plays" -Rick Pitino

>>>
<<<
The first two assessments below were made before the addition of Snider and Stockman to the class:
-Jerry Meyer, the national basketball recruiting editor for 247Sports.com assessment of Louisville's 2014 Class: "They are bringing in a potential star with Shaqquan Aaron. The bigger question is will they get the dividends out of him that they want to get before he heads to the NBA. He's a guy who will get drafted on potential. He could have just an OK freshman year there and still be a potential draftee or first-round type. He has tremendous playmaking and scoring ability at 6-8. You don't see that a lot. He can handle the ball like a point guard. "Jaylen Johnson is a tremendous energy player and a great fit for the Pitino system. His game will maximize under that system. He is a baseline-to-baseline player. He's also a great rebounder and anticipates plays. With Onuaku, you have a big guy who can control space. He is a great complement to Johnson. Jaylen is more athletic and Onuaku would be the anchor who holds down the middle."
-Alex Kline of the Recruit Scoop.com: "On paper, this class doesn't look that great, but these guys will all be long term impact players. Johnson and Onuaku fit their system ideally. Onuaku has rapidly improved and is very skilled for a big man. Once he drops some weight, he will be able to make a bigger impact. Johnson brings a lot of intangibles to the team, and will be used properly by Rick Pitino. As far as Aaron goes, he is the wild card of the class. He projects to be a better player professionally (1 on 1 play) than in college. I'm curious to see where coach Pitino places him at primarily and how much time he sees at the 1, 2 & 3. He likes playing the point, but isn't there yet, but since they won't have Quentin Snider is makes things interesting."
ESPN Recruiting analyst: "At this time last week, Rick Pitino was expected to collect three signatures during the early signing period. Instead, he got five. Quentin Snider's recruitment came full circle with his return to the nest, while the icing on the cake was a signature from Matz Stockman. The 7-foot-2 big man from the Canarias Basketball Academy is a bit of a mystery to most people on the left side of the Atlantic, but apparently, he's loaded with potential and is set to make his American debut this weekend in Connecticut. Add those two to the expected signatures from Shaqquan Aaron, Jaylen Johnson and Chinanu Onuaku, and Pitino's Cardinals are sitting pretty right about now."

SCOUT RANK
247SPORTS RANK
RIVALS RANK
FUTURE150 RANK
ESPN100 RANK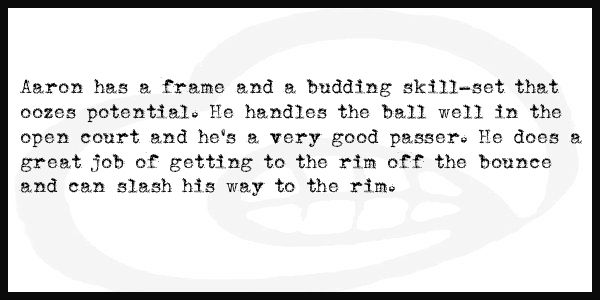 -7/7/14

Shaqquan is on campus!

-3/10/14 After being snubbed by the McDonald All-American folks Shaqquan finally got some of the credit he deserves today by being named to play in the Jordan Brand Classic game. The Jordan Brand All-American Game will take place at Barclays Center in Brooklyn, N.Y., on April 18.

-3/9/14 Congrats to Shaqquan Aaron who had 22 points to help Seattle Rainier Beach beat Eastside Catholic 47-45 for the Class 3A state title in Washington. His Rainier Beach is now 28-0 and ranked No. 2 in country. Aaron will lead his team later this month to a national event in Madison Square Gardens.

-On Rainier Beach
How does a small and unglamorous Seattle neighborhood send more players to the NBA than three New York City boroughs? By being different.

-2/5/14 Shaqquan Aaron was named Seattle's Player of the Year. Former Louisville Guard Peyton Siva also won this award.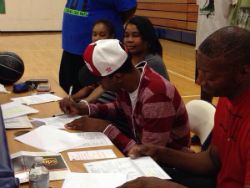 -Flanked by his parents and sister Shaqquan Aaron signs his National Letter of Intent and becomes a part of Louisville Basketball / photo Josh Liebeskind

-With his high school graduation set for 2014, 6-7 small forward Shaqquan Aaron has already committed to play for Louisville next year. Check out the young man's fancy guard-like plays in his official Ballislife mixtape.
–Shaqquan Aaron has been finally getting the respect he deserves because of his huge upside. The Louisville commit is one of the most skilled and polished players in the class of 2014. Aaron's play on the court is very unique and special in it's own rights. He has a skill set of a point guard who can handle the ball comfortably in the open court and he's a high level passer. However, the Seattle native is best known for his elite scoring ability. He is a lights out shooter from the perimeter but also can pull up for a mid-range jumper over defenders because of his towering size. Due to his versatility, he is capable of playing everything from point guard to a forward in the post. The talented upcoming senior is a pure play maker and a fierce competitor on the floor.
–Shaqquan Aaron @ Breakout Classic
–Shaquan Aaron @ The NBPA Top 100 Camp
– Shaqquan Aaron named first team All-Area by the Seattle Times

–2014 G/F Shaqquan Aaron Talks Recruitment

–Committed to the Cards on 2/16

SCOUT RANK
247SPORTS RANK
RIVALS RANK
FUTURE150 RANK
ESPN100 RANK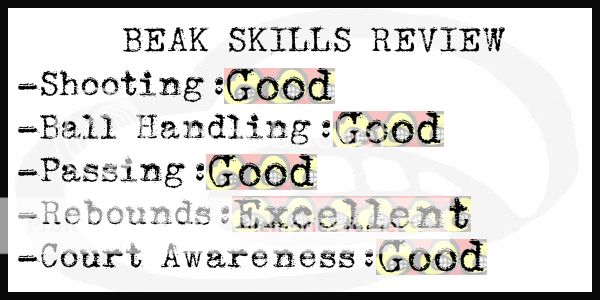 -7/14/14 Jaylen now has his paperwork in order and word is that he will be on campus this week. He will be the last of this great class to arrive on campus.

-4/13/14 Ypsilanti Community's and Louisville signee Jaylen Johnson is The Ann Arbor News 2014 Boys Basketball Player of the Year

-3/2/14 Johnson was named a Mr Basketball finalist in Michigan. The senior at Ypsilanti Michigan High School is averaging 13.1 points, 9.5 rebounds, and 4.5 blocked shots a game. He has had 8 double-doubles this season.

-2/3/14 Jaylen Johnson scores season-high 19 as Ypsilanti powers past Skyline, 65-44

-Ypsilanti Community High senior Jaylen Johnson flashes an "L" for the University of Louisville as he signs a national letter of intent to play at Louisville in 2014, as his mother Janetta looks on while at the school on Wednesday, November 13, 2013. Melanie Maxwell | The Ann Arbor News

-10/1/13 Jaylen and his mom took an official visit to the UofL campus this past weekend. They spent two days in Louisville checking out the campus, dorms, practice facilities and other amenities. They even got to watch the team during their first weekend of official practice. According to several sources both Jaylen and his mom where very excited with the visit. Janetta Johnson said of the visit: "I just thought it was awesome. It was very good to see just the type of program that my son will be a part of. We're very excited."

-9/6/2013 Jaylen Johnson becomes the third commit to the class of 2014. Calls coach Pitino on his way to the Hall of Fame induction.

-8/20/13 Johnson, will take an official visit to Louisville on September 20th. He will also take officials to Iowa State on September 13th and Oregon on September 27th. He took an unofficial visit to Louisville back in June and left very impressed by the campus and facilities. I think the Cards are in good shape with this kid and wouldn't be surprised if he committed soon after his official.

–Jaylen Johnson's AAU coach says Rick Pitino would like him to play "that Montrezl Harrell role."

-Ypsilanti, Mich., forward Jaylen Johnson has quickly become one of the most coveted targets in the Class of 2014 by the University of Louisville basketball staff. Johnson recently visited Louisville and is tearing up the July circuit.

–Highly recruited Ypsilanti star Jaylen Johnson stays grounded with his faith, family

–Q&A with target Jaylen Johnson, a 4-star forward in the class of 2014

SCOUT RANK
247SPORTS RANK
RIVALS RANK
FUTURE150 N/A
ESPN RANK

-6/3/14 Chinanu has officially enrolled at the University of Louisville.

-3/11/14 Congratulations to Chinanu Onuaku, who won a Maryland private school championship and was named MVP of the state tournament earlier this week.

-11/13/13 Chnanu signed his National Letter of Intent early this morning and is officially a Louisville Cardinal.


-10/4/13 ONUAKU IS A CARD!

-10/1/13 Things Looking Good On The Onuaku Front: Riverdale Baptist F Chinanu Onuaku to commit Friday
-9/26/13 Chinanu Onuaku will choose between the Cardinals, Miami and GTown next Friday 10/4, his high school coach told SNY.com.
-9/24/13 Big man Chinanu Onuaku has narrowed his list to a pair of schools, according to multiple sources. He called off a visit he had planned this weekend to the IU campus and there are multiple reports that he will make his choice between two schools Louisville, Miami and GTown. I have thought all along that this kid would be a Cardinal and still feel confident in that assumption. He made an official visit with his mother to the Louisville campus earlier this month and also made an official visit to Miami. Last week Rick Pitino traveled to Maryland to visit Onuaku. We could hear a decision very soon here.
-9/12/2013 The recruitment of big man Chinanu Onuaku, the nation's No. 6 center is coming down the homestretch. He is an interesting case. His favorites are Maryland and Louisville both recently grabbed bigs. They also sit 3rd/4th in 2014 class rankings. I still think the Cards are in good shape here and will land this kid.

-8/16/2013 The University of Louisville basketball staff has expanded its search for big men in the Class of 2014. The Cardinals have extended a scholarship offer to Onuaku and will get a visit in the coming weeks on August 31st. There's a chance that Louisville is intriguing to Onuaku. Pitino can show how he helped develop Gorgui Dieng. Onuaku has similar strengths. And there has also been rumblings that Maryland could soon go in a different direction and land a commit from Trayvon Reed. Either way I think this guy is someone to keep an eye on in the coming weeks.


-7/14/14 Matz tweeted out that he has finally arrived on the Louisville campus. This is great news.

-7/11/2014 we learned this past week that Matz received his Visa and can now travel, live and play in the United States. Will be on campus soon.

-11/22/13 Coach Pitino was in New York Wednesday to see his latest University of Louisville recruit in action, the 7-foot-2 Matz Stockman from Norway.

-11/19/13 2014 6-foot-10 center Matz Stockman of Canarias Basketball Academy in Spain, by way of Norwegian, signed with Rick Pitino. There is not much out about him, but most will get a good look at Stockman this weekend as his team comes to Connecticut to play in the National Prep Showcase. It appears Pitino has taken a page out of the book of one of the young coaches he has been a protege to – Seton Hall's Kevin Willard. Willard has recruited, and landed, numerous players out of the Canarias Basketball Academy.
Coach Pitino talks about Stockman:


-6/15/14 Louisville freshman Quentin Snider finished with 37 points for Kentucky in the Ky-Ind. All-Star game on Friday. His 37 points were third-most all-time by a Kentuckian in the series.

He finished with 27 points for Kentucky All-Stars on Saturday giving him 64 points in the two games. Nice showing by this young man.
-6/3/14 Quentin is officially enrolled at the University of Louisville.
-4/13/14 Louisville signee Quentin Snider named State Player of the Year by the Lexington Herald-Leader.
-3/19/14 Sinder was named Mr Basketball in the state of Kentucky on Tuesday. The last player to lace em up for the Cards as a former Mr Basketball was Elisha Justice.
-3/11/14 Quentin Snider saw his high school career come to a close with a 59-58 loss to Trinity in the 7th region championship game Tuesday night. He leaves Ballard as the school's all-time leading scorer.
-2/8/14 Quentin came into tonight's high school game against Eastern with 2,250 points needing 27 points to break Allan Houston's record of 2,276 points to be Ballard High Schools All-Time leading scorer. Quentin scored 30 points in the game and becomes Ballard's All-Time leading scorer with 2,280 points. Congrats to him! Can't wait to see him in Cardinal Red.
-2/3/14 Ballard High School senior point guard Quentin Snider, a University of Louisville signee, has been named one of seven finalists for Kentucky Mr. Basketball honors.
-Q&A with Quentin Snider | Ballard High guard discusses signing with Louisville

-11/15/13 Well that happened pretty quick.. Quentin Snider has signed his letter of intent and will play basketball for the University of Louisville. Snider, who plays at Ballard High School in Louisville, Ky., previously committed to the Cardinals in August 2011, de-committed in July and committed to Illinois in September. He was expected to sign with the Illini during the early-signing period this week.
What he brings: Snider, 6-foot-1 and 160 pounds, is a true point guard with a full tool belt of on-court weapons and is also regarded as a high character kid. Snider is good athlete who can push the ball on the break on the bounce or pass. He can knock down open shots with range to the arc, not to mention his ability to stop and pop in and around the lane. Snider can play fast or slow down and execute the halfcourt offense, and he can make plays at end of clock situations as well.(Espn)

11/15/13 Look who has made his way back on to the Beak Recruiting page. There is a lot of buzz floating around in the recruiting universe that Louisville and Quentin Snider are in talks once again and that he may end up a Louisville Cardinal still. He didn't sign his letter of intent yesterday for Illinois. I will try to keep this page updated with any breaking news on this, and it sounds like it could come as early as this weekend. This is exciting stuff and It would be huge to end up adding Snider to this class.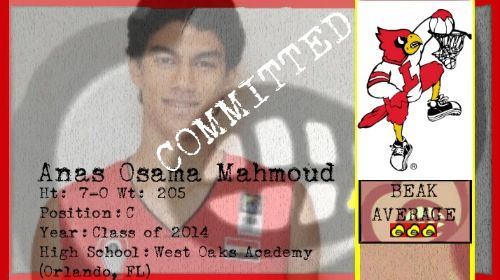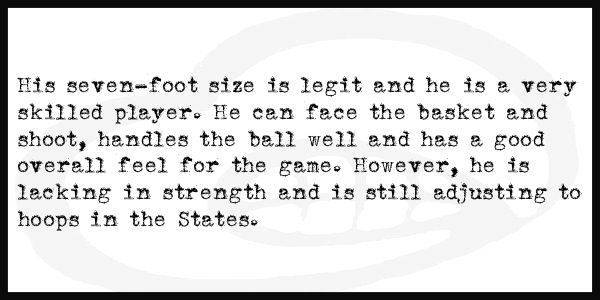 -6/3/14 Anas is officially enrolled at the University of Louisville.

-4/22/14 Anas offically signed with the Cardinals today. He played the end of his season with a partially torn meniscus in his knee, and he will have surgery in the next few weeks to repair it. There is talk that he might red-shirt this season. I was assuming that he may get the red-shirt anyway to give him time to become more physically ready for college basketball and due to an already packed Louisville front-court.

-3/3/14 Anas is a Card. He signed yesterday with Louisville making him the sixth member of Louisville's 2014 class.

-2/7/14 Mahmoud's name is starting to get brought up again a lot in the Louisville circle. He took an official visit to Louisville on January 9th and word is that he enjoyed it. He has close ties to Louisville and his guardian lives in Louisville. Word is that he really likes Coach Pitino. Most are expecting a spring decision from him after he visits Georgia Tech and Richard Pitino's Minnesota Gophers. Looks like a father and son recruiting battle. First of many I'm sure.

-2/3/14 7-foot-1 Egyptian big man Anas Osama Mahmoud told Gopher Illustrated that he plans to visit Minnesota the 3rd week in February. The Younger Pitino may be taking a run at this big man which tells me Louisville could be laying off a bit.

-1/10/14 Cards are still actively recruiting Anas per several sources and he is in town for an official visit. Was expected to attend the game on Thursday night. This guy is a legit 7 foot 1 and we desperately need size. I really hope he makes it to Louisville.

-It's early in the process and has a lot of suitors. He has offers from Arizona State, Auburn, Cincinnati, Dayton, Georgia Tech, Louisville, Minnesota, N.C. State and Texas A&M. Others expressing interest include DePaul, Florida, Georgia and Miami. Since he just moved here the foreign kids can be somewhat of a wild card because you don't always know what will be important to them. He wants to major in engineering and wants playing time right away. He has already unofficially been to Louisville as well as Cincinnati.

–Anas Osama is one of THREE BEST PERFORMERS FROM FLORIDA FALL FESTIVAL


-4/28/14 Gilbert has accepted a preferred walk-on spot on the Louisville basketball team. These walk-on spots have become very coveted in this program. Guys like Tim Henderson have set the bar high. And David Levitch quickly became a fan favorite last season.

Scott County's Trent Gilbert to walk on at Louisville