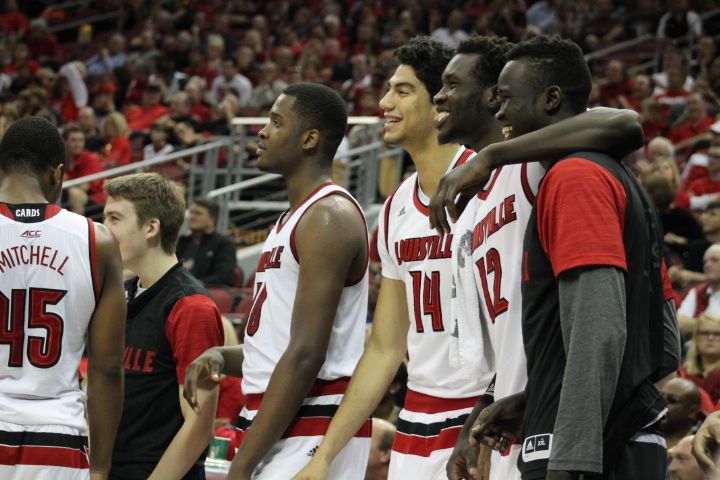 I have tried really hard this season not to buy too much into these early games with subpar competition but I have had a few observations that I think are going to be very favorable for the Cardinals going forward. I covered the game yesterday where our guys came out and manhandled Eastern Michigan 86-53 beating them by 33 points. Their average margin of victory this season is 30.6 points ranked 1st in the nation. For the 6th time this season they scored at least 85 points. The Cardinals are 103-0 under Coach Pitino when doing so. The Cardinals shot 53.4% from the field for the game and are averaging 51.6% through the first eight games of the season ranked 6th in the nation in field goal percentage. The Cardinals bench scored 34 points on Saturday and has scored 238 points from the bench this season. For a 5th time this season the Cardinals had at least four players in double figures. It is very important in March to have a team that shoots it well, can score points from all over the floor and has a deep bench. It appears this team will have all three.
They are who we thought they were:
Damion Lee is averaging 18.8 points a game while Trey Lewis is averaging 13.8 points. They are leading the way in point production and doing it very effectively. Lee is shooting 53.7% from the field while Lewis is shooting 41.7% from the field. They both are also averaging over 4 rebounds a game. These guys are also getting it done on the defensive side of the ball. Lee is leading the team in steals with 19 and Lewis is second on the team with 9 this season. Along with the solid leadership on and off the court these guys have been as big for this team as we all thought they would be and their veteran roles are going to be very important going forward.
Young Guys stepping up:
Donovan Mitchell is averaging 7.4 points a game and Ray Spalding is averaging 6.8 points. That is #6 and #7 in scoring on this team. These guys have also been very effective scorers. Mitchell is shooting 47.7% from the field while Spalding is averaging a scorching 76.7% from the field. Spalding is 3rd on the team in rebounding with 37 this season and Mitchell is 5th on the team with 33 this season. These guys have emerged as key guys coming off of the Louisville bench and both bring an energy with them when they enter that has an immediate impact. As these guys continue to adjust to the college game and learn the system they are going to continue to get better and that will be very good moving forward.
The hammer and the nails:
There are many players on this team that provide the nails and Quentin Snider is the hammer. He is the player on this team that brings it all together when they are on the floor. He is third on the team in scoring with 9.9 points a game but where he really shines is getting his teammates involved. He leads with 35 assist on the season. He is ranked 12th in the country in assist turnover ratio at 4.38. Nothing is more important on the road in big games and under the bright lights of March Madness than having a guy who takes care of the basketball and uses possessions wisely. Quentin Snider does both.
Like I said above I'm not going to buy too much into these games against lesser competition but I really like the direction this team appears to be heading and I'm looking forward to seeing just where that goes. Really love this group and they are very exciting to watch. They give great effort on both sides of the ball and appear to care just as much about how successful their teammates are as they do themselves. Good stuff! Go Cards!
Remember at all home games the Cardinals are asking fans to participate in the pre-game by yelling back "I got your back" during the video promo before starting line-ups. The Yum Center crowd did pretty good on Saturday but we can get better. This team deserves it.
[gallery_bank type="images" format="filmstrip" title="true" desc="false" img_in_row="3″ display="all" sort_by="random" animation_effect="bounce" image_width="600″ album_title="true" album_id="10″]